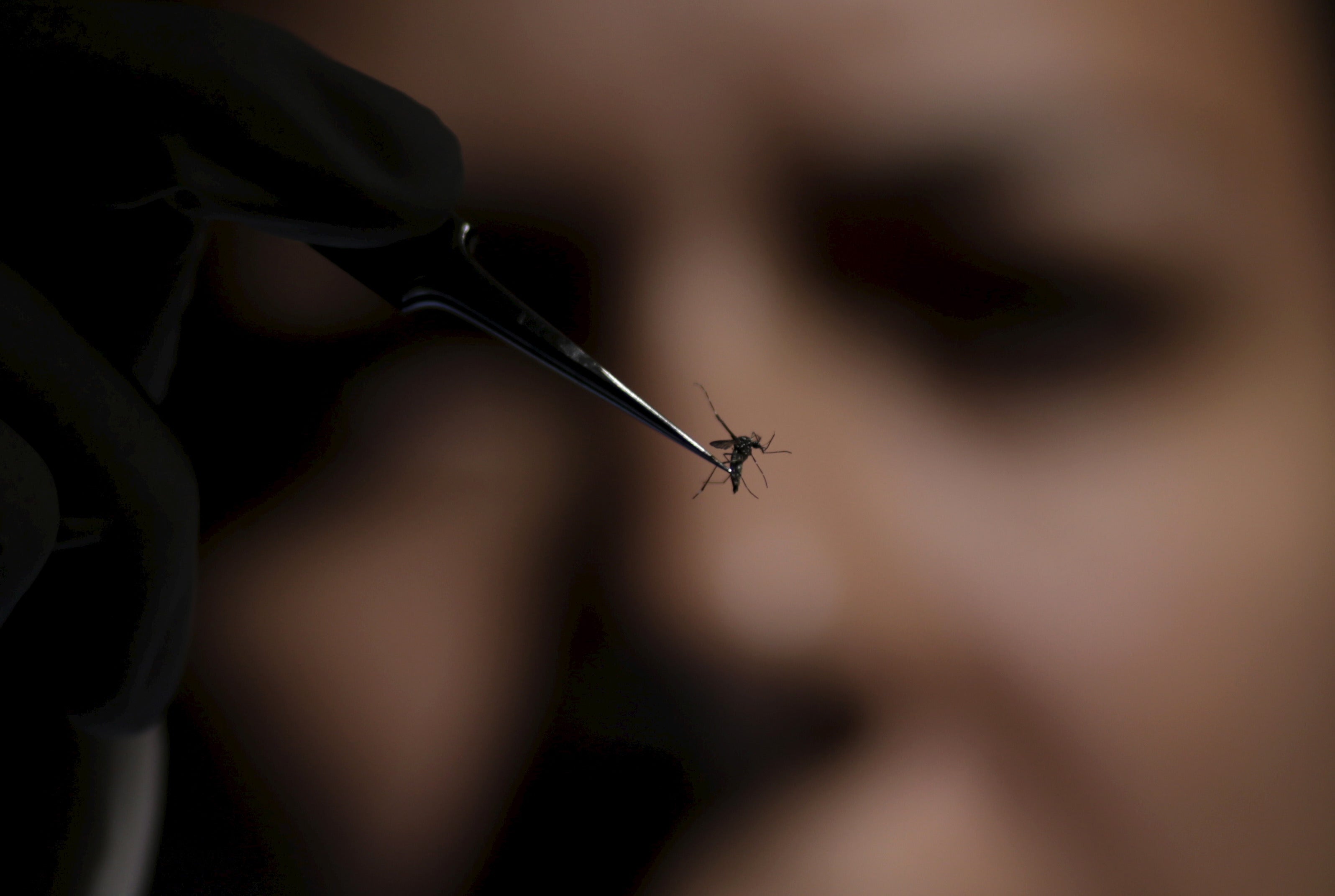 Can genetically modified mosquitoes snuff out the Zika virus?
Humans are trying to recruit a key ally in the fight against the mosquito-borne Zika virus: other mosquitoes.
Frightening headlines about the spread of the Zika virus are focusing attention on a Nasdaq-traded biotechnology company called Intrexon (XON), thanks to its British subsidiary, an Oxford University spinoff named Oxitec.
In some Central American countries, notably Brazil, the virus is linked to a steep increase in babies born with abnormally small heads and cases of Guillain-Barré syndrome, a nervous system disorder that sometimes results in paralysis. The spikes in Zika cases prompted the Centers for Disease Control and Prevention (CDC) to warn pregnant women not to travel to countries where the virus has spread, with the CDC this week adding the U.S. Virgin Islands and Dominican Republic to the impacted areas.
Warning that the virus is likely to spread to all countries in the Americas except for Canada and Chile, the World Health Organization (WHO) is holding an emergency meeting on Monday on the Zika virus, which has now spread to 23 countries.
And, while far larger drug companies explore the long-term development of vaccines or the use of existing ones against the disease, Oxitec is claiming some early success in Brazil, which reported its first case in May 2015 and has since tallied nearly 4,000 children with microcephaly, an abnormality that impairs development.
"We'll respond a lot faster than a vaccine that hasn't been invented yet," Oxitec CEO Hadyn Parry told CBS MoneyWatch. "We do have a lot of faith in vaccines, but with this we need to take an approach that has a tight focus on mosquito control."
Founded in 2002 and purchased by Intrexon last year for $160 million, Oxitec creates genetically modified, sterile male mosquitoes to mate with virus-carrying females, a process that the company says in multiple trials has cut the population of the disease-carrying Aedes aegypti mosquito by 90 percent within six months.
Already tested in Piracicaba, Brazil, Oxitec is expanding from an area of about 5,000 people to one where as many as 60,000 reside. "Whether this situation in Brazil represents a real commercial opportunity or just a change to validate the Oxitec technology on a grand scale is unclear," Thomas Shrader, an analyst at Stifel Nicolaus wrote in a recent research note.
The Florida Keys Mosquito Control District (FKMCD) began working with Oxitec in 2009, long before Zika was on either's radar. Officials were looking for a non-pesticide method to control mosquitoes transmitting dengue fever, explained Michael Doyle, the FKMCD's executive director.
"The Florida Keys has the most intensive urban mosquito program of anywhere in the country, perhaps in the world, per square mile," said Doyle. "Because we're a tourist destination, we take mosquito control very seriously."
Insecticides are sprayed year-round from helicopters and door-to-door throughout the Keys, with Key West, the southernmost U.S. city, particularly vulnerable as climate change and globalization spread tropical diseases farther from the equator. But the Aedes aegypti has evolved to resist many of the insecticides used.
Oxitec has set up a mosquito breeding lab in a FKMCD building in Marathon, and is waiting for approval from the Food and Drug Administration to release its mosquitoes in a trial that would involve an area in the Keys with about 400 homes.
"I was hesitant about using genetic manipulation with species in general, but this is a very prescriptive use for a very humane purpose," said Doyle, an entomologist, or scientist who studies bugs. "This is a life-and-death situation for many people in the world."
Not all agreed, with nearly 150,000 signing an online petition calling for a stop to the field trial, and an advocacy group in a letter urging the FDA to block the operation.
Some 75,000 people live in the Florida Keys, with a subsampling of the petition when it had reached 55,000 signatures finding less than one percent lived in the area, while 14 percent were from mainland Florida and 75 percent from outside Florida or the United States, Doyle said.
A series of surveys conducted in 2012 and 2013 show a majority of the population are in favor of the trial, and getting approval from the FDA appears to be the bigger hurdle, Doyle said. "I would expect Zika is going to expand dramatically come this spring, no matter what happens with the genetically modified mosquito process."
"We can't speculate on a timeline," Juli Putnam, a spokewoman for the FDA, said in an email to CBS MoneyWatch.
Doyle's agency is also in discussions with researchers at the University of Kentucky about using their technique of sterilizing male mosquitoes, with involves using a bacterium and needs approval from a different government regulatory agency. "That one is EPA, which is much more streamlined," Doyle said.
"Vaccines will take many years, so mosquito control is the only card we have in the deck," said Doyle. "The number of chemicals we can use has been reduced because of EPA rules -- presently we don't have the same tools in the tool box that we used to."
Thanks for reading CBS NEWS.
Create your free account or log in
for more features.