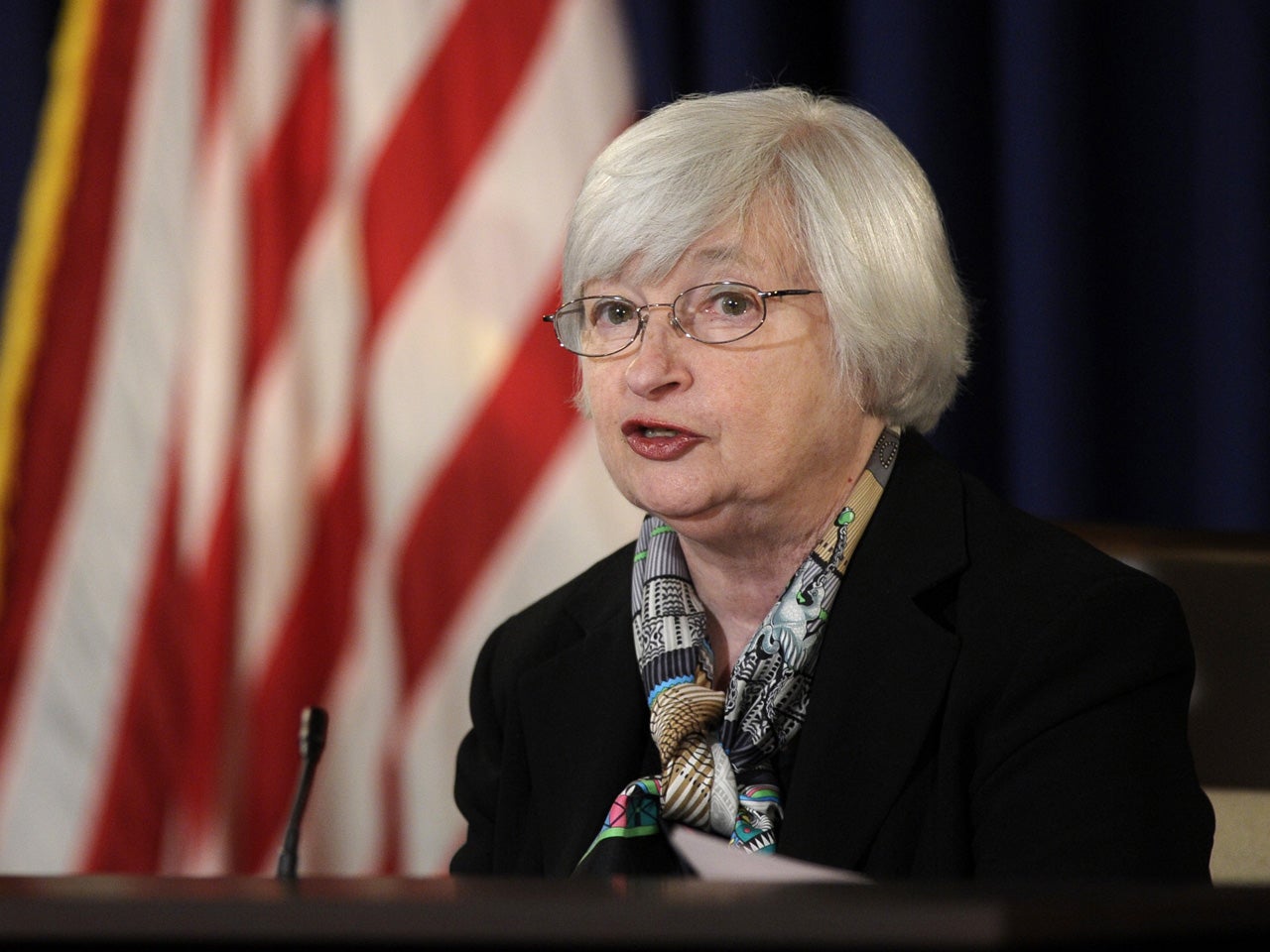 Yellen: Economy recovering, but still needs support
New Federal Reserve Chair Janet Yellen said Wednesday that the U.S. economy continues to heal, while affirming the central bank's commitment to keeping interest rates low.

The labor market is strengthening, Yellen said in her first public pronouncement on monetary policy since becoming the first woman to lead the central bank. But she added that "much remains to be done" to boost job growth and return inflation to the Fed's target of 2 percent.

It was the first press conference as Fed chief for Yellen, who in February succeeded former chairman Ben Bernanke. It was Bernanke who in 2011 started the practice of answering questions by reporters after meetings of the Federal Open Market Committee, the Fed's policy-setting panel.
In a widely expected move, the FOMC concluded a two-day meeting by announcing that it would continue scaling back its purchases of Treasury and mortgage securities to $55 billion a month, from $65 billion. The Fed began winding down the bond purchases, a policy known as "quantitative easing" aimed at keeping interest rates low and stimulating economic growth, in January. The move reflected the consensus within the FOMC that the economy had shaken off the worst of the 2008 financial crisis and is now strong enough to grow on its own. More hawkish Fed officials also argued that the central bank risked unleashing inflation if it waited too long to taper the bond purchases.
Yellen underlined the Fed's intention to continue tapering in congressional testimony last month. Only a "notable change" in the economic outlook would lead the FOMC to pause the process, she told lawmakers.

The Fed's more important policy change on Wednesday was to drop the unemployment threshold that policymakers had set as a guide for what individuals and businesses could expect regarding interest rates. Since 2012, Fed officials had said they would not consider raising short-term rates until the jobless rate had fallen to 6.5 percent, although they later modified their position to say no rate hike would occur until the jobless rate fell well below that threshold.

The jobless rate is now 6.7 percent. That put pressure on FOMC members to explain if they would stick with their previous guidance on rate hikes, lower the unemployment threshold for a rate increase or link policy shifts to other, more qualitative, measures of the economy. As Yellen explained, labor market conditions have improved faster than the committee expected, requiring the FOMC to alter its metrics for interest-rate policy.

"Today, the committee has further revised its forward guidance to better reflect conditions as they now stand and are likely to evolve over the coming quarters," she said.

The Fed now expects unemployment to fall to between 6.1 percent and 6.3 percent by year-end.


While the Fed dropped the jobless rate as its key economic gauge, Yellen declined to specify what measures policymakers would focus on as possible triggers for changes in monetary policy. The Fed will look at "many different dimensions" in evaluating the strength of the economy, she said.


In its statement, the FOMC said it expects rates to remain the same for a "considerable time" after the bond purchase program ends. The vague time-frame is typical for Fed officials, who generally refrain from narrowing down the timing of policy moves.


In her press conference, however, Yellen seemed to go the beyond the committee's statement by suggesting that rate hikes could start sooner. Asked to clarify what "considerable time" means, she said, "something on the order of six months" after the bond program ends.

The discrepancy seemed to confuse investors, who generally do not expect interest rates to rise before mid-2015. Stocks sank following Yellen's remarks, with the Dow Jones industrial average losing 114 points to close at 16,222.


"Our view is that this could have been a rookie gaffe on Yellen's part," said Paul Edelstein, director of financial economics with IHS Global Insight, in a client note. "This was, after all, her first press conference. The balance of what we learned today was dovish, not hawkish."


Still, rates are likely to remain low even longer after stimulus ends, according to the panel. It projects that the benchmark federal funds rate -- the price banks charge each other for overnight loans -- will be only 2.25 percent by the end of 2016, below the 4 percent rate that the Fed considers normal.


Although the economy has downshifted since the FOMC's last policy meeting in January, weakened by unusually harsh winter weather that suppressed hiring, growth is expected to strengthen. In updating its economic forecast, the FOMC now projects growth of 2.8 to 3 percent this year, slightly below its December forecast of 2.8 percent to 3.2 percent growth


Most economists expect GDP to expand between 2.5 percent and 3 percent for the year, up from 1.9 percent in 2013.

After weak job-creation in December and January, the labor market showed signs of a thaw last month, as employers topped forecasts by adding 175,000 jobs. The rebound reassured policymakers and financial markets that the economy is, if still not firing on all cylinders, at least not heading for another slump.

"Economic growth should be stronger in 2014 compared to 2013 because of less drag from fiscal policy, a pickup in business investment, continued recovery in the housing market, better global growth with recovery in Europe, and moderate gains in consumer spending," economists with PNC Financial Services Group said in a research note this week.
Thanks for reading CBS NEWS.
Create your free account or log in
for more features.