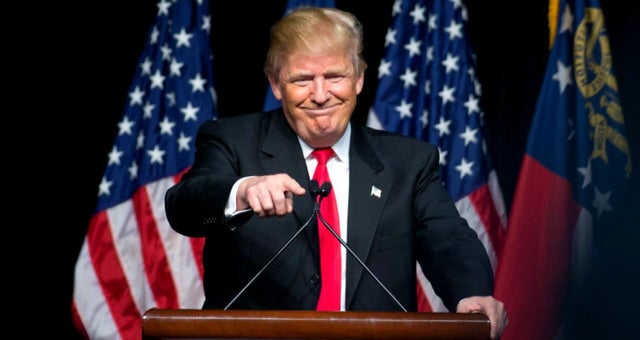 With Nevada victory, Donald Trump speeds toward GOP nomination
After winning the Nevada caucuses Tuesday night, Donald Trump appears to be well on his way to securing the Republican presidential nomination. Yet few -- aside from Trump himself and his supporters -- seem to be ready to admit it.
Republican leaders continue to line up behind other candidates: Nevada Gov. Brian Sandoval, for instance, cast his ballot for Sen. Marco Rubio in Tuesday's caucuses. Rubio finished second in Nevada and Sen. Ted Cruz third.
The four other candidates remain doggedly determined to stay in the running, even though Trump is poised to dominate again on Super Tuesday: "The only campaign that can beat Donald Trump is this one," Ted Cruz said Tuesday night in Nevada, after coming in more than 20 points behind Trump.
Even Republican voters themselves, after watching Trump's support grow stronger for months, seem convinced there must be a limit to his appeal: Among those caucus-goers who said they were most interested in supporting a candidate who can win in November, about half supported Marco Rubio.
In his victory speech Tuesday night, Trump predicted he'd secure the nomination within two months. "We might not even need the two months, folks, to be honest," he said.
The billionaire businessman also needled his skeptics, who've suggested that Trump could be stopped if the "anti-Trump" vote were consolidated behind one candidate. "They keep forgetting that when people drop out, we're going to get a lot of votes," he said.
So far, this has proven true: With four nominating contests finished, Trump has three victories under his belt. He's performed better every time. And just five out of 17 GOP candidates remain standing.
Some suggested Trump's momentum could be slowed in a caucus state like Nevada, where a strong ground game can make a major difference. Consequently, both Cruz and Rubio spent a significant amount of time and money in Nevada. Yet Trump managed to dominate in the state by tapping into the anger that Republicans feel toward Washington.
Nearly six in 10 Nevada Republican voters said they were angry about the way the federal government is working, according to entrance polling - that's higher than in previous states, where between 39 and 42 percent of voters were angry at the federal government. Of the Nevada voters who are angry about Washington, 49 percent supported Trump, far ahead of Cruz (25 percent) and Rubio (20 percent).
It also worked to Trump's advantage that more Republicans in Nevada wanted the next president to be from outside the political establishment (61 percent) than in South Carolina (48 percent), New Hampshire (50 percent), or Iowa (48 percent).
While Nevada's strong, anti-government sentiment may not carry over to other states, Trump nevertheless proved to have broader appeal than most credit him for. He won with more than 40 percent of the vote, surpassing the limit to his support that some claim exists. He won so decisively by winning across several demographic categories and among people who have different views of the important issues. He won the support of both men and women. He won among voters who called themselves very conservative, conservative and moderate. Trump had the most support among both college educated voters and those without a college degree. He also was the favorite candidate of evangelical voters.
The broad support that Trump found in Nevada could do the most damage to Cruz, who was expected to have more appeal among "very conservative" voters (a group that Cruz won in South Carolina) as well as evangelicals.
And while Cruz is attempting to run to the right of Trump on the issue of immigration reform, Trump seems to have claimed the mantle of the GOP's immigration hardliner: Among Nevada voters who said immigration was the most important issue to them (21 percent), 60 percent caucused for Trump.
In spite of his momentum, Trump's competitors seem content competing with one another before taking the front runner on. Quickly after Trump was projected to win the caucuses, both John Kasich's campaign and Cruz's campaign released statements attacking Rubio, who placed second. "Rubio just endured another disappointing performance despite being the highest spending candidate in Nevada," Kasich strategist John Weaver wrote in a memo.
CBS News Election Analyst Stanley Feldman contributed to this story.
Thanks for reading CBS NEWS.
Create your free account or log in
for more features.