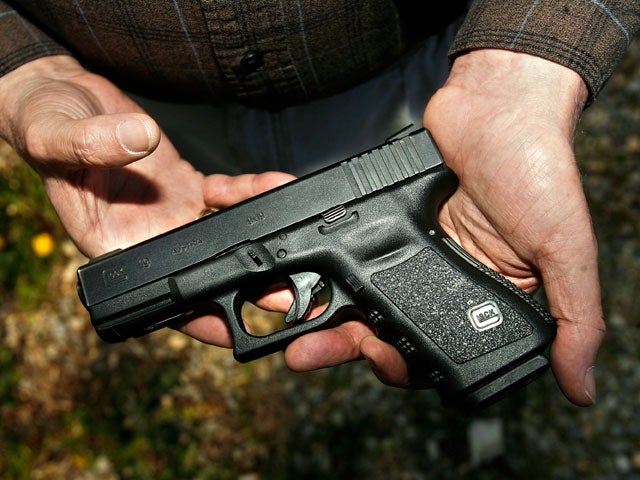 Will Tucson Tragedy Shift Gun Control Debate?
In the wake of the tragic shooting in Tucson Saturday, pundits have spent countless hours debating the role of Sarah Palin in the story - despite the fact that there is no evidence that alleged shooter Jared Lee Loughner is a Palin supporter or had ever seen or heard her rhetoric.
What they have spent less time discussing are the tools that allowed Loughner to allegedly carry out the attack - the high powered weapon and ammunition that helped him do so much damage so quickly. Arizona has some of the laxest gun laws in the nation, laws that allowed Loughner to purchase and carry a Glock 19 9mm semi-automatic pistol - and high-capacity clips - despite the fact that he was barred from his community college campus because administrators saw him as a mentally-unstable security threat.
Special Section: Tragegy in Tucson
Democratic Rep. Carolyn McCarthy of New York, who ran for Congress after her husband was killed in a 1993 shooting, plans to introduce a bill targeting the high-capacity clipsallegedly used by Loughner to kill six people and injure 14 more. (Democratic Sen. Frank Lautenberg of New Jersey plans to do the same in the Senate.) The clip allegedly used by Loughner, which allows for 33 shots without reloading instead of about 10 in a normal clip, would have been illegal under the assault weapons ban that Congress let expire in 2004.
The McCarthy bill is not particularly ambitious, as McCarthy acknowledged when she told Politico that "we have to look at what I can pass." Indeed, many gun control advocates have learned in recent years to set their sights low. Another, stronger bill is being proposed by California Democratic Sen. Barbara Boxer - it would include a federal concealed weapons law, tougher gun show regulations, a reinstatement of the assault weapons ban, a limit of clips to 10 rounds, and better implementation of laws banning mentally ill people from owning guns. But that proposal seems to have little chance of passage, and gun control advocates are focused on trying to secure passage of the McCarthy proposal as well as strengthening background checks for gun purchases.
(There is one other piece of gun control legislation to come out of the tragedy, but it isn't all that much help to the average American: New York Republican Rep. Peter King announced Tuesday that he wanted to make it a federal crime to carry a weapon within 1,000 feet of a government official. A spokesperson for House Speaker John Boehner said the Republican leader would not support such legislation.)
Thus far, the Tucson tragedy has yet to spur much in the way of a national debate over whether there should be tighter regulations on gun ownership. Paul Helmke, president of the Brady Campaign to Prevent Gun Violence, says he expects the shootings to lead to legislative action.
"I really think this one's going to be different," he told Hotsheet. "What this shooting did is it showed how weak the gun laws are in this country. And the fact that this person apparently did everything legal until he pulled the trigger just shows how weak those gun laws are."
There are two significant factors standing in the way of Helmke's agenda. The first is the fact that polls suggest that Americans have shifted away from favoring stronger gun control laws, and the second is the power of the National Rifle Association, which has prompted Democrats to embark on something of a tactical retreat on the issue.
Let's start with public opinion. According to Gallup, the percentage of Americans who want gun laws to be stricter fell from 78 percent in 1990 to 62 percent in 1995. By 2007, it was down to 51 percent. And last year it was just 44 percent in Gallup polling.

According to a new CBS News poll released yesterday, 47 percent now support stricter gun laws (see graphic at left). That is a small spike from a March 2010 CBS News poll when 40 percent said the same thing, but below levels of 2002 when 56 percent supported tighter gun control, and in 1994 when stricter gun control had 59 percent support. That all means there is a much smaller upside for a lawmaker who might make a case for stricter gun control laws.

Helmke, of the Brady campaign, argues that the poll question is poorly worded because "it assumes that people have some knowledge of what the gun control laws are." He notes that on the specific issues - whether there should be strong background checks or restrictions on assault weapons, for example - Americans are on his side. As the fight over health care reform legislation showed, however, broad opposition to an overall policy effort can hobble legislation even when many of the details are popular.

In fact, it seems fair to conclude that the debate over whether Americans should be able to own a gun is pretty much over - with those who believe that law-abiding Americans should be allowed to carry guns having won. The question has instead shifted to how easy it should be for Americans to get those guns, where they should be able to carry them, and whether they should have access to weapons that go beyond what one might need for hunting or protection.

Even there, trends have been away from gun control in recent years. States have widely loosened restrictions, with some (including Arizona) passing laws that allow guns in bars; Congress, meanwhile, has passed a series of laws loosening restrictions, including a measure to allow loaded guns to be carried in national parks.

The trend has a lot to do with the NRA, which is arguably the most powerful interest group in the nation. Many lawmakers have come to see support from the NRA as the difference between winning and losing - including, critically, Democrats seeking election in relatively conservative districts.

Concern over the power of the NRA, in fact, has prompted the Democratic Party to play down the gun issue in their efforts to expand the electoral map. It's notable that the candidate who ran an ad in the midterm elections in which he literally shot the cap and trade billwas newly-minted Democratic Sen. Joe Manchin of West Virginia.

(At left, via TPM, see a YouTube video of a man shooting a Glock 19 with a 33-round high-capacity clip.)

Gabrielle Giffords, the Arizona Democrat who was critically wounded on Saturday, is a good example where some in the party now stand: She supported the health care bill and opposes gun control, boasting of being a gun owner and "strong supporter of the Second Amendment."

Yet Helmke argues that the NRA is a "paper tiger," suggesting that the decimation of vulnerable Democrats in the midterm elections proved that "sucking up to the NRA doesn't give them anything."

"All the Democrats that thought being pro-NRA was going to save them, it didn't do a thing for them," he said. "Basically when they send the message that they're arm in arm with the NRA, I think it turns off some of the voters who supported Obama in '08 and Democrats in general."

Still, the NRA appears confident: It did not even bother to pressure lawmakers not to draft legislation in response to the shooting, as Politico reports - though freshman Rep. Michael Grimm (R-N.Y.) did step in on the group's behalf, warning his colleagues against passing "reactionary" legislation on guns and other issues.

Despite the uphill battle any gun control legislation faces, Helmke argues that the McCarthy bill to ban high-capacity clips will garner bipartisan support in part because it "directly relates to the shooting."

He suggests that legislators will take action this time - even though they didn't take significant action after the Virginia Tech shooting or Columbine massacre - in part because the attack on Giffords hits home.

"This," he noted, "is one of their own."


MORE:Will Arizona Reexamine Its Gun Culture?

See Paul Helmke, President of the Brady Center to Prevent Gun Violence, discuss the prospects for new gun control laws on Wednesday's "Washington Unplugged":
Thanks for reading CBS NEWS.
Create your free account or log in
for more features.