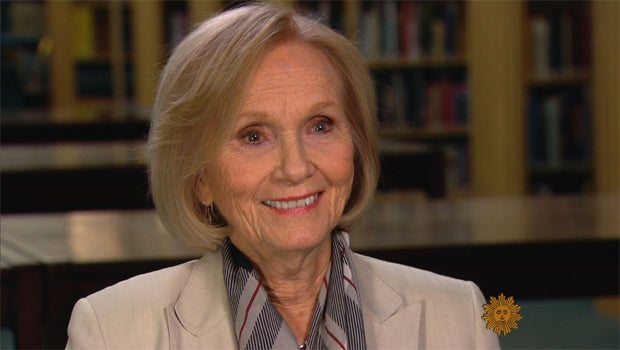 Why Oscar-winner Eva Marie Saint never went Hollywood
Eva Marie Saint may be as close to Hollywood royalty as they get. She talks about a life in the movies with our Mo Rocca:

Oscar Night was a little different back in 1955, when a pregnant Eva Marie Saint won Best Supporting Actress for "On the Waterfront."
"I may have the baby right here!" she said.
She didn't. The baby came two days later.
When asked if she campaigned for an Oscar back then, Saint replied, "I don't think I knew what the word was. Politicians campaigned. No, I mean, it was just different, you know?"
Saint's Academy Award was one of eight Oscars won by "On the Waterfront that night, including Best Picture.
Rocca asked, "When you won an Oscar, was your name legally changed to 'Oscar-winner Eva Marie Saint'?"
"Yes," she said, "and I love it."
It was her film debut, but she'd already established herself as a dramatic actress doing live plays on television, including a musical version of "Our Town" with Paul Newman and Frank Sinatra. She was also married, and has been since 1951.
"You've been married to the same man since 1951," Rocca said. "You have two kids. How many grandkids?"
"Three."
"Career, family, it was never an issue with you?"
"It was never an issue because I made decisions," Saint said. "I had an agent once who wanted me to make many more movies. I said, 'I can't. I can only do one a year, if that. I have children, young children.'
"And he said, 'Well, I guess you won't be a superstar.' And I said, 'Well, I guess not.'"
"And what happened to that agent?"
"Fired him."
Family was so important, when she made the film "Exodus," she insisted on bringing her husband, kids, parents and mother-in-law with her to Israel.
Rocca asked, "Is it true that the director Otto Preminger, on the set of 'Exodus,' took you in his arms to show Paul Newman how you should be kissed?"
"Can you believe that? It's true!" she laughed. "I know, I know. It was on the hillside. And there's Mr. Blue Eyes, right? Paul Newman. We know what to do, right? 'Let me show you.' It was very funny."
One of her most famous roles was the sexy spy lady in Alfred Hitchcock's "North by Northwest." His direction to her?
"Three things," Saint recalled: "Lower your voice. Don't use your hands. And look directly into Cary Grant's eyes at all times."
Hitchcock had a reputation for being tough on young actresses, but not on Eva Marie.
"I found that he was such a wonderful director, gentleman, funny, courteous, but there are other actresses who don't feel the same way. I don't even want to hear stories about him."
But she'll tell stories about him.
"He didn't like the clothes that had been made for me at MGM," Saint said. "So I flew to New York and he took me to Bergdorf Goodman and he sat me down. Suddenly this model walked by in a black dress, with red embossed roses, and I said, 'Oh, Hitch, I like that.' He said, 'Wrap it up for Miss Saint.' So I called him my Sugar Daddy from then on."
"Now, in 'North by Northwest,' you are a super fox," Rocca said. "Did you surprise even yourself?"
"No. No. I don't think actors are surprised. You mean when I saw myself?"
"Yeah."
"No, I mean that's what we do. When you do your shows and you see you are very good at something, are you surprised? Oh yes, I can see you are. You are surprised."
"I'm constantly amazed!" Rocca said.
"This is a crazy show," said Saint. "You edit all this?"
The 89-year-old actress donated much of her memorabilia to the Motion Picture Academy's Margaret Herrick Library, where we met. Boxes of memories, including her early modeling career.
"I was Sweater Queen at Bowling Green State University," she said. "Oh, that's a laugh, isn't it?"
"How did you become Sweater Queen?"
"Well, let's not get personal."
And she made the cover of Life Magazine. Rocca asked, "You were never in it for the fame, but this had to be really special."
"I was in it for the fame!" she laughed. "If you're an actor, you know you're not going to be acting in your living room. But I mean once people start responding to your work as an artist, it's very fulfilling."
But to be really famous was something she didn't want. She remembers the time she walked into a movie theater with Cary Grant:
"The buzz that went on, a sound [gasps], and then everybody looking at him. I said, 'How do you cope with it, that kind of reaction? Your life is not your own at this moment.' He said, 'Eva Marie, it's fine. They're going to go home, they're going to tell everybody that they saw Cary Grant, and everybody's going to be happy, and I made them happy.'"
Saint and her husband, television director Jeffrey Hayden, had already been married three years when they appeared with Edward R. Murrow on "Person to Person" in 1954.
Rocca asked, "Do people in Hollywood think that you're from Mars, you've been married so long?"
"No, no, no, no, that's a big misconception," said Hayden.
"No, it's not," said Saint.
"Yes, it is," said Hayden. "Think of all our friends. We have friends that have been married 50 or 60 years."
"Eli and Annie Wallach -- OK, that's one couple," said Saint.
"They're in New York," said Rocca.
"Alright -- Richard Widmark and Jeannie," said Hayden.
"They're dead," said Saint.
"Yeah, but they had a marriage that went on for years and years and years!"
Though she says she's shy, Eva Marie Saint is not retiring. She has a cameo in "Winter's Tale," starring Colin Farrell, which came out last month. It's a fable full of miracles, and memories.
Her own memories, alas, won't be found in any tell-all book.
Rocca said, "If you wrote a book, it should be titled, 'How to Make It in Hollywood and Be a Normal Person.'"
"It would never sell," said Saint. "You know why? Because I don't think a lot of people, when they associate you with Hollywood, they don't want to think of you as normal. They want to hear, you know, all the stuff in Hollywood."
And walking continues to be a big part of her life.
"I want to show people that if you walk, if you eat the right things, if you don't have stuff done to your face -- that's okay. people who do that, I'm not against it, but I chose not to, and my family said don't ever, and I love my family and I said I never will."
She may have spent most of her life in Hollywood, but Oscar-winner Eva Marie Saint never went Hollywood.
Thanks for reading CBS NEWS.
Create your free account or log in
for more features.