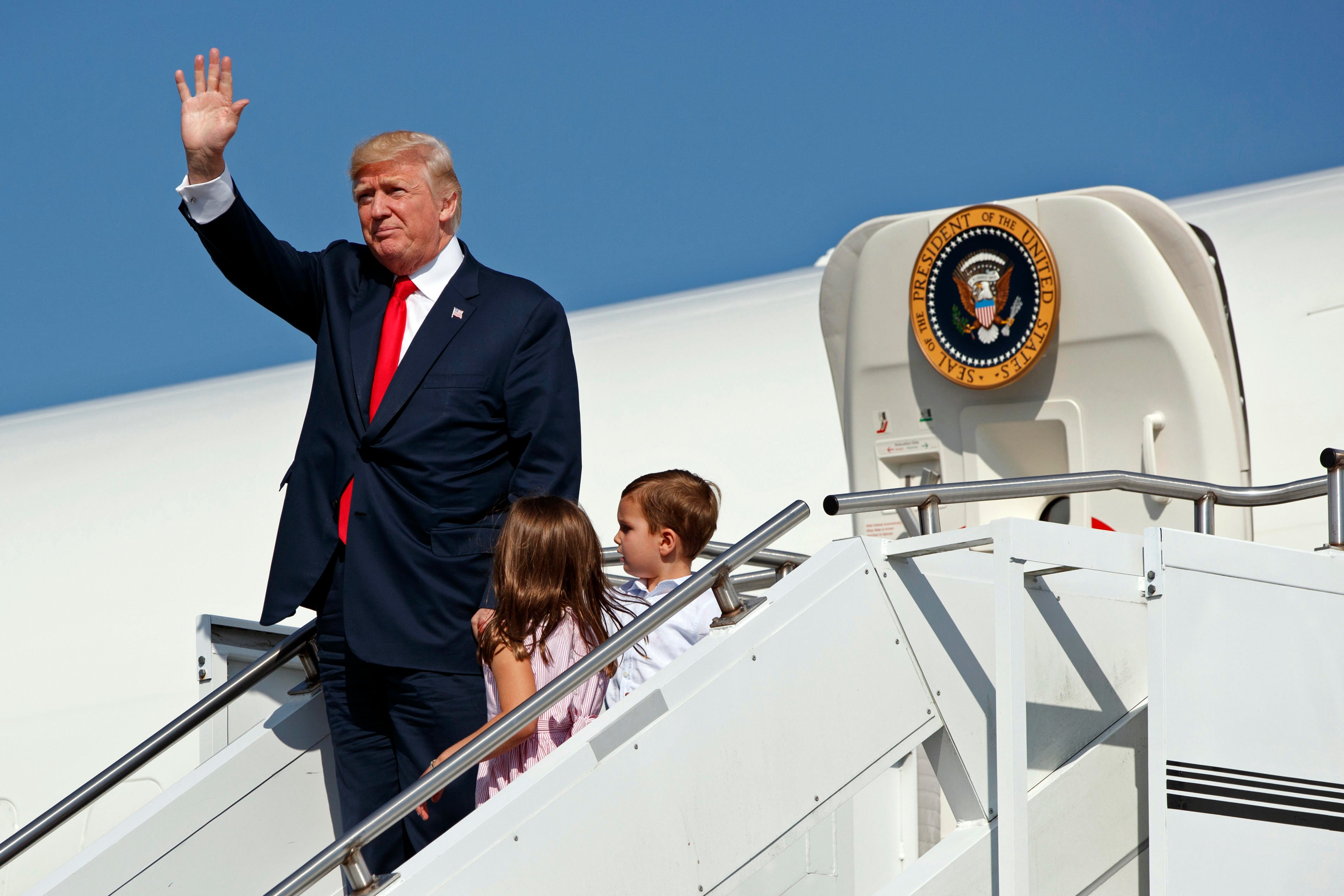 What Trump is up to on his "working vacation"
President Trump is currently at the Trump National Golf Club in Bedminster, New Jersey on what a White House official has described as a "working vacation."
"Working in Bedminster, N.J., as long planned construction is being done at the White House. This is not a vacation - meetings and calls!" Mr. Trump tweeted out from his personal Twitter account last week.
Mr. Trump departed for the 17-day trip on Friday. It marks his fifth visit to the club and his 13th overall vacation-like trip since the beginning of his presidency. Mr. Trump's last trip to his namesake golf course happened three weeks ago when it hosted the U.S. Women's Open golf tournament.
On Tuesday, Mr. Trump made his first on-camera appearance since beginning his trip. In a briefing on the U.S. opioid epidemic, alongside Kellyanne Conway as well as Health and Human Services Secretary Tom Price, the president went off subject and focused on North Korea.
"North Korea best not make any more threats to the United States," Mr. Trump said. "They will be met with fire and fury like the world has never seen," he added.
Mr. Trump's words of warning come following a U.S. intelligence assessment that determined North Korea has developed the ability to build a nuclear warhead small enough to fit on top of a ballistic missile, including an intercontinental missile that is capable of reaching the United States.
Unlike in past presidencies, the Trump administration has not released a daily schedule of Mr. Trump's activities. However, glimpses of Mr. Trump's activities and whereabouts while on the trip have surfaced via social media. For example, a since-deleted Instagram photo tagged at the Bedminster course showed Trump behind the wheel of a golf cart.
Mr. Trump has still received briefings from his staff. The president was briefed Saturday morning from chief of staff Gen. John Kelly about the Marine Osprey helicopter crash, according to a White House official.
While on the New Jersey trip, Mr. Trump also "had an hour long call with the Secretary of State Tillerson and Chief of Staff General Kelly to discuss North Korea and receive an update on Secretary Tillerson's trip," according to the White House.
For the duration of the trip, the president will continue to have meetings and briefings with White House advisers and lawmakers, according to a White House official.
Ivanka Trump, Mr. Trump's daughter, and her husband Jared Kushner, Mr. Trump's son-in-law, have also joined the president on his trip. Both serve as senior advisers to Mr. Trump.
Although he is out of the Oval Office, Mr. Trump has not taken a vacation from Twitter. The subjects of the president's tweets include his dissatisfaction with leaks of sensitive information from the White House and updates on the United States' increasingly tumultuous relationship with North Korea. He also launched an attack on Sen. Richard Blumenthal, D-Connecticut, in which the president expressed that he "should take a nice long vacation in Vietnam, where he lied about his service, so he can at least say he was there."
While the president is away, the White House is undergoing $3.4 million worth of renovations, which had been approved by the previous administration.
Mr. Trump said in a tweet that he plans to be "Working hard from New Jersey while White House goes through long planned renovation."
Thanks for reading CBS NEWS.
Create your free account or log in
for more features.