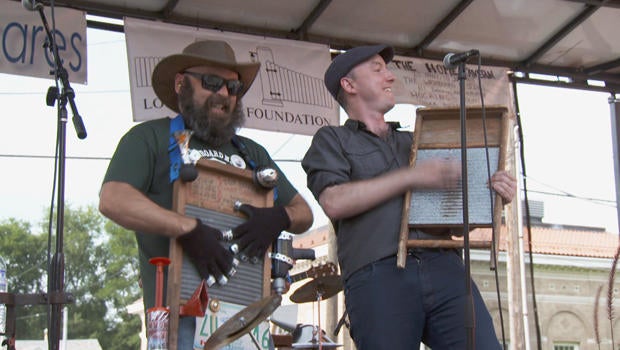 Washboards: The laundry tool that is music to the ears
In their heyday, washboards were instruments of laundry day drudgery. Today they're more likely to be instruments of good clean fun, as Conor Knighton now tells us:
For serious players of the washboard (although good luck finding one who's all that serious), a trip to Logan, Ohio, is like a pilgrimage.
The annual Washboard Music Festival is a chance to celebrate the small town's most unusual small business. Logan is home to the last washboard manufacturer left in America.
"I just don't wanna part with it," said Jacqui Barnett. "And we'll keep it going as long as we can. We just wanna keep it alive for the history. I have all of the old machinery."
Barnett has always had a thing for old machinery and old traditions. She grew up in New Zealand, but moved to Ohio in 1980. She was working as a seamstress when she got a call about a business opportunity that might be right up her alley.
"A friend in Columbus called us and said, 'There's this really neat business gonna close down,'" she said. "'And we think you and your husband should look at it.' And we asked him what it was. And he said, 'A washboard company.' And I'm like everybody else; I said, 'Washboards?'"
The Columbus Washboard Company was founded in 1895. Keep in mind, washboards were once how everyone from housewives to Buster Keaton did their laundry. At its peak, the company was shipping over a million units a year.
"They were selling washboards all over the country," Barnett said. "There would be trains coming into the back of the factory, picking up large shipments of washboards. Everybody used them."
And then a newfangled machine came along and changed everything. The electric washing machine made scrubbing clothes on a piece of corrugated metal over a pail of water seem like far too much work. So, one by one, American washboard factories went out of business.
Barnett couldn't resist the opportunity to buy the last one left. But after she took over the business in 1999 and moved it to Logan, she started noticing that some of her washboard customers had no interest in washing.
Knighton asked, "Do you have any idea what percentage are being purchased for musical use?"
"We believe about 40%," Barnett replied.
The washboard as a musical instrument is believed to have originated on Southern plantations, when slaves would make music with whatever tools were available. By the 1930s, the washboard had found its way into mainstream musical acts, like the Washboard Rhythm Kings:
At its core, it's just metal and wood, typically played with thimbles to avoid hurting your fingers.
And it's harder than it looks.
But the washboard as an instrument can also contain a laundry list of accessories: bells, alarms, horns, a rubber chicken, duck call.
Washboard Hank – he wouldn't tell us his real name – makes his living as a full-time washboard musician, although he says he does not do it for the money.
"I don't have a washboard-shaped swimming pool, if that's what you're asking," Washboard Hank said.
No, he does it for the response he gets from the crowds. And what are their reactions? "They laugh. And that's what it's about now. We start playing and people laugh and kicking up their heels and carrying on. And I thought, 'That's a good thing to do!'"
Clearly, Jacqui Barnett agrees. She now makes boards with stainless steel, to stand up to more rigorous playing.
But she still makes washboards for washing, sometimes for soldiers overseas.
"They weren't parked in downtown Baghdad beside the Laundromat," Barnett said. "So, we send them everything that they need, including instructions on how to use a washboard, all at no charge to the soldiers. It's all done with donations."
The company also gives popular tours, a chance for visitors to see what life was like before spin cycle.
"You know, who knows? One of these days, we might have to use them again – and I'll know how!" laughed Barnett.
Yes, she is prepared for the "Washboard Apocalypse." Should that day ever come, Logan, Ohio, will be the town you'll want to head to. Just don't forget to pack your spoons and your thimbles.

For more info:

Story produced by Young Kim.
Thanks for reading CBS NEWS.
Create your free account or log in
for more features.