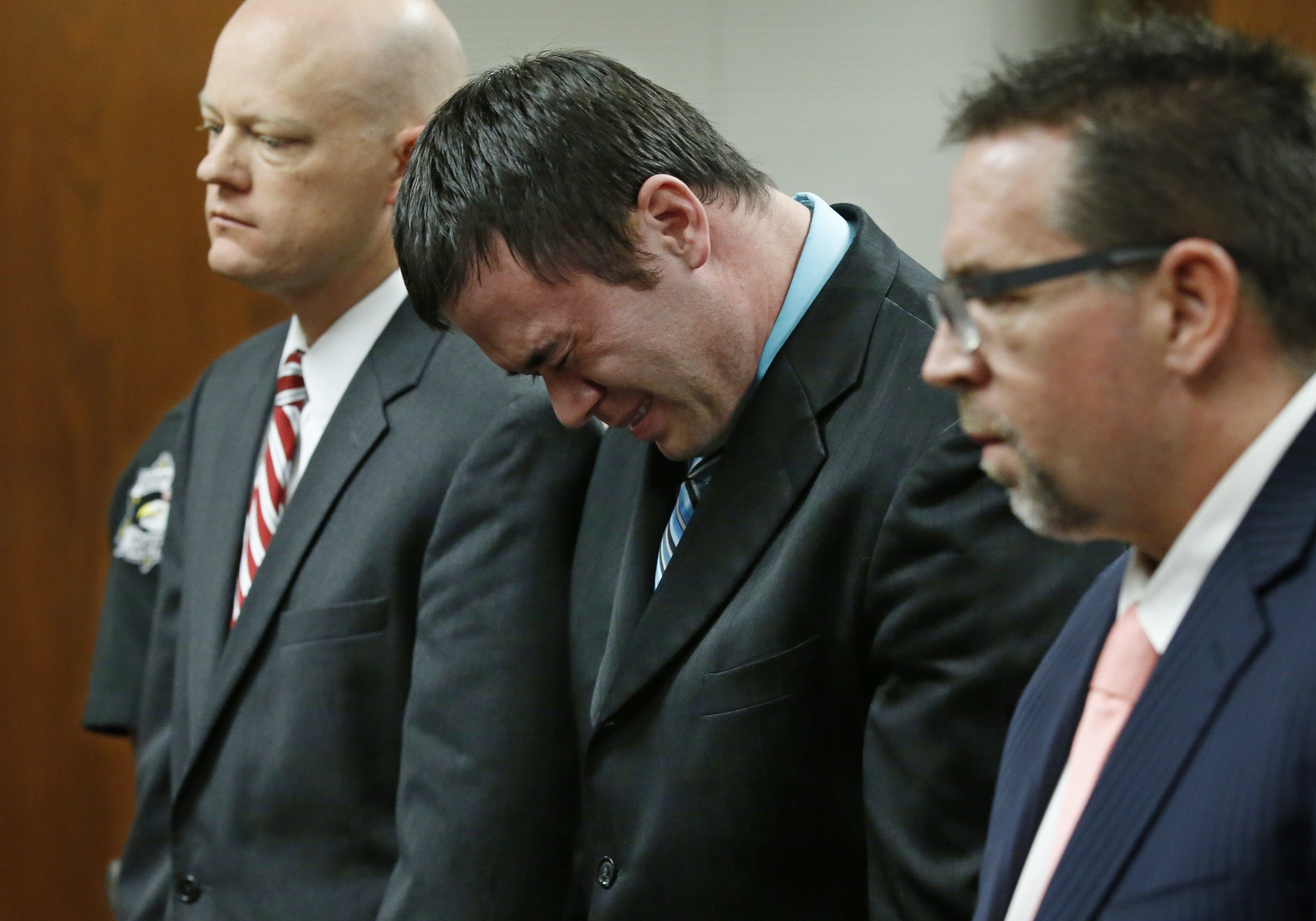 Former Oklahoma City cop convicted on rape charges
OKLAHOMA CITY --A former Oklahoma City police officer was convicted Thursday of raping and sexually victimizing eight women on his police beat in a minority, low-income neighborhood.
Daniel Holtzclaw, who turned 29 Thursday, sobbed as the verdict was read aloud. Jurors convicted him on 18 counts involving eight of the 13 women who had accused him; the jury acquitted him on another 18 counts.
CBS affiliate KWTV reported the jury deliberated for 45 hours before finding Holtzclaw guilty on four counts of first-degree rape, one count of second-degree rape, six counts of sexual battery, four counts of forcible sodomy and three counts of procuring lewd acts.
The first-degree rape convictions could have each carried a life sentence, but the jury recommended 30 years on each charge, and a total of 263 years in prison. Formal sentencing will take place on Jan. 21.
"Justice was done today, and a criminal wearing a uniform is going to prison now," Oklahoma County District Attorney David Prater said. "In those counts where the not guilty verdicts came back, they determined that we didn't prove those cases beyond a reasonable doubt. It doesn't mean they didn't believe the victims."
The lead detective in the case, Kim Davis, said after the verdict: "I feel horrible for his family. It's brutal, but I think justice was served."
Scott Adams, Holtzclaw's defense attorney, declined to comment after the verdict was read.
The allegations against Holtzclaw brought new attention to the problem of sexual misconduct committed by law enforcement officers, something police chiefs have studied for years. The case was among those examined in an Associated Press investigation of such misconduct.
During a monthlong trial, jurors heard from 13 women who said Holtzclaw sexually victimized them. Most of them said Holtzclaw stopped them while out on patrol, searched them for outstanding warrants or checked to see if they were carrying drug paraphernalia, then forced himself on them.
Holtzclaw's attorney, meanwhile, described him as a model police officer whose attempts to help the drug addicts and prostitutes he came in contact with were distorted.
Among the eight women Holtzclaw was convicted of attacking was a grandmother in her 50s, who launched the police investigation and who was in the courtroom Thursday. She said she was driving home after 2 a.m. when Holtzclaw pulled her over.
He first asked her if she had been drinking, then ordered her out of the car and into the backseat of his squad car. He then stood over her and ordered her to perform oral sex.
The woman was tearful after the verdict and prayed with supporters outside the courtroom.
She was the first victim to testify. The last was a teenager who was 17 when Holtzclaw attacked her. Holtzclaw was convicted of three charges related to her case: first-degree rape, second-degree rape and sexual battery.
The teenager recalled Holtzclaw pulling up in his police car as she walked home one night in June 2014. Holtzclaw drove her home and walked her to her door, where he told her he had to search her. She said he grabbed her breasts, then pulled down her shorts before forcing them off and raping her.
Another woman testified that Holtzclaw drove her to an abandoned, trash-filled stretch of an impoverished Oklahoma City neighborhood in the shadow of the state Capitol. There, in a place locals call "Dead Man's Curve," the woman said Holtzclaw told her she could either submit to oral sex and intercourse, or go to jail.
Sex crimes detectives testified they identified and interviewed women Holtzclaw had searched or been in contact with during his 4 p.m. to 2 a.m. shift. They used GPS records from his patrol car to place him at the scene of the alleged incidents.
Prosecutor Gayland Gieger accused Holtzclaw of becoming "more bold, more brazen and more violent" in the months leading up to the first accusation.
Defense attorney Adams said Holtzclaw wouldn't contest that he came into contact with the women or even arrested some of them, only that he exploited them.
He said the woman whose report sparked the investigation had smoked marijuana and used pain medication just before her encounter with the officer. In brief testimony Tuesday, the woman admitted to taking a hit of marijuana, but said she wasn't high when Holtzclaw pulled her over.
As the defense delivered closing argument Monday, Adams called into question the accounts of some of the accusers. He claimed there was no physical evidence to match one of the women's stories, and said there were discrepancies in the testimony of another, according to KWTV. He questioned the women's credibility throughout the trial, the station reported.
Holtzclaw, who was fired after his arrest last year, did not testify in his own defense. During cross-examination of the prosecution's witnesses, his attorney questioned why most of the women didn't come forward until police identified them as possible victims. Several have drug addictions or criminal records.
With the broad-shouldered former college football star sitting behind him, Adams described Holtzclaw's transition into law enforcement after a failed attempt to play in the NFL.
He called Holtzclaw a young, vigilant officer who cared about meeting people in the community and unfairly "turned out to be the villain."
"He was proud of what he did," Adams said. "He was proud to wear the badge."
Thanks for reading CBS NEWS.
Create your free account or log in
for more features.