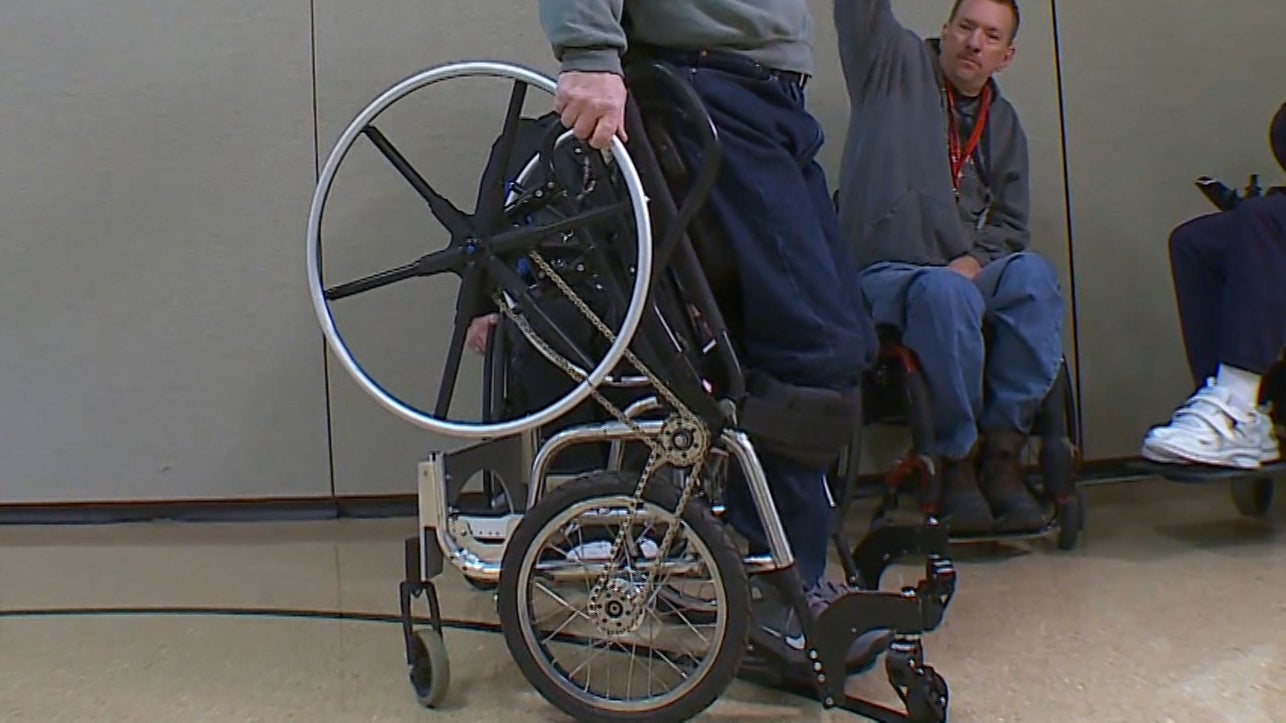 VA doctor engineers improved standing wheelchair
A doctor at the Minneapolis Veterans Affairs hospital has developed and engineered an improved design for the standing wheelchair, hoping it will help paralyzed veterans live more productive lives.
It's not the first standing wheelchair, but this one has significant advances over previous designs, as CBS Minneapolis station WCCO-TV reports.
While using the new chair, John Christensen, who has been in a wheelchair for more than 20 years, can reach a book on the top shelf without any help.
"Makes life a little easier," Christensen said. "You don't have to ask anybody to do something for you."
Dr. Gary Goldish, the hospital's director of extended care and rehabilitation, took an existing standing wheelchair and consulted engineers and veterans to make design changes.
One such change was moving the push wheel up from the tire, allowing users to push like whey would while seated. "We want to make the movement as natural, as similar to wheeling in a seated position as possible," Goldish said.
Also, the chair has four wheels contacting the ground at all times.
"The tire is on the ground each time, but it's just transferring the load between the front and the back faster casters," Goldish said. "That's what makes it stable and mobile."
Paralyzed Veterans of America provided funding for this first prototype. Several design changes still need to be made before the wheelchair is ready for marketing.
This is not the only standing wheelchair in development. An electronic design has been in the works by inventor Dean Kamen, who was recently profiled on CBS' "Sunday Morning."
The standing wheelchair could give paraplegic patients increased functional reach, improved sense of well-being and a potential reduction in pressure sores.
Thanks for reading CBS NEWS.
Create your free account or log in
for more features.