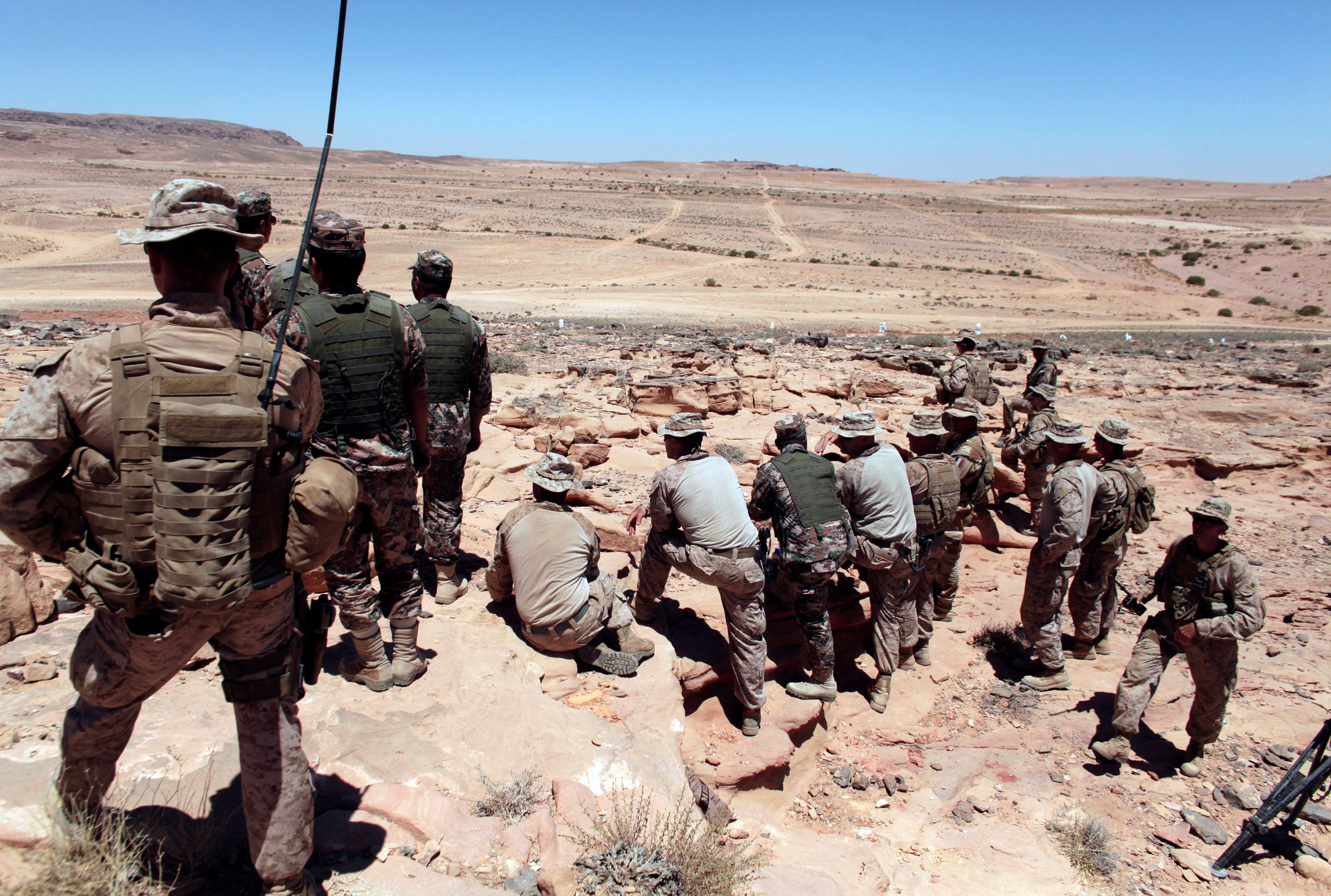 U.S. military "ready" to attack Syria, Hagel says
Updated at 11:45 a.m. Eastern
Secretary of Defense Chuck Hagel said Tuesday that the world's most powerful military was "in place to be able to fulfill and comply with whatever option the president wishes to take" in Syria, but he suggested the Obama administration would wait for more facts on the alleged chemical attack in the Damascus suburbs before committing to a response of any kind.
Videos of victims -- including dozens of young children -- convulsing and gasping for breath after the Aug. 21 attack in the eastern Ghouta suburbs of the Syrian capital have dramatically increased calls for military intervention in the country's two-and-a-half-year old crisis, with the U.S., Israel and some European nations suggesting President Bashar Assad's regime was behind the attack and must be rendered incapable of further chemical strikes.
"I think it's pretty clear that chemical weapons were used against people in Syria," Hagel told the BBC on Tuesday. "I think the intelligence will conclude that it wasn't the rebels who used it, and there will probably be pretty good intelligence to show that the Syria government was responsible. But we'll wait and determine what the facts and the intelligence bear out."
Hagel spoke as United Nations weapons inspectors attempted to continue their work in the Ghouta area Tuesday, with a mandate to determine conclusively whether chemical weapons were used in the strikes last week -- but not to assign blame.
Secretary of State John Kerry said Monday there was "undeniable" evidence of a large-scale chemical weapons attack in the Ghouta area, with U.S. intelligence strongly pointing to Assad's government as the guilty party. Also on Monday, a senior State Department official told CBS News Sec. Kerry contacted numerous allies in the Mideast and elsewhere as part of "ongoing consultations about the appropriate response to the chemical weapons attack in Syria."
On Tuesday, the Syrian regime lashed out at the presumptions of guilt from Washington and Europe, with Foreign Minister Walid Muallem demanding that the White House and its allies "produce the evidence" that his government was responsible for unleashing deadly chemicals in Ghouta.
Kerry's tough language marked the clearest justification yet for U.S. military action in Syria which, if President Obama decides to act, would most likely involve sea-launched cruise missile attacks on Syrian military targets.
The Obama administration has resisted pressure from inside Washington, and from Assad's staunch foes in Turkey and Europe, to take action in Syria without a clear mandate from the United Nations Security Council, where Russia and China have repeatedly blocked harsh sanctions against the Assad regime.
But CBS News correspondent Major Garrett reported that in a weekend meeting at the White House, the Obama administration seemed united behind the idea of an attack on Assad's forces -- with or without an U.N. mandate -- and the President ordered a declassified report to be prepared for public release which lays out the justification for such action.
If and when the U.S. does strike in Syria, it will not be alone. Below is a breakdown of what officials from some other key nations have said regarding military action against Assad's regime; some vowing to take part in any military intervention regardless of the U.N., while others insist any military action without a U.N. mandate would be illegal, and likely exacerbate the crisis.
Great Britain
Prime Minister David Cameron recalled Parliament Tuesday for an urgent discussion on a possible military response in Syria. Cameron said the crisis session would be held Thursday for a clear government motion and vote on the British response to a chemical weapons attack in Syria.
Foreign Secretary William Hague said earlier that disagreements among the five U.N. Security Council members have prevented action over Syria for too long and "complete unity" wasn't necessary to launch a response.
"We cannot in the 21st century allow the idea that chemical weapons can be used with impunity," he said.
Cameron's spokesman said Britain reserves "the ability to take action swiftly if needed."
British warplanes and military transporters have reportedly begun arriving on Cyprus, where the U.K. has a military airfield that was also used during strikes against Libya in 2011, reports The Guardian. Britain's Akrotiri airbase on Cyprus is less than 100 miles from the Syrian coast.
Turkey
Foreign Minister Ahmet Davutoglu said Monday that his country would take part in an international coalition against Assad's regime if the U.N. failed to come up with sanctions to punish Syria for the alleged use of chemical weapons.
In comments published in the Milliyet newspaper, Davutoglu said Turkey's priority was to act according to U.N. decisions, but the country would join a coalition if there was no U.N. mandate. He said "36 or 37" countries were already discussing options, but he did not list those nations.
As one of the Assad government's strongest critics, Turkey is backing the Syrian opposition and rebels.
France

French President Hollande says France is prepared to take action against those responsible for gassing people in Syria.

Speaking Tuesday at a conference with France's ambassadors, Hollande said: "France is ready to punish those who took the heinous decision to gas innocents" in Syria last week.

Hollande said it seemed certain that forces loyal to Bashar al-Assad were behind the chemical attack.

On Monday, Hollande told Le Parisien newspaper: "There are several options on the table, ranging from strengthening international sanctions to airstrikes to arming the rebels."

Hollande spoke with President Obama on Sunday and told him France would support him in a targeted military intervention, according to the paper.

"It's still too early to say categorically what will happen," he was quoted as saying. "The U.N. experts are going to investigate on site. We also have to allow time for the diplomatic process. But not too much. We can't go without a reaction when confronted with chemical weapons."
Germany
The German government has suggested for the first time it may support the use of force if a chemical weapons attack is confirmed in Syria.
"The suspected large-scale use of poison gas breaks a taboo even in this Syrian conflict that has been so full of cruelty," according to Steffen Seibert, a spokesman for Chancellor Angela Merkel. "It's a serious breach of the international Chemical Weapons Convention, which categorically bans the use of these weapons. It must be punished, it cannot remain without consequences."
Germany has "very clear evidence that this was a chemical weapons attack," Seibert said. He declined to speculate on what kind of response might now be needed in Syria, but repeatedly refused to rule out the use of force.
Israel
Following closed meetings with his senior aides in Tel Aviv on Tuesday, Prime Minister Benjamin Netanyahu said Israel was "ready for any scenario."
"We are not part of the civil war in Syria but if we identify any attempt whatsoever to harm us, we will respond and we will respond in strength."
While Netanhayu did not specifically address the prospect of joining a military intervention with other nations against Assad, Israel is the United States' closest ally in the region, and has already launched pin-pointed strikes inside Syria targeting what it said were weapons caches bound for anti-Israel militant groups.
Arab League
The Arab League blamed the Syrian government Tuesday for the alleged chemical weapons attack in Ghouta, calling for the perpetrators to be brought to justice.
In an emergency meeting , the Arab League also called on members of the U.N. Security Council to overcome their differences and agree on "deterrent" measures against those who committed "this heinous crime." The League said it would convene a meeting at the ministerial level next week to follow up on the situation in Syria.
Russia
Foreign Minister Sergey Lavrov accused the countries calling for action against Assad's regime of assuming the role of "both investigators and the U.N. Security Council" in probing the incident.
"They cannot produce evidence, but keep on saying that the 'red line' has been crossed and they cannot wait any longer," he said Monday at a Moscow news conference.
Lavrov likened the situation in Syria to the run-up before the 2003 Iraq invasion. He warned against military intervention in Syria, saying "the use of force without a sanction of the U.N. Security Council is a crude violation of international law."
China
China's official action has been muted; limited to vague calls for all sides to remain calm and allow the U.N. investigators to get on with their work, but the communist nation's state-controlled media made it clear in editorials and statements attributed to leaders that the government was opposed to any military action without a U.N. mandate.
"Such rhetoric, as well as the recent flurry of consultations between Washington and its allies, indicates that they have put the arrow on the bowstring and would shoot even without a U.N. mandate," state-run news agency Xinhua said in an English-language commentary.
"That would be irresponsible and dangerous. For starters, the current scenario is reminiscent of the lead-up to the Iraq War, which the United States staged with allegations about weapons of mass destruction that later turned out to be false."
Iran
"We want to strongly warn against any military attack in Syria. There will definitely be perilous consequences for the region," Iranian Foreign Ministry spokesman Abbas Araqchi said Monday.
"These complications and consequences will not be restricted to Syria. It will engulf the whole region."
Iran, President Assad's most vital ally in the region, has continued to support his regime both materially and diplomatically throughout the war. Tehran also backs the Islamic fundamentalist group Hezbollah, which is based just to the west of Syria in Lebanon and which has sent fighters to help Assad's forces against the rebels.
Thanks for reading CBS NEWS.
Create your free account or log in
for more features.