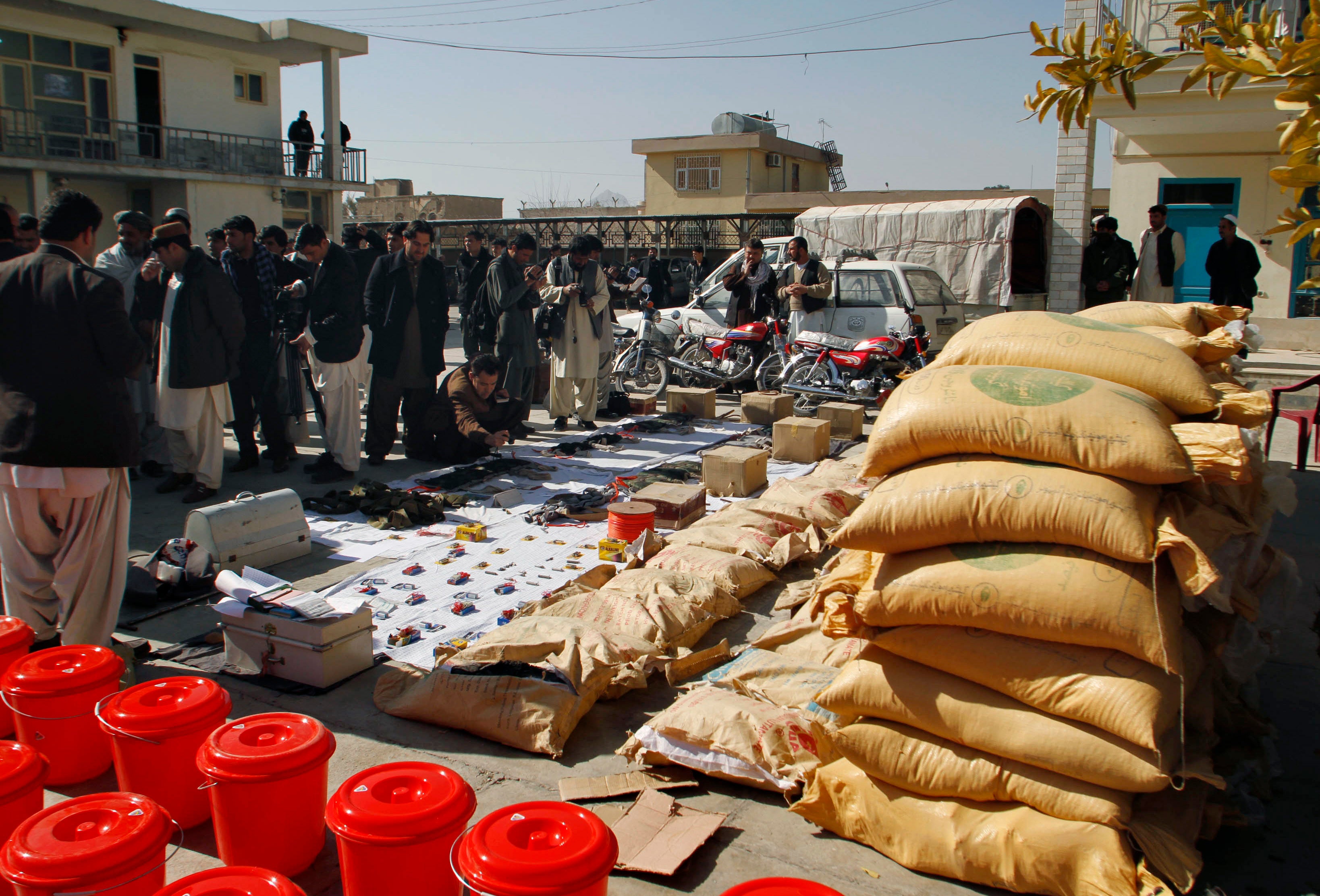 U.N.: Afghan's $61B drug trade funding terrorism
The World Drug Report for 2011 is grim: drug trafficking is no longer a social and criminal ill but a trade that funds organized crime, terrorism and other security threats.
The 272-page report, issued by the U.N. Office on Drugs and Crime (UNODC), is chock full of frightening profiles: cartels, terror groups, corruption of government officials, and networks that evade law enforcement.
"Drug trafficking, the critical link between supply and demand, is fuelling a global criminal enterprise valued in the hundreds of billions of dollars that poses a growing challenge to stability and security," the report states, also noting that there are "more and more acts of violence, conflicts and terrorist activities fuelled by drug trafficking and organized crime."
One of those places where the drug trade has become linked with terrorism is Afghanistan, where the $61 billion annual opiate trade still thrives. The World Drug Report indicates that Afghan opium production will probably increase this year.
Afghanistan's drug trade "is funding insurgency, international terrorism and wider destabilization," Secretary General Ban Ki-moon said, as he announced an ongoing effort to incorporate anti-drug programs into the U.N.'s peacekeeping and disarmament programs.
The price of opium, for example, has increased, meaning that opium has become more of a lifeline to the Afghan economy. UNODC has focused on Herat, Farah, Nimroz, Ghor and Kandahar with the effort to contain opium cultivation and instability. "We can definitely see a record profit in this harvest", said the UNODC's country office representative in Afghanistan, Jean-Luc Lemahieu.
Sadly, in the case of Afghanistan, not much has improved overall. An earlier "Afghan Opium Survey 2009," released by UNODC two years ago concluded that the war-torn country had its very own drug cartel and that insurgents are moving up the "value chain" in the drug trafficking business - not merely taxing supply, but now working with criminal gangs and corrupt officials to produce, process, stock, and export opium.
Even two years ago, according to the UNODC, drugs in Afghanistan not only had become a major source of income for poor farmers, but was also financing suicide bombers because of a "marriage of convenience" between anti-government insurgents and criminal groups, spawning narcotics cartels in Afghanistan with direct links to the Taliban.
Corruption of government leaders accompanies the drugs: "In recent years we have seen several such cases in which ministers and heads of national law enforcement agencies have been implicated in drug-related corruption," the report states.
This year's report adds more to the global drug picture, including the profiles of regions and how they have changed. Cannabis (marijuana) is the world's drug of choice, produced in the Americas and Africa, and in South-West Asia. Afghanistan continued to produce the world's largest supply of cannabis and Afghan farmers found cannabis herb to be a far more profitable crop than opium poppy.
On an international basis, the numbers are large: "Globally, some 210 million people use illicit drugs each year, and almost 200,000 of them die from drugs," the report says.
And, no big surprise, the report says that "North America continues to be the world's largest drug market," even though it is now smaller than a decade ago, and is focused on cannabis, amphetamine-type stimulants (ATS) and opiates.
But profiles have changed: Heroin consumption has stabilized in Europe and cocaine consumption has declined in North America, the report shows, "But these gains have been offset by several counter-trends: a large increase in cocaine use in Europe and South America over the last decade; the recent expansion of heroin use to Africa; and increased abuse of synthetic 'designer drugs' and prescription medications in some regions."
The cocaine trade has not shrunk substantially, but the patterns are different: "Just a decade ago, the North American market for cocaine was four times larger than that of Europe, but now we are witnessing a complete rebalancing. Today the estimated value of the European cocaine market ($33 billion) is almost equivalent to that of the North American market ($37 billion)."
If there is a positive note to the report: A comprehensive and integrated approach can also help us to confront the global threat from drugs more effectively.
The report recommends an international coalition of the anti-drug-willing, where nations share intelligence for enforcement, combine forces for eradication, and attempt to deal with the bigger picture of both supply and demand.
Thanks for reading CBS NEWS.
Create your free account or log in
for more features.