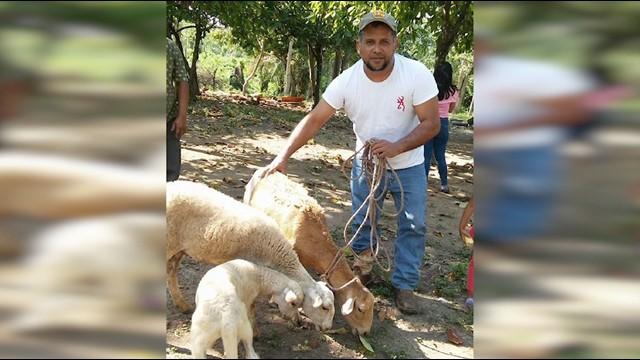 Bound hostage killed by FBI in botched raid grabbed agent's rifle, sheriff says
HOUSTON -- Houston's police chief has revealed new details on the botched FBI raid in which an agent fatally shot a kidnapping victim in Texas last week, CBS affiliate KHOU-TV reports. Houston Police Chief Art Acevedo said the hostage grabbed for an agent's gun and was shot in an ensuing struggle.
A SWAT team including FBI agents was sent to the residence in Conroe, Texas, about 40 miles north of Houston, to rescue 47-year-old Ulises Valladares on Thursday. Valladares had been kidnapped and held for ransom by two men who were living with him, police said.
Two agents were at the back of the house where they believed the victim was being held, Acevedo said.
The agents were using a tool to break a window while other agents entered the front of the house. Acevedo said one of the agents accidentally dropped the breaching tool inside the house and began using his M-4 rifle to break the window.
Valladares was next to the window, his hands bound by duct tape in front of him, Acevedo said. He said Valladares grabbed at the rifle and started to pull the weapon from inside the home. When the agent feared he may lose control of the rifle, the agent fired two shots, apparently not aware that Valladares was the hostage. He was struck by one bullet.
Acevedo said investigators do not know why Valladares pulled on the agent's gun but could have been trying to get out of the house.
"It's a tragedy that we can't take back," Acevedo said of the shooting. He declined to comment on the FBI agent's decision to break the window with his rifle but said his department's protocol would not call for that.
The Houston Police Department is working with the FBI on the investigation into the agent's actions, Acevedo said. At the completion of the investigation, the findings will be shared with Harris County District Attorney Kim Ogg who will determine whether to take the case to a grand jury or refer the matter to the U.S. Attorney's office.
Both suspects in the kidnapping were arrested at a motel near Houston and charged with aggravated kidnapping and aggravated robbery, KHOU-TV reported.
The FBI said in a statement Tuesday that it "takes very seriously any shooting incident."
"We look forward to working closely with the U.S. Attorney's Office, as well as state and local officials, in the review of this matter," special agent in charge Perrye K. Turner said. "Because there is an ongoing investigation, we are not able to provide any additional details."
Thanks for reading CBS NEWS.
Create your free account or log in
for more features.