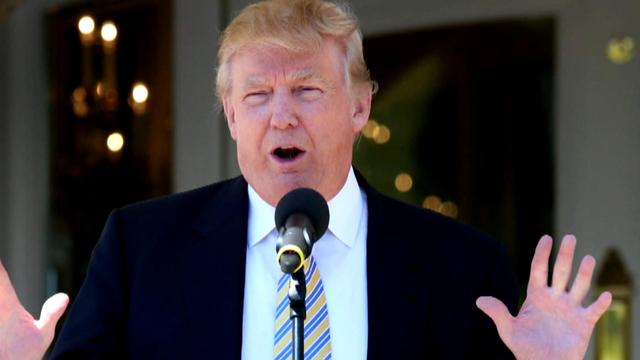 Trump sues Univision for $500M for dropping pageants
NEW YORK -- As fallout built over Donald Trump's remarks about immigrants from Mexico, the Republican presidential candidate answered back with legal action to match his trademark brashness, filing a $500 million lawsuit.
The suit against Univision for dropping the Miss USA and Miss Universe pageants claims breach of contract, defamation and First Amendment violations, and contends Univision turned on him because it supports Democrat Hillary Rodham Clinton for president.
In a statement, Univision called Trump's lawsuit "factually false and legally ridiculous." It said it will "continue to fight against Mr. Trump's ongoing efforts to run away from the derogatory comments he made."
Univision, which moved last week to opt out of Trump's pageants because of the celebrity businessman's remarks earlier this month, is now far from alone.
On Tuesday, a TV company backed by Mexican billionaire Carlos Slim said it was scrapping a project in development with him, and Mexico announced it won't be sending a contestant to the Miss Universe contest, which Slim partly owns.
Ora TV became the latest company to cut ties with Trump over his presidential campaign kickoff speech in which he declared that some Mexican immigrants bring drugs and crime to the U.S. and are rapists.
The company did not give any details about the project it had been developing with Trump. Slim holds a majority interest in Ora TV, which produces shows including "Larry King Now" and "Off the Grid with Jesse Ventura."
And a day after Televisa, the Mexican TV network that airs Miss Universe, said there would be no telecast for the next contest, Miss Mexico pageant director Lupita Jones said Mexico would boycott Miss Universe.
Jones said Trump damaged the pageant and its tradition of convening countries for an event that showcases "friendship, unity and breaking down cultural barriers."
NBC previously announced it would not air the Miss USA or Miss Universe pageants.
In a TV interview, Trump said contestants are suffering because of the backlash.
"We have 50 of the most lovely women you've ever seen right now in Louisiana, and they have been abandoned by NBC and abandoned by Univision," Trump said on Fox News Channel's "The O'Reilly Factor," adding, "They have been crushed."
Trump refused to back down from his campaign remarks, calling them "totally accurate."
The Miss USA pageant, set to take place July 12 in Baton Rouge, Louisiana, also lost both its co-hosts Tuesday, with "Dancing with the Stars" Cheryl Burke and MSNBC anchor Thomas Roberts bowing out. The Miss USA pageant had no specifics on who might host in their place but said the proceedings would be live-streamed on its website.
Last week, the hosts of the Univision simulcast, Roselyn Sanchez and Cristian de la Fuente, said they wouldn't take part in the Spanish-language telecast.
Aftershocks spread into another lucrative part of Trump's empire, as the Ricky Martin Foundation announced it would withdraw a golf tournament from a Trump-owned property.
The tournament, which draws professional players and big sponsors, raises money for child advocacy and scholarships for Latino students. It was to be held Aug. 21 at the Trump International Golf Club in Rio Grande, Puerto Rico. It has been moved to the Wyndham Grand Rio Mar Beach Resort.
The PGA Tour, which runs a World Golf Championship at Trump Doral near Miami, and the PGA of America, declined to comment on whether Trump's remarks would impact their relationships with him.
Thanks for reading CBS NEWS.
Create your free account or log in
for more features.