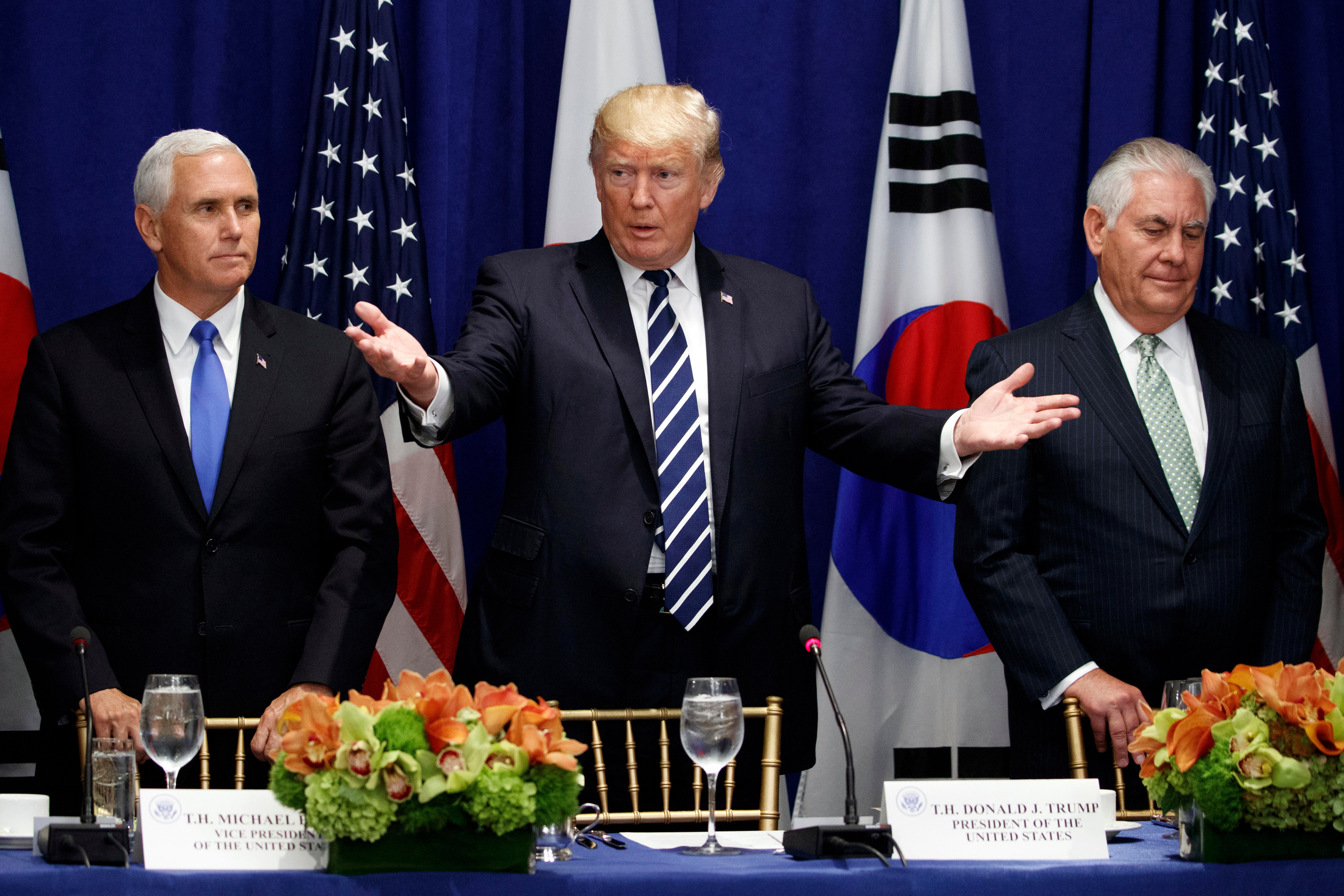 Trump announces new executive order targeting those who trade with North Korea
President Trump announced he signed a new executive order that "significantly expands our authority to target individual companies, and financial institutions that facilitate trade with North Korea."
The announcement came at a lunch with South Korean President Moon Jae-in and Japanese Prime Minister Shinzo Abe.
The order, which aims to cut off sources of revenue that fund North Korea's nuclear and weapons programs, comes in response to North Korea's repeated missile and nuclear tests. It targets any individual or entity that trades goods, services or technology with the North.
Mr. Trump also praised a new action taken by China's central bank to demand that other banks stop doing business with the North. "This just happened," Mr. Trump said.
He also complained that the U.S. has been working on the "problem" of North Korea for 25 years, "and has done nothing." Tolerance for this "must end now," he declared, reiterating that sanctions would be imposed against any bank that knowingly facilitates trade with North Korea.
Treasury Secretary Steven Mnuchin in a briefing with reporters Thursday said the sanctions are "in no way" directed squarely at China. But 90 percent of North Korea's trade is with China.
"This action is directed at everyone," Mnuchin said. "It is in no way specifically directed at China."
Though the U.S. and China have moved to squeeze the North financially, and Mr. Trump this week threatened the destruction of North Korea if it attacks the U.S. or its allies, he may not have ruled out diplomacy. When a reporter shouted a question about whether dialogue with North Korea was still possible, Mr. Trump responded, "Why not?"
"We will put more sanctions on North Korea," Mr. Trump had told reporters during a meeting with Ukrainian President Petro Poroshenko at the UN Thursday.
Soon after, when he sat down with South Korean President Moon Jae-In, Mr. Trump said, "We're making a lot of progress in a lot of different ways. Stay tuned, stay tuned." He noted that he would be having lunch with Moon and Japanese Prime Minister Shinzo Abe.
While Mr. Trump promised to fix a trade deal he says "has been so good" for South Korea, compared to the U.S., he told reporters that his meeting with Moon would focus on military issues and North Korea.
Moon praised the president for his "very strong speech" before the U.N. General Assembly Tuesday, and he called North Korea's provocations "extremely deplorable," a comment that Mr. Trump seized upon.
"I'm happy you used the word 'deplorable,'" he said to Moon. "That's been a very lucky word for me and many millions of people," he joked, a likely reference to the way Hillary Clinton sized up Mr. Trump's supporters during the presidential campaign.
"You could put half of Trump's supporters into what I call the basket of deplorables," Clinton said during a fundraiser in New York in September, 2016. It was a statement she later said she regretted making, but she doesn't think "that was determinative," she told CBS News' Jane Pauley recently.
Thanks for reading CBS NEWS.
Create your free account or log in
for more features.