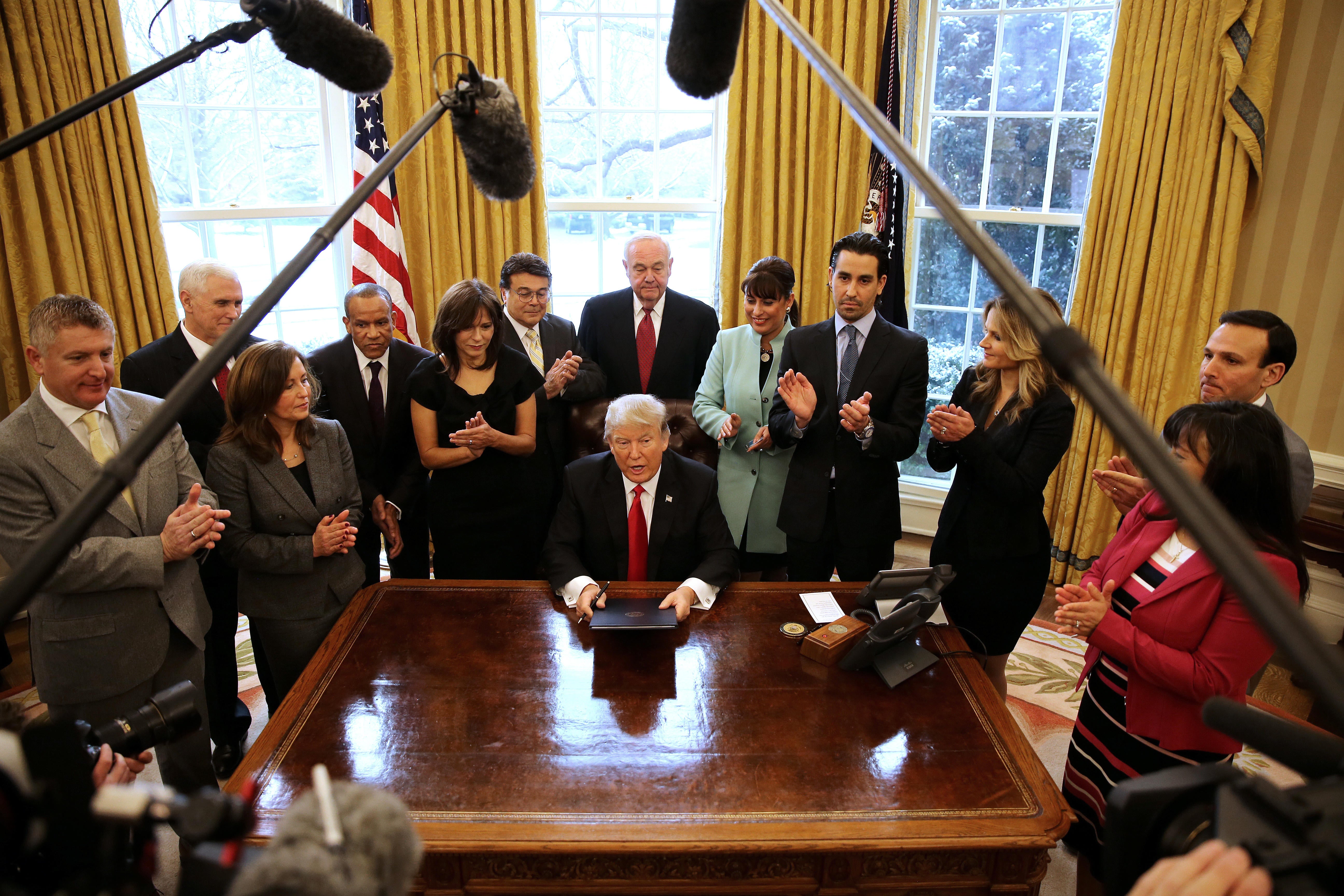 Trump executive order addresses number of regulations
President Donald Trump signed another executive order at the White House Monday morning, this one aimed at reducing the number of regulations.
The order requires two regulations to be removed for every new regulation added, making good on a promise he made during the campaign.
"If you have a regulation you want, number one, we're not gonna approve it because it's already been approved probably in 17 different forms," Mr. Trump said as he signed the order Monday morning. "But if we do, the only you have a chance is we have to knock out two regulations for every new regulation."
The text of the order released Monday afternoon by the White House states this is being done to reduce the burden the private sector has in complying with federal standards.
"In addition to the management of the direct expenditure of taxpayer dollars through the budgeting process, it is essential to manage the costs associated with the governmental imposition of private expenditures required to comply with Federal regulations," the order reads. "Toward that end, it is important that for every one new regulation issued, at least two prior regulations be identified for elimination, and that the cost of planned regulations be prudently managed and controlled through a budgeting process."
The order requires that federal agencies self-identify which regulations to cut based on their estimates of the cost. The White House will then make the ultimate decision on the cuts, which do not apply to the military or national security. According to the text of the order, each agency will be given a "total amount of incremental costs" for new and existing regulations each fiscal year, which they are unable to exceed without express approval.
Mr. Trump signed the order surrounded by small business owners, Vice President Mike Pence, chief of staff Reince Priebus and policy advisor Stephen Miller. The White House released the full text of the order several hours later.
Monday's order is Mr. Trump's sixth executive order since taking office on Jan. 20. During his first 10 days in office, he signed orders pertaining to the Affordable Care Act, the construction of a U.S.-Mexico border wall, and a temporary ban on travel to the U.S. from seven Muslim-majority countries, which has
Mr. Trump spent Monday morning meeting with small business leaders, and is expected to spend the rest of the day having lunch with Vice President Mike Pence and meeting with various aides and advisers.
Thanks for reading CBS NEWS.
Create your free account or log in
for more features.