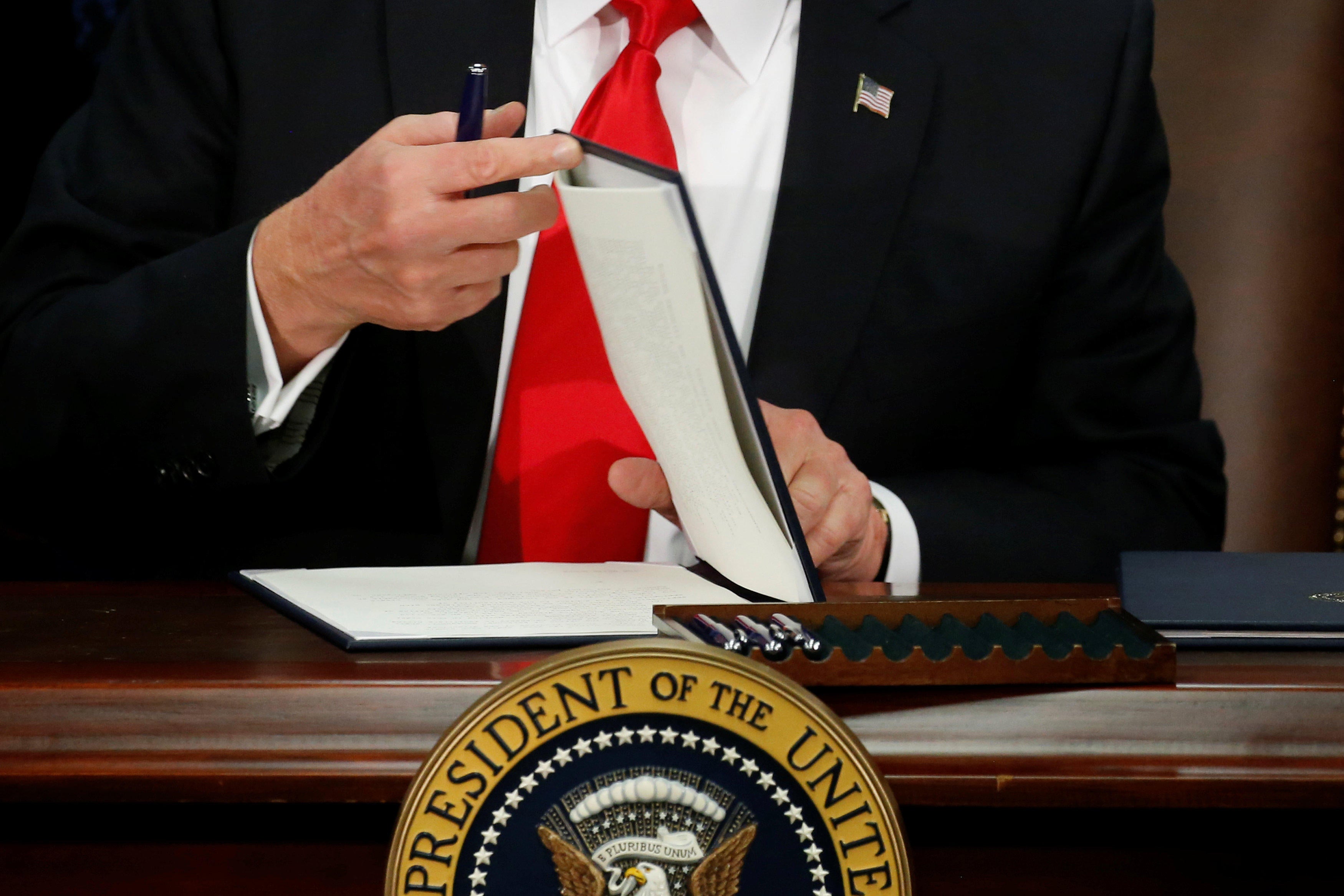 Trump signs immigration executive orders at visit to DHS
President Donald Trump signed two executive orders during a visit to the Department of Homeland Security Wednesday, both pertaining to immigration and national security issues.
The first executive order called for the construction of a wall along the U.S.-Mexico border, while the second involved various provisions relating to enforcement of immigration laws, including withholding federal grant money from sanctuary cities.
"We are going to restore the rule of law in the United States," Mr. Trump told DHS employees in a brief speech after signing the executive orders. "...A nation without borders is not a nation. Beginning today, the United States of America gets back control of its borders."
The text of the orders, released Wednesday afternoon, provided additional details about what actions the orders entail.
The first executive order calls for "the immediate construction of a physical wall on the southern border" -- or in other words, the U.S.-Mexico border wall that was a key promise of Mr. Trump's campaign. It also provides additional resources to DHS to stop people intending to "illegally enter the United States without inspection or admission." The order also calls for an additional 5,000 border agents -- just days after Mr. Trump signed another executive order freezing hiring for many federal workers (not including the military or those hired for the purposes of national security).
Mr. Trump told ABC News earlier Wednesday that construction of the wall will begin "as soon as we can, as soon as we can physically do it."
The second one pertains to the actions and resources of Immigrations and Customs Enforcement (ICE), the branch of the U.S. government that enforces immigration laws. According to the text of the order, it reinstates the Secure Communities Program, which ICE uses to target undocumented immigrants, directs the State Department to withhold visas or take other measures to ensure countries take back the undocumented immigrants the U.S. sends back, and also strips federal grant money from sanctuary cities that harbor undocumented immigrants.
The signing of the two executive orders came after the ceremonial swearing-in of Homeland Security John Kelly, who was confirmed by the Senate last Friday. Vice President Mike Pence administered the oath of office.
"We looked at many good people [for the position] but it wasn't even close," Mr. Trump said after the swearing-in. "John is going to do a tremendous job of protecting our country … this will be a very, very special job that John's going to do."
In an interview Wednesday night with MSNBC, House Speaker Paul Ryan said Congress will front the money for the newly announced wall. He confirmed in the MSNBC interview that a suggested price tag between $8 billion and $14 billion is "about right."
Ryan also said that there are different ways to get Mexico to pay -- something Trump long promised.
Thanks for reading CBS NEWS.
Create your free account or log in
for more features.