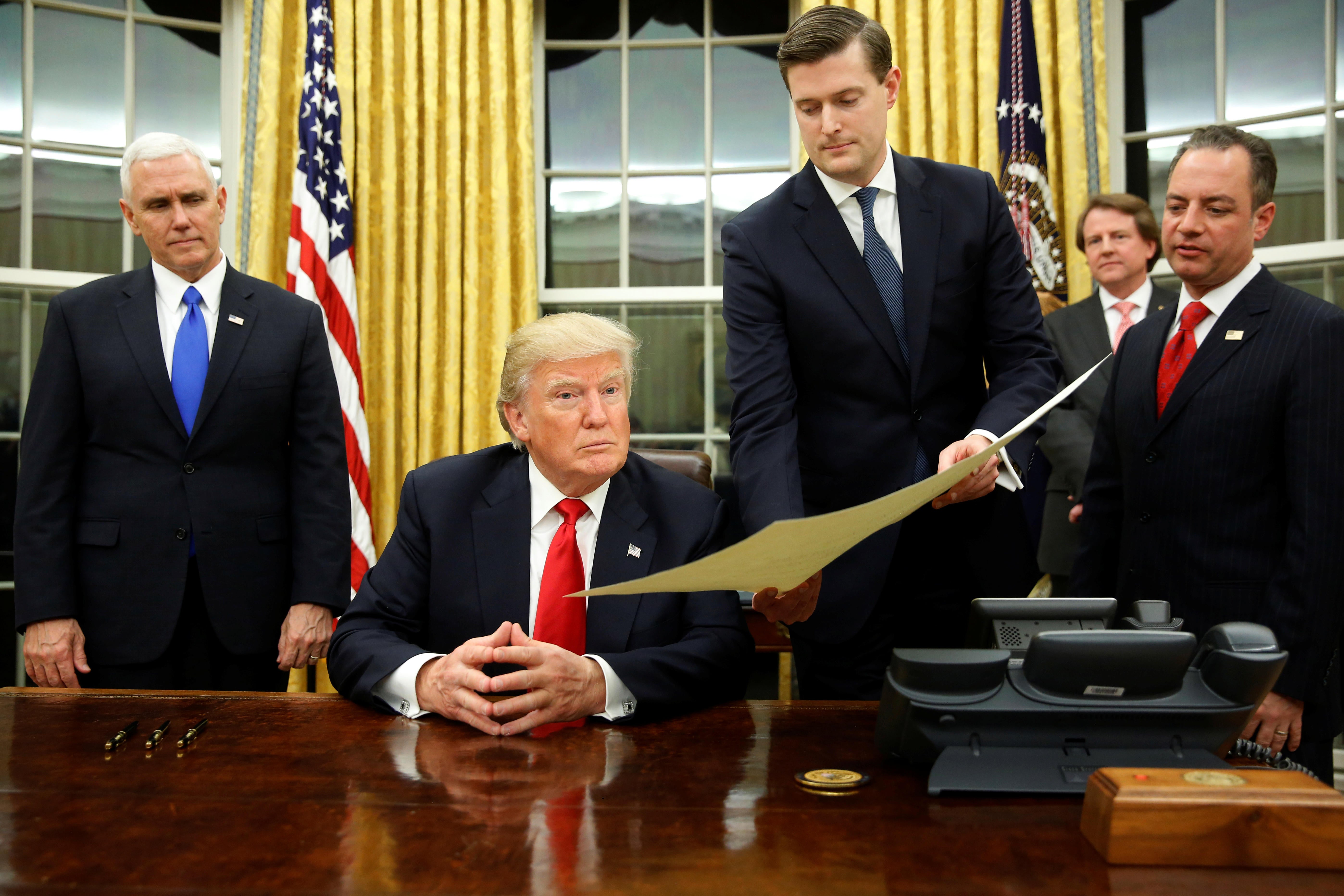 Which executive orders did Trump sign on Day One?
On his first day in office, President Donald Trump signed an executive order instructing federal agencies to minimize the burden of his predecessor's signature accomplishment, the Affordable Care Act, pending congressional repeal.
He was flanked by Vice President Mike Pence, chief of staff Priebus and son-in-law Jared Kushner in the Oval Office.
The executive order addressing the Affordable Care Act (ACA) seeks to allow relevant agency heads to waive or defer provisions that "impose a fiscal burden on any State or a cost, fee, tax, penalty, or regulatory burden on individuals, families, healthcare providers, health insurers, patients, recipients of healthcare services, purchasers of health insurance, or makers of medical devices, products, or medications."
CBS News' Margaret Brennan obtained talking points given by the White House to congressional sources for explaining the ACA executive order. "President Trump's executive order is intended to stop the bleeding - trying to help prevent more catastrophic rate hikes such as those that took place on the first of this month, and to help get the mandates and penalties off the backs of the poorest and sickest Americans," it reads.
The "mandates and penalties" suggest Mr. Trump's order tackles the ACA's individual mandate, which requires that Americans purchase health care insurance or pay a penalty. However, this provision was already somewhat weakened by the fact that the law gave the IRS no real ability to enforce the payment of the penalty, known in IRS-speak as an "individual shared responsibility payment."
"The law prohibits the IRS from using liens or levies to collect any individual shared responsibility payment," the IRS website discloses. The only recourse the tax collecting agency has is to subtract the penalty from your refund. And if you aren't entitled to a refund, the IRS can carry the penalty over to the following year's refund.
President Trump earlier Friday signed paperwork commissioning James Mattis as Secretary of Defense and John Kelly as Secretary of Homeland Security.
White House chief of staff Reince Priebus sent a memo to federal agencies instructing the bureaucracy to cease issuing new regulations.
And also, soon after he was sworn in, Mr. Trump signed an order to roll back a discount on the fees for a federal mortgage program that helps middle-class homebuyers.
CBS News' Arden Farhi and Margaret Brennan contributed to this story.
Thanks for reading CBS NEWS.
Create your free account or log in
for more features.