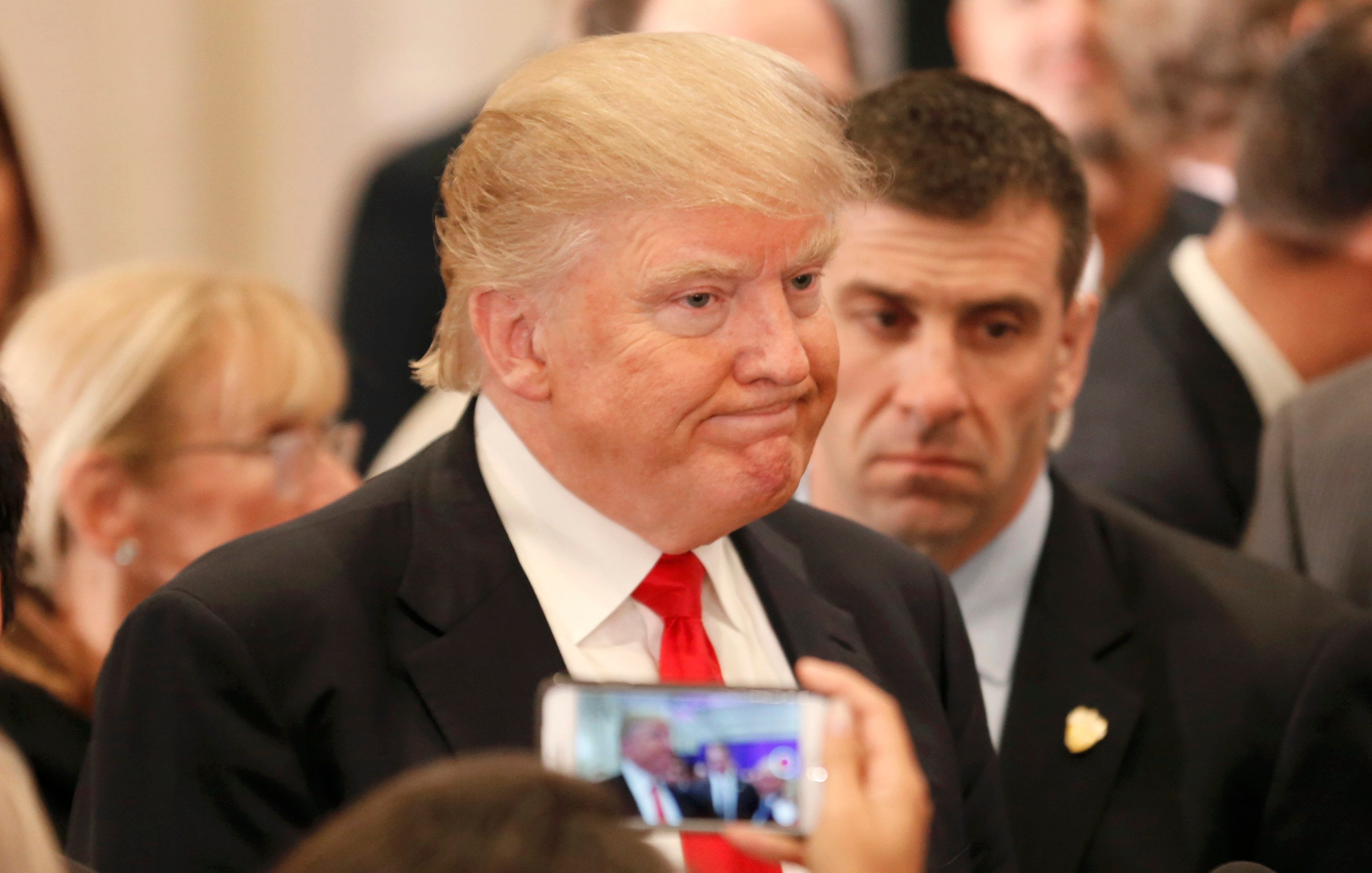 Donald Trump's campaign denies getting rough with reporter
Donald Trump's campaign is denying charges that top campaign official Corey Lewandowski got rough with a reporter during an event in Jupiter, Florida late Tuesday.
"The accusation, which has only been made in the media and never addressed directly with the campaign, is entirely false," Trump spokeswoman Hope Hicks wrote in a statement, obtained by CBS News. "As one of dozens of individuals present as Mr. Trump exited the press conference I did not witness any encounter. In addition to our staff, which had no knowledge of said situation, not a single camera or reporter of more than 100 in attendance captured the alleged incident. This individual has never met Corey, nor has the only reporter that supposedly identified him."
Hicks was responding to an account, posted to the conservative-leaning Breitbart website by reporter Michelle Fields, of a physical confrontation at the Trump National Golf Club.
After the GOP front-runner spoke at a televised press conference, Fields, according to her Breitbart report, attempted to ask Trump a question on affirmative action as he was exiting the room.
Trump "acknowledged the question," Fields said, "but before he could answer I was jolted backwards."
"Someone had grabbed me tightly by the arm and yanked me down," she added. "I almost fell to the ground, but was able to maintain my balance. Nonetheless, I was shaken."
Fields, who typically covers Texas Sen. Ted Cruz in the 2016 race and was filling in for a colleague at the Trump event, said she did not recognize who had grabbed her, but cited Washington Post reporter Ben Terris, a witness to the events.
"The Washington Post's Ben Terris immediately remarked that it was Trump's campaign manager, Corey Lewandowski, who aggressively tried to pull me to the ground," she wrote. "I quickly turned around and saw Lewandowski and Trump exiting the building together. No apology. No explanation for why he did this."
According to one witness who provided an account to The Daily Beast, Lewandowski had grabbed the reporter's left forearm from behind and was "yanking her down toward the ground like a ragdoll."
After the Trump campaign countered her claims, Fields tweeted out a photo bruises on her arm:
Terris also came out with his own report for the Post on Thursday, doubling down on his account that Lewandowski had been responsible.
"As security parted the masses to give him passage out of the chandelier-lit ballroom, Michelle Fields, a young reporter for Trump-friendly Breitbart News, pressed forward to ask the GOP front-runner a question. I watched as a man with short-cropped hair and a suit grabbed her arm and yanked her out of the way. He was Corey Lewandowski, Trump's 41-year-old campaign manager," Terris wrote. "Fields stumbled. Finger-shaped bruises formed on her arm."
Breitbart came out with its own statement on Wednesday, calling the physical altercation "unacceptable," although it expressed some uncertainty that Lewandowski was to blame.
"It's obviously unacceptable that someone crossed a line and made physical contact with our reporter," read the Breitbart statement, from CEO and president Larry Solov. "What Michelle has told us directly is that someone 'grabbed her arm' and while she did not see who it was, Ben Terris of The Washington Post told her that it was Corey Lewandowski. If that's the case, Corey owes Michelle an immediate apology."
An editor-at-large at Breitbart, Ben Shapiro, wants more than an apology for Fields.
Another Breitbart reporter, Patrick Howley, sent a series of tweets (later deleted) aimed at casting doubt on the accuser. He demanded that the reporter involved in the scuffle "release video of the incident," noted that it was "getting a lot of attention from the mainstream media," and said "I've been reporting for Breitbart at Trump rallies and no one ever grabbed my shoulder and everyone was very nice.
On Thursday, Howley was suspended.
"Patrick Howley was speaking for himself and not for Breitbart News. Senior Management at Breitbart News believes his comments were inappropriate and has decided to suspend him indefinitely effective immediately," Breitbart said in a statement. "Breitbart continues to stand 100% with Michelle Fields and believes that Corey Lewandowski must accept responsibility for his actions and apologize."
Lewandowski, according to Lloyd Grove's report in The Daily Beast, admitted to Breitbart's Washington political editor that he had grabbed Fields. "Lewandowski's explanation to Boyle, said these sources, was that he and Fields had never met before and that he didn't recognize her as a Breitbart reporter, instead mistaking her for an adversarial member of the mainstream media," Grove wrote.
In a separate statement to ABC News, Hicks added, "There are often large crowds aggressively seeking access to Mr. Trump and our staff would never do anything to harm another individual, while at the same time understanding that Mr. Trump and his personal spaces should never be invaded."
Hicks went on to attack Fields' credibility. "[T]his person claims she does not want to be part of the news, and only report it, however if that was the case, any concerns, however unfounded they may be, should have been voiced directly first and not via [T]witter," she wrote, continuing, "especially since no other outlet or reporter witnessed or questioned anything that transpired that evening."
"We leave to others whether this part of a larger pattern of exaggerating incidents, but on multiple occasions she has become part of the news story as opposed to reporting it," she said. "Recall she also claimed to have been beaten by a New York City Police officer with a baton."
On Twitter, Lewandowski also chimed in against Fields.
On Thursday, a 78-year-old man was charged with assault for allegedly punching a protester at a Trump rally Wednesday night in North Carolina. The alleged assault was caught on video.
Thanks for reading CBS NEWS.
Create your free account or log in
for more features.