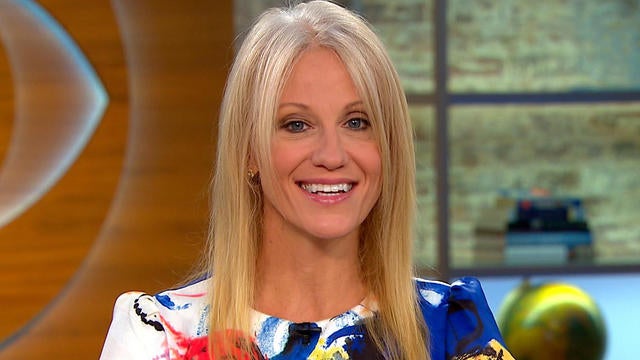 Trump campaign manager: Campaign "not at all" a platform for alt-right
Kellyanne Conway, Donald Trump's campaign manager, is denying that her candidate has any connections to the so-called "alt-right" political philosophy, pushing back on the issue after Hillary Clinton announced Wednesday that she would be focusing her Reno speech on Trump's ties to the white nationalist movement.
When asked by "CBS This Morning" co-host Anthony Mason on Thursday whether the Trump campaign was a platform for the "alt-right," a philosophy that his its roots in white identity politics, Conway answered: "No, not at all."
"We've never even discussed it internally," she added. "It certainly isn't a part of our strategy meetings. It's nothing that Mr. Trump says out on the stump."
Conway also said she was "not that familiar with" the philosophy, though Trump's new CEO, Breitbart executive Steve Bannon, is notorious for fanning the flames of the movement while running his conservative news site.
Instead, Conway blasted Clinton for her plans to discuss the fringe philosophy in her Nevada speech Thursday.
"I'm just confounded that this is what Secretary Clinton is actually going to tell the American people after she's so scarce. No press conference in 263 days. Very few interviews," she said. "Why isn't she out there, Norah, talking about her vision for next steps after Obamacare... Why don't we actually know her immigration plan very well?"
"We just feel at the Trump campaign that the voters deserve and expect a conversation on substantive issues that they talk about around kitchen tables and cappuccino counters," she added..
Clinton has, in the past, given several speeches on policy issues, outlining her proposals on immigration, health care, the economy and energy. Her most recent speech last week in Cleveland highlighted an economic plan focused on investing in manufacturing, clean energy, and infrastructure jobs.
When Conway was asked whether it was substantive for Trump to call Clinton a "bigot" -- a label he attached to the Democratic nominee at a rally in Jackson, Mississippi Wednesday -- she fired back that "people get away with calling him everything in the book."
"She's going to call him that today," Conway said of Clinton. "She's going to call him worse and everybody's going to cover it like it's news."
The Trump campaign manager also attempted to clarify her candidate's stance, adding that "what he is saying is her policies and the policies of many in her party...have not helped people of color."
In recent days, the billionaire business mogul has made a concerted effort towards addressing minority voters in speeches and rallies. Conway told CBS News in another off-camera interview that the campaign is working on scheduling an immigration speech. And on Wednesday, Trump appealed to African Americans in Jackson by promising that "you're not going to be shot" anymore in black neighborhoods if he were president.
Conway acknowledged in her Thursday interview that Trump lags in minority support, but said the candidate was working hard to address those issues.
Pointing to recent discussions like the one Trump had Saturday with Hispanic community leaders about immigration and economic policies, Conway said: "We need to earn those votes."
Thanks for reading CBS NEWS.
Create your free account or log in
for more features.