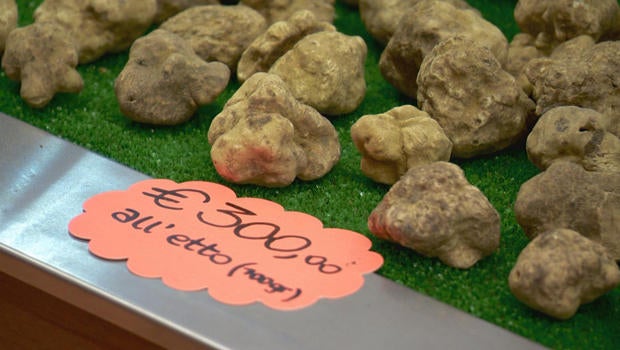 Truffles: Secrets of a fragrant delicacy
Digging for gold is one way to extract wealth from the Earth; digging up a rare and far more delicious treasure is another. Seth Doane takes us to an auction at a castle near the town of Alba in Italy:
The bidding for this exotic food went up by the hundreds, and then by the thousands. The rare delicacy on the auction block was displayed with great fanfare -- upstaging the soap opera star in attendance.
Daniel McVicar -- a 20-year veteran of "The Bold and the Beautiful" -- is a huge fan of this unusual-looking, perishable product: the white truffle. "It's a beautiful treasure," he rhapsodized. "I remember every meal I've ever had with truffles," he admitted. "Absolutely! Absolutely!"
It was a charity auction, so the price was inflated. Still, a pair of truffles sold for more than $100,000 -- about $2,500 an ounce, double the price of gold! They were bought by a famous Chinese chef.
To appreciate why these truffles, a mushroom-like fungus, can be so pricey, it's necessary to see how they're found.
Doane asked Natale and Giorgio Romagnolo, fifth-generation truffle-hunting-brothers, "You're looking for a certain kind of tree, a certain time of year, and a certain weather?"
"Yes, the weather is important," Natale said. "And the ground."
Most important is the dog. Brio is trained to sniff for truffles which grow undergound, and Natale told Doane each hunter knows a secret place: "And this secret place, they go only during the night. Our father didn't tell us his secret place."
"He didn't even tell you, your father?"
"No. We discovered it only when he dead."
That secrecy -- and their scarcity -- makes finding one all the more delicious.
Natale showed Doane the difference between the more common black truffle, still a delicacy, and the white truffle. "This has a perfume," Doane said, "but the fragrance here is so much more.".
The price, too -- the white truffle is about ten times more expensive than the black.
The Piemonte region of Italy is known for its rolling hills and its wine. For 86 years, the town of Alba has hosted a truffle fair where tartufi (its Italian name) easily sell for hundreds of thousands of dollars each.
Yet to aficionados, all of this eyebrow-raising isn't about price, but smell -- usually described as an enticing mix of honey, garlic and earth.
White truffle season spans from late September into January. That's prime time at Tartufi Morra, where Doane saw the pre-shipping scramble. White truffles are only fresh for a few days, so they're bought and shipped within hours to exclusive restaurants and shops in 31 countries.
Brothers Alessandro and Gianmaria Bonino run the company. "My phone is always [on] night and day, because I want that my clients can call me any time," said Alessandro.
So, Doane asked, "your phone will ring in the middle of the night? It'll be some sort of truffle emergency?"
"Ahh, sometimes, yes."
The founder of this company, Giacomo Morra, was credited with introducing this unusual food to the West back in the 1950s.
"Morra understood the importance of the truffle and started giving the best truffles as gifts to famous people," Gianmaria explained. "He sent one to Marilyn Monroe, another to President Harry Truman, and the town of Alba became known worldwide."
Damiano Nigro is a Michelin-starred chef at Villa d'Amelia, just outside Alba.
"You dream when you are a young chef to see the face when you slice the white truffle on the plate -- woah!" Nigro said.
To show us, he whipped up a pasta dish with simple ingredients: butter, a little olive oil and parmesan. The idea is to keep the focus on the generous shaving of white truffle which -- befitting their value -- he keeps locked in a safe, inside the fridge.
"Mmmmmm. Buonisimo!
"When you use it, you have it, you like it -- you fall in love with it!" said Nigro. "That's a problem. It's an expensive love."
And it's all part of the appeal. Add to that a little mystery, and some secrecy, and you have a recipe for obsession.

For more info:
Thanks for reading CBS NEWS.
Create your free account or log in
for more features.