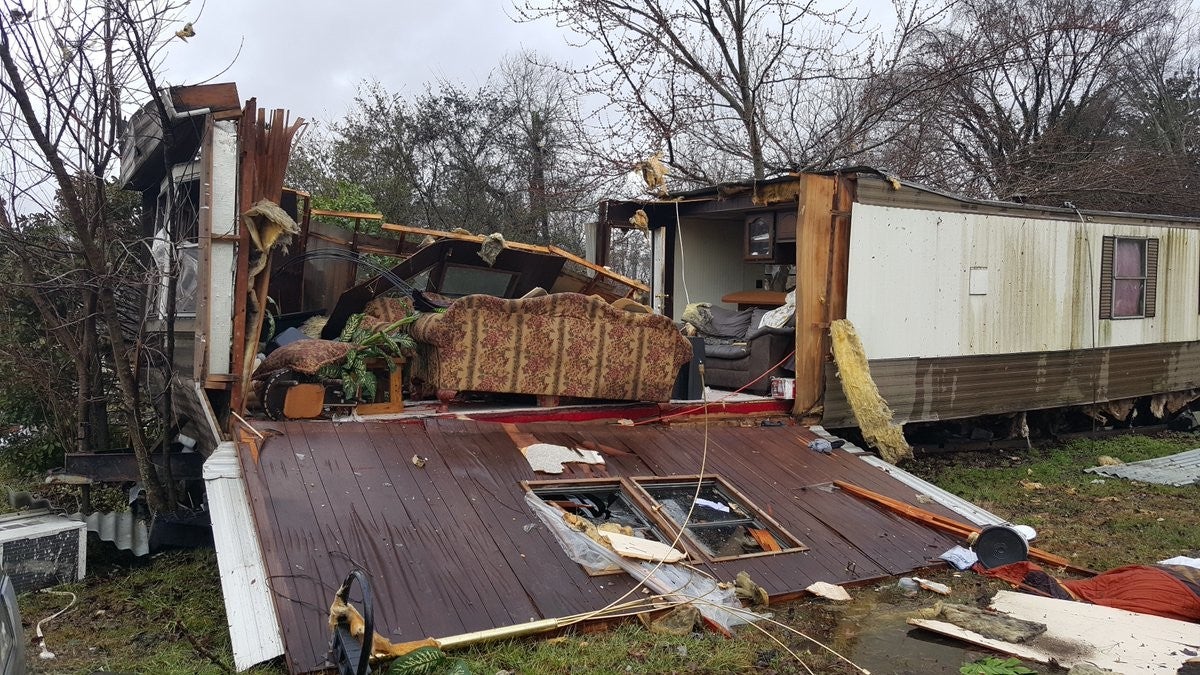 5 dead as severe weather strikes from S.C. to N.Y.
CONVENT, La. -- Four people, including a toddler, were killed Wednesday in Virginia as a severe storm system moved north after leaving a path of death and destruction in the Deep South.
Police in Sussex County, Virginia, told CBS affiliate WTVR a 50-year-old man, a 26-year-old man and two-year-old boy died when their mobile home in Waverly was hit by a suspected tornado.
The victims were found approximately 300 yards from the mobile home. The bodies were transported to the Office of the Medical Examiner in Norfolk for positive identification.
Debris was seen strewn through the streets of Waverly, with trees down and significant damage to homes. CBS News correspondent Chip Reid reported that the debris field was three miles long.
Sussex-Surry Dispatch reporter Michael Campbell photographed a mobile home ripped open, cars flipped over, sheet metal twisted around telephone poles. Roads are blocked by downed trees, power lines, and piles of debris torn from homes.
A Virginia State Police spokesperson told CBS News that the body of a man reported missing after his home was destroyed by a reported funnel cloud in the Appomattox County community of Evergreen was found late Wednesday. Seven other people in the area were hurt.
Virginia Gov. Terry McAuliffe has declared a state of emergency as the powerful storm system barrels through the eastern part of the nation.
In Darlington County, South Carolina, a 58-year-old man was killed by a tree that fell on him after he stopped to remove storm debris from a road near his home, reports CBS Florence, S.C. affiliate WBTW-TV.
Several buildings collapsed in Lancaster County, Pennsylvania when a possible tornado struck near White Horse, CBS affiliate WHP reported. Emergency officials said there were no immediate reports of injuries.
The National Weather Service issued a tornado watch for much of New Jersey and the Philadelphia area, CBS New York reported. A severe thunderstorm warning and a wind advisory were in effect for New York City, its suburbs and northern New Jersey. Flood warnings were also posted.
New York Mayor Bill de Blasio announced late Wednesday that a travel advisory would be in effect from Wednesday evening through early Thursday morning.
"We're expecting strong winds and some thunderstorms this evening," the mayor said in a statement. "New Yorkers should be very careful driving and walking tonight."
High winds toppled tress and power lines around the area, including a 50-foot tree that fell onto a house in New Milford, New Jersey. No one was injured, according to CBS New York.
The wind was also blamed for an accident in which a semi-trailer truck flipped over on the George Washington Bridge. A source told CBS New York reporter Tony Aiello the truck was headed east toward New York City and flipped over - and into the westbound lanes - due to high winds.
Three people were killed in Louisiana and Mississippi when tornadoes hit there Tuesday. Dozens of other people were injured.
The National Weather Service had issued a tornado warning for an area in southeastern Virginia, with radar indicating a twister in Waverly.
Tornadoes ripped through an RV park in Louisiana and significantly damaged nearly 100 homes and apartments in Florida, and forecasters warned that more twisters were possible Wednesday as the deadly storm system moved to the East Coast.
One of the hardest-hit areas along the Gulf Coast on Tuesday was a recreational vehicle park in the town of Convent, in southern Louisiana. RVs were tossed about and lay on top of wrecked cars and pickup trucks.
Two people were killed there, and 31 injured people were taken to area hospitals, said St. James Parish Sheriff Will Martin. Seven of them were in critical condition, he said.
CBS News correspondent David Begnaud toured the damage with Louisiana Gov. John Bel Edwards.
"It could not have hit a more vulnerable area," Edwards told Begnaud. "These are travel trailers. These are not even mobile homes that get strapped down and secured."
An all-night search of the RV park found no additional injuries or fatalities, the sheriff said. Three people were still missing and Martin said he hoped to locate them Wednesday.
Forty-eight-year-old Barbara Posey has a survival story even she can't believe. She spoke to CBS New' Begnaud about it on Wednesday.
"I felt stuff hitting the trailer or the RV. Kept feeling stuff hitting the RV. And then next thing I know I went forward, and next thing I know it was daylight," she explained. "I was riding around and around and around and then I didn't realized until later what it was. It was an electrical box I was riding on."
Her RV now looks like scrap mixed among a mangle of personal treasures.
"Man it's hard to comprehend right now," said Ricky Posey, Barbara's husband.
He left her hospital bedside to find items belonging to her grandmother.
"You can look around and see what one storm can do," he said.
Briaxton Lott, 23, was in the trailer park when the tornado hit. The pad where his trailer once sat was empty and he pointed to the remnants of his trailer about 100 feet away.
"The whole front end came up and slammed back down, and I grabbed up the baby and the next thing I know we just went rolling end over end," Lott said.
His destroyed trailer ended up right next to three trailers that appeared untouched. Children's toys were scattered in the mud, and an alarm could be heard going off in the morning, likely alerting a long-gone resident it was time to go to work. Remains of the jumbled and mashed trailers and vehicles were scattered across the park.
Lott, who was in the trailer with his wife, two kids and their dog, didn't even know where the top of his trailer was. He came back in the morning to dig out some possessions, including family Bibles and items inherited from an uncle who passed away.
When asked his plans for the future Lott said: "Just keep moving forward. We'll definitely be going to church Sunday, definitely."
Thousands of people across the Gulf Coast region were without power and the threat of more tornadoes remained. At least 88 million people along the East Coast were at some sort of risk of severe weather Wednesday, the Storm Prediction Center said.
Some of the larger metro areas included the North Carolina cities of Raleigh and Wake Forest. Straight-line wind gusts may be particularly strong, reaching 70 mph or greater.
Forecasters with the National Weather Service had to take cover Tuesday in a shelter in Slidell, Louisiana, because a tornado was nearby. Lightning took out the office's radar, forcing them to use backups.
"We felt the shockwave go through the building," said Ken Graham of the National Weather Service.
The storms dumped several inches of rain in Alabama, Georgia and elsewhere, causing flash flood watches.
By 7 a.m. Wednesday, Albany, Georgia, had recorded 3.58 inches of rain in a 24-hour period. In Atlanta, the two-day total was approaching 3 inches before dawn Wednesday.
Schools were closed in parts of Georgia, Florida and South Carolina ahead of the storms.
At least seven tornadoes hit Louisiana and Mississippi.
In Mississippi, one person, 73-year-old Dale Purvis, died of blunt-force trauma in a mobile home west of Purvis, Lamar County Coroner Cody Creel said.
Florida Gov. Rick Scott said an apparent tornado in the Pensacola area significantly damaged more than 70 homes and 24 apartments, leaving three people with minor injuries.
He stopped at The Moorings apartment complex, where winds whipped the roof off of at least two buildings. A tangled wall of tree limbs and power lines partially blocked the entrance to the apartment complex. A large oak tree fell on the side of one building and dozens of cars in the parking lot were smashed under a layer of wood, twisted metal, insulation and other debris.
"I was on the phone with my sister. I heard the trees flying through the air and hitting things," said resident Sherman Matthews. "We are fortunate no one was killed."
Thanks for reading CBS NEWS.
Create your free account or log in
for more features.