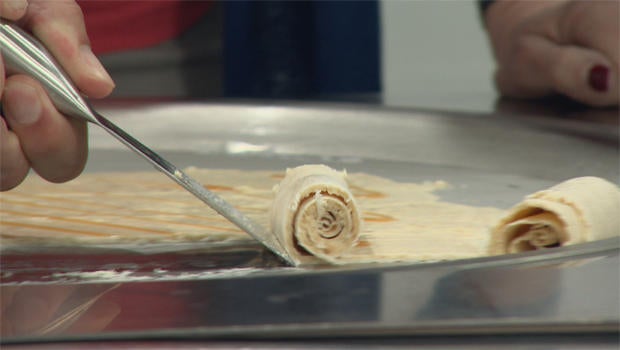 Today's Special: Rolled Ice Cream
Susan Spencer gets the scoop on a hot new dessert that Philadelphians are melting over:
What's the latest scoop? Ice cream, in ROLLS.
"The ice cream gets rolled up right before your eyes," explained Jacob Billig.
It is VERY cool. In fact, it's downright freezing. After all, it's anywhere between -15° and -20°.
Twenty-two-year-old Jacob Billig and his 20-year-old brother Kyle opened Sweet Charlie's about a year-and-a-half ago. (Charlie is their dog.) They were convinced that Philadelphia would melt over Rolled Ice Cream.
"I mean, the flavors that you can make are endless," Jacob said.
Endless and creative, like Monkey See, Monkey Do (fresh banana and Nutella). There's Smore Please, (with roasted marshmallows and graham crackers); or if you're a morning person, Off Duty (glazed donut and ground coffee).
The perfect rolls are just the end of the show. It starts with elaborate chopping and mixing … blending … spreading it all out like plaster, and at exactly the right moment, rolling it up.
Voila!
Perfection isn't cheap. A serving of rolled ice cream is $7.
The brothers got the idea back from YouTube video like this one of a street vendor in Thailand, where the craze already had taken off.
They became obsessed with trying to make it themselves. And what those early efforts like? "It was a lot of trial-and-error," said Kyle.
"It was messy," Jacob added.
As Spencer soon found out, it's not nearly as easy as it looks. "Uh-oh. You're not gonna hire me!" she exclaimed.
Sweet Charlie's is now a franchise, with six stores up and running.
Spencer asked, "How long would you say it was until you were completely confident, 'Hey, this really is gonna work'?"
"When the lines kept coming," Jacob replied, "and people kept coming back, and we started seeing the same faces."
Customers are getting fatter and fatter! And the Billigs are milking this craze for all it's worth … just rolling along.

For more info:
Thanks for reading CBS NEWS.
Create your free account or log in
for more features.