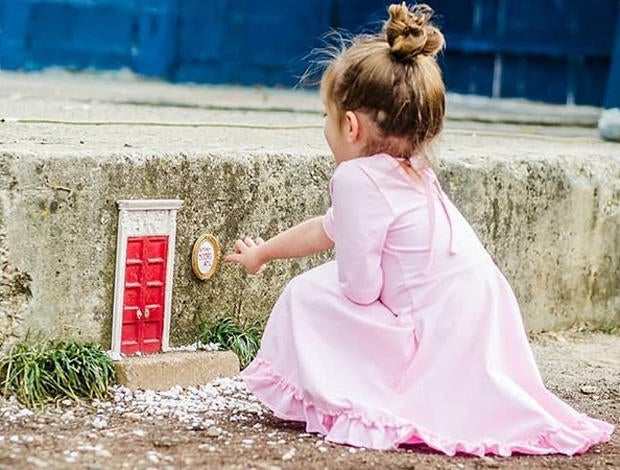 Unlocking the wonders of Tiny Doors ATL
Mystery came knocking in Atlanta, when a series of doors began appearing around the city … doors so small they're hiding in plain sight. "Doors are a really great way to quickly access imagination," said artist Karen Anderson, creator of the public art project Tiny Doors ATL.
"Most people have had interactions with a door. They know inherently that something is behind it. And it's not about doors – it's about community and interaction and engagement.
"And, it's kind of a love note to Atlanta."
Correspondent Mark Strassmann asked, "You're inviting people to come in through the door and to have conversation, 'Let's talk'?"
"That's right."
Anderson's doors stand a mere seven inches tall, about one-twelfth the size of a typical door – a deliberate choice by the artist.
"It's an equalizer," Anderson said. "We are all way too big. Even a baby is way too big to fit through that door! And so we're all having a similar experience of this just being a very small piece of art. And we have to choose how we want to interact with it."
The project got its start at the city's Krog Tunnel. When Anderson first installed a door there four years ago, it seemed no one had noticed.
One day she walked past: "And I saw in front of the door about eight tiny cats, all pointed toward the door, as though they were expecting someone to come out."
"So, somebody had left eight cats to stand outside the door? So these doors can become a village of creativity," said Strassmann.
"Right. And I loved that other people were using their creativity to interact with it."
Anderson's fascination with tiny began as a child in Michigan, playing with dollhouses, but not in the way you might think. "I was the kid who threw away all my own dollhouse furniture and I made everything in the dollhouse myself!" she laughed. "I was really interested in creating the furniture inside the house more than I was interested in the drama of the dolls."
Why was that? "I really liked recreating what I saw around me. This job that I have now is not a surprise to anyone who's known me."
In a way, she's been training for it her whole life.
There are 14 doors so far. Each is unique. Meticulously crafted, one door takes Anderson 50 to 60 hours to create. "They're all designed to look like the neighborhood and to feel like the neighborhood," she said. "Because what I'm trying to do is create a blank canvas for your imagination."
As neighborhood landmarks their fame spread, door to door. In neighborhoods without one, residents often ask Anderson to create one. Take the tree door in Grant Park, requested by Annie Perterle.
When asked what the tiny door adds to her neighborhood, Perterle replied. "Well, first of all, how could you not be charmed to walk past that and see that? It's a charming contribution to the neighborhood. And I think a lot of people care about it. I often come by, And some kids will have made, like, a little path with sticks or leaves or something in front of it, you know, or put little crabapples in front of it. You know, so it's like this constant communication. It's everybody's door!"
Being street level can take a toll on a small piece of art. But Anderson sees upkeep as just another part of the job. "It's a commitment to this neighborhood not to abandon a piece of art here and go, 'There you go,' but to go, 'Okay, yeah, this is cared about, just like your own front door.'"
Tiny Doors ATL has admirers near and far. Its Instagram account has more than 90,000 followers. They're a dedicated fanbase, too.
Anderson said, "One time I took a door down for repair just for a night. And I got an e-mail from city council that night that said, 'What happened? Are you okay? Is the door okay?' And it really made me realize how much they cared about it – just one evening!"
"Your door maintenance had become a municipal crisis!" said Strassmann.
"Absolutely! It was a huge honor."
Anderson recently installed the latest door in Atlanta's East Village.
To celebrate the new addition, as well as the fourth birthday of the project, Atlanta threw Tiny Doors a tiny birthday party, complete with a suitable gift: A tiny key to the city, for bringing big wonder to tiny spaces in Atlanta."
When Atlanta discovered Karen Anderson's door, opportunity knocked. Imagination answers.


For more info:

Story produced by Aria Shavelson.
Thanks for reading CBS NEWS.
Create your free account or log in
for more features.