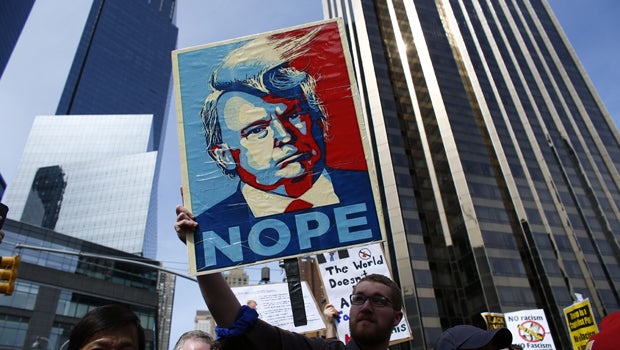 Hundreds protest Donald Trump in New York City
NEW YORK -- Hundreds of protesters gathered in front of one of Donald Trump's signature Manhattan buildings Saturday to protest the GOP front-runner, CBS New York reports.
The protesters gathered Saturday in Manhattan's Columbus Circle, across from Central Park, with a heavy police presence. Demonstrators chanted: "Donald Trump, go away, racist, sexist, anti-gay."
They marched across south Central Park to Trump Tower, the Fifth Avenue skyscraper where Trump lives. Then they marched back to Columbus Circle for a rally.
At least two protesters were arrested for walking in the street. A group of demonstrators that tried to break through a police barricade was pushed back by officers, who used pepper spray.
Some protesters at the event told CBS New York station WINS-AM that they couldn't believe Trump has come this far in the election and that they believe his rhetoric is divisive and racist.
"We're here because Donald Trump is the antithesis of what America stands for," one Westchester man said.
"We gotta make sure we get out and vote and make sure our voices are heard," another protester from Manhattan said.
One sign read "Love Trumps Hate." Another read, "Will trade 1 Donald Trump for 25,000 refugees."
There were some Trump supporters at the rally that were heckled, but the protest remained peaceful, WINS-AM reported.
The protest was organized by political group Cosmopolitan Antifascists.
"Trump's policies threaten many of us in the Black, Latino, LGBTQIA+, Muslim, and other communities," the group said in a Facebook post for the planned protest. "These policies and type of speech has no place in this country and certainly does not have a place in the city that Trump grew his empire in - a city known as a melting pot and home for many of the same people Trump continues to wage war on."
The protest was backed by several activism groups, including ICE-FREE NYC, International Women's Day Coalition, Millions March NYC, Queer DEtainee Empowerment Project, Revolutionaries Against Gendered Oppression Everywhere [RAGE], among others.
Meanwhile, hundreds of immigrant rights advocates also protested in Arizona, where Trump was campaigning ahead of their upcoming primary.
A week ago, protesters forced Trump to cancel a campaign event in Chicago after they and supporters of the Republican front-runner faced off in several violent altercations.
Thanks for reading CBS NEWS.
Create your free account or log in
for more features.