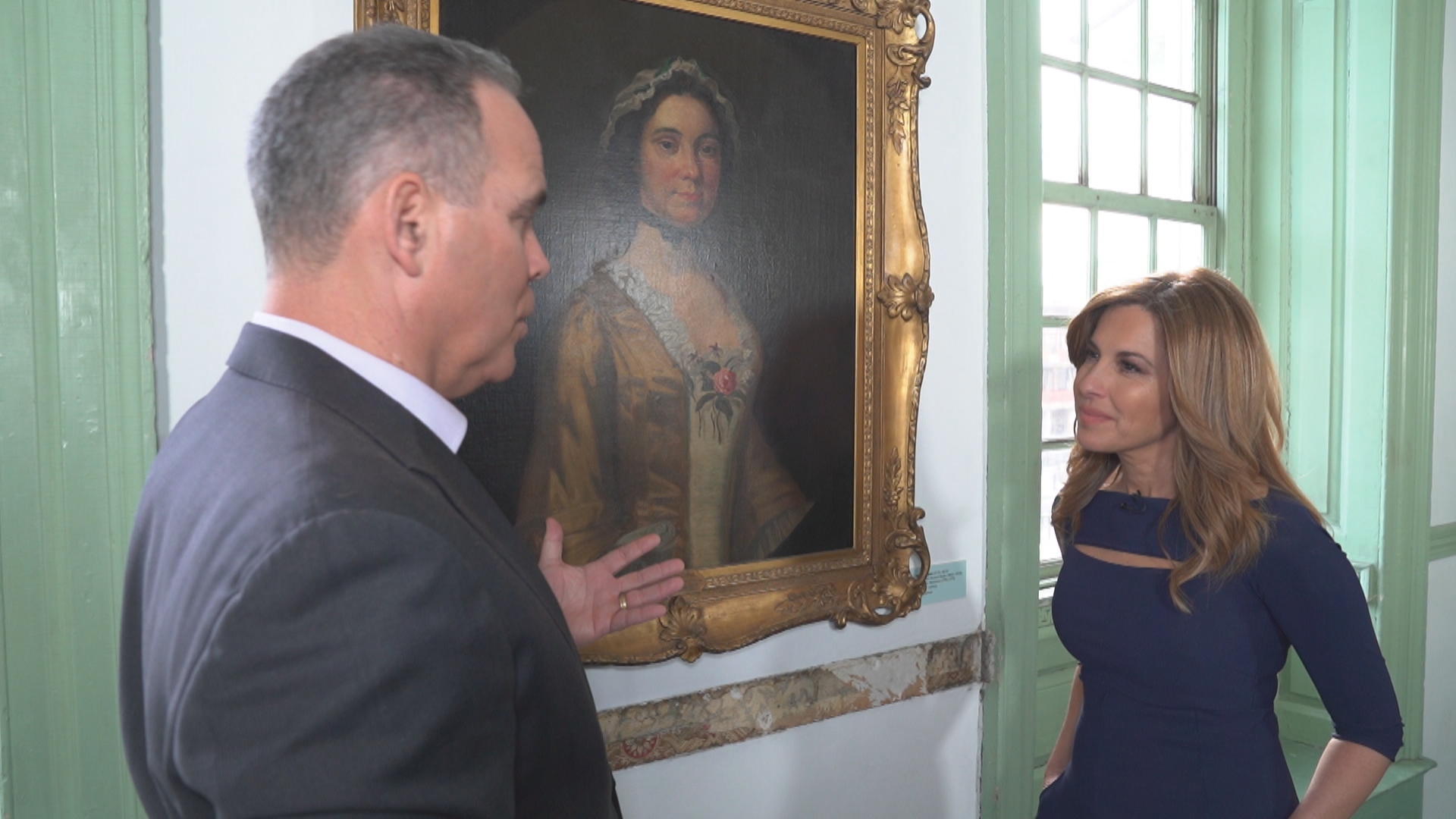 This week on "Sunday Morning" (February 17)
WATCH THE FULL FEBRUARY 17 EPISODE!

COVER STORY: The forgotten story of George Washington's love life | Watch Video
The familiar portrait of the father of our country is of the model of virtue and resolve who could not tell a lie. But author Mary Calvi says her research uncovered details about the first love of George Washington's life, the heiress Mary Philipse, one of the wealthiest women in the colonies, and how their relationship may not have ended once each of them was married to others. Jim Axelrod reports on the story behind "Dear George, Dear Mary," about the first president's first love.
READ A BOOK EXCERPT: Mary Calvi's "Dear George, Dear Mary"
For more info:

ALMANAC: The Armory Show | Watch Video
On February 17, 1913, a landmark New York City exhibition presented nearly 1,400 works of avant-garde art, causing a furor among critics and the public. Jane Pauley reports.
For more info:
BOOKS: Don Winslow on "The Border," both literary and political | Watch Video
After two bestselling novels set along America's Southern border, author Don Winslow thought he'd exhausted the topic of the drug trafficking trade. But there is more story to tell, inspired by President Trump's controversial plan to build a wall. Winslow talks with Jeff Glor about borders – ethical, moral, political – and whether, if we cross them, we can ever cross back.
READ A BOOK EXCERPT: Don Winslow's "The Border"
For more info:
"THE ENVELOPE, PLEASE …": Melissa McCarthy on playing a literary grifter | Watch Video
Actress Melissa McCarthy enjoys studying people, whether it's for comedic performances, riotous impersonations, or the more dramatic role for which she's been nominated for an Academy Award, playing one of the most prolific literary forgers in history in "Can You Ever Forgive Me?" Lee Cowan talked with McCarthy about her portrayal of Lee Israel, the bestselling biographer who in her later years typed her way into a life of petty crime.
For more info:
ISLAND-HOPPING: The Seychelles Islands' unique "Love Nuts" | Watch Video
The Seychelles Islands, nearly a thousand miles off the eastern coast of Africa, are known for being a honeymoon hotspot. Part of the allure is a product of the Coco De Mer tree. Called "love nuts," these seeds are rare, large (weighing up to 30 pounds), shaped like a derriere, and are said to have aphrodisiacal properties. Conor Knighton visited the Seychelles, where a love of the love nut permeates island culture.
For more info:

HARTMAN: A sign of the times (Video)
On Islington Road in Newton, Mass., lives two-year-old Samantha Savitz, who is deaf, but boy, does she love to talk to anyone who knows sign language. And if someone doesn't, that makes Sam just a little sad. Which led her neighbors to undertake what can only be described as a most generous community project: hiring an instructor, and fully immersing themselves in an American Sign Language class. Steve Hartman reports.
MUSIC: Dionne Warwick: A singular voice | Watch Video
In a career spanning six decades Dionne Warwick has been a part of our lives. She still performs at 78, and has a new album coming out this year. Mo Rocca sits down with the singer famous for such classics as "Walk On By," "I'll Say a Little Prayer," "That's What Friends Are For," and "Do You Know the Way to San Jose," a song she tells Rocca she hates.
For more info:

"MOBITUARIES": The unstoppable Sammy Davis Jr.
Mo Rocca's podcast explores the life and career of the man many consider the greatest entertainer of the 20th century.
You can download the episode on Apple Podcasts, Google Play, Megaphone, Stitcher, or Spotify on Friday, February 15. New episodes are available every week.
For more info:

PASSAGE: "Sunday Morning" remembers (Video)
"Sunday Morning" notes three intriguing figures who left us this past week: Socialite, style icon and sister of Jacqueline Kennedy Onassis, Lee Radziwill; perennial presidential candidate Lyndon LaRouche; and the Mars Opportunity Rover.
COLORS: The colorful history of pink | Watch Video
Love it or hate it, pink is the most divisive color in American society, associated with gender stereotypes that leave some seeing red. After gaining favor in Europe as the preferred color for the fashionable and aristocratic, pink became linked with notions of sugar and spice and everything nice – and that's when businesses started seeing green. Faith Salie offers a history of pink, which has actually had quite a colorful life.
For more info:

COMMENTARY: Norman Ornstein on Trump's emergency declaration: A threat to our fundamental freedoms | Watch Video
A resident scholar at the American Enterprise Institute in Washington, D.C., and a contributing editor for the Atlantic, says that if the president can succeed with this voluntary state of emergency created to take funds for his border wall, he is setting the table for something much more dangerous.
For more info:

CALENDAR: Week of February 18 | Watch Video
"Sunday Morning" takes a look at some notable events of the week ahead.

NATURE: Florida wildlife refuge (Extended Video)
"Sunday Morning" leaves us "in the pink" among the spoon bills and wood storks sharing the St. Johns National Wildlife Refuge in Florida. Videographer: Doug Jensen.
WEB EXCLUSIVES:
NATURE UP CLOSE: How birds' eyes are different from other vertebrates'
During millions of years of evolution, birds have developed many adaptations for flight, including in the avian eye.

---
The Emmy Award-winning "CBS Sunday Morning" is broadcast on CBS Sundays beginning at 9:00 a.m. ET. Executive producer is Rand Morrison.
DVR Alert! Find out when "Sunday Morning" airs in your city
Follow the program on Twitter (@CBSSunday), Facebook, Instagram (#CBSSundayMorning) and at cbssundaymorning.com. "Sunday Morning" also streams on CBSN beginning at 9:30 a.m. ET and at 1 p.m. ET, and is available on cbs.com, CBS All Access, and On Demand.
Full episodes of "Sunday Morning" are now available to watch on demand on CBSNews.com, CBS.com and CBS All Access, including via Apple TV, Android TV, Roku, Chromecast, Amazon FireTV/FireTV stick and Xbox. The show also streams on CBSN beginning at 9:30 a.m. ET and 1 p.m. ET.
You can also download the free "Sunday Morning" audio podcast at iTunes and at Play.it. Now you'll never miss the trumpet!
---
Thanks for reading CBS NEWS.
Create your free account or log in
for more features.