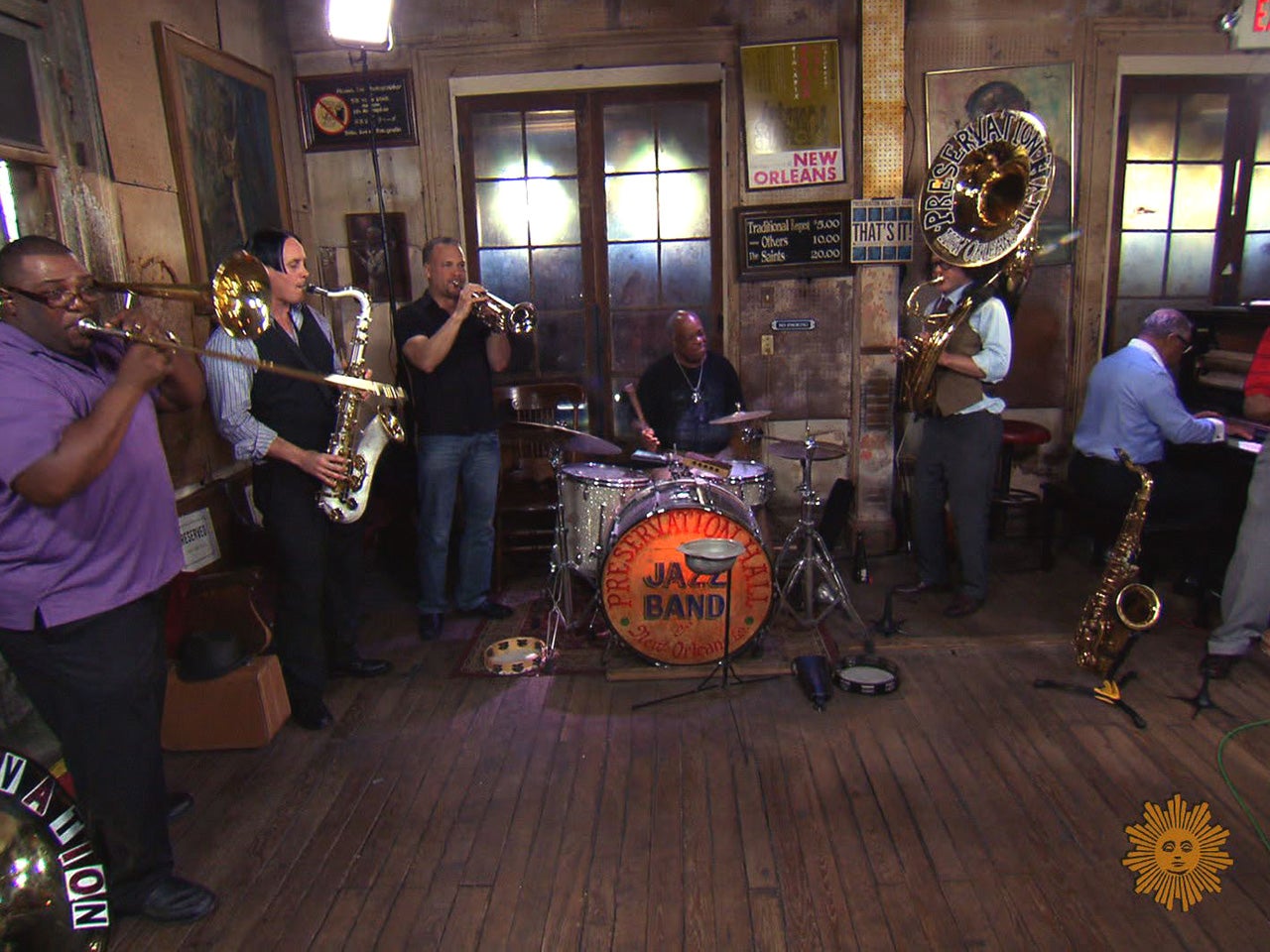 The Preservation Hall Jazz Band: A family business
If there's one place in America that can claim to be the home of "all that jazz," it's the building in New Orleans that Lesley Stahl of "60 Minutes" will be taking us to visit:

The Preservation Hall Jazz Band has been improvising New Orleans brass band jazz for more than 50 years. As they've toured the world, they've become missionaries for the music of the "Old South."
At their home base, New Orleans' Preservation Hall, the band's leader, Ben Jaffe, showed Stahl an old trombone case and an old clarinet case.
Everything at the Preservation Hall is old. The building was built in 1750, and doesn't look much different today.
There's no air conditioning. No stage. Audiences sit on hard benches, or on the floor.
Stahl said, "You haven't changed it, I guess it's quite deliberate. Would you ever renovate it, ever?"
"We don't know where we would start or what we would do," Jaffe said. "You don't change something that's already perfect!"
It was Ben Jaffe's jazz-loving parents, Allan and Sandra Jaffe, who, while in New Orleans on their honeymoon in 1961, turned what had been an art gallery into the American institution known as the Preservation Hall. They even lived in a little carriage house in the back.
"Yeah, when they first started living here at the Hall, they moved back here," said Jaffe.
He showed Stahl a tuba player figurine collection: "My dad, he was a tuba player. At some point in time, he started collecting tuba players."
Allan Jaffe didn't start out as a tuba player, or a tuba player collector. He had just graduated from the Wharton School of Finance in Philadelphia when he and Sandra met. They were only in their twenties when they took over the Hall.
Jaffe's mother "was the one who sat by the gate every night with a little wicker basket collecting the dollar bills as people would come in," Jaffe said, describing as the "ticket taker/bouncer."
"Who did she have to keep out?" Stahl asked.
"You know, in 1961 the South could be a very scary place," he said. "Especially for somebody who was celebrating African American culture. I think it was very dangerous.
"This was the only place in New Orleans where blacks and whites were congregating openly, and where there were mixed bands. That's what they referred to black and whites, musicians performing together. They were mixed bands."
"So it was really unusual in the early '60s," said Stahl.
"It was revolutionary."
WEB EXTRA: Sample streaming audio of tracks from the Preservation Hall Jazz Band's latest album, "That's It!" (Sony Legacy) by clicking on the audio embed below. You can also explore the album or purchase on Amazon, Barnes & Noble and iTunes.
It was unusual throughout the whole South, and illegal in Louisiana, which passed a law in 1956 outlawing integrated entertainment.
Alan Jaffe broke that law when he joined the band on tuba. Sandra says both of them had to face the music for that.
"Allan and I would be at night court many times because of it," Sandra Jaffe laughed. "With Judge Babylon banging on his gavel, saying, 'If you think we're gonna let you carpetbaggers, you know, we don't mix cream with our coffee in this here town.'"
But Judge Babylon in "this here town" couldn't stop the Jaffes.
After the federal Civil Rights Act was passed in 1964, the Hall became a popular tourist spot. The band started making records and touring the world.
When Allan Jaffe died in 1987, Sandra kept the Hall and the touring band alive, while Ben went to Oberlin College in Ohio to study music and play in a band.
"They were from all over the country," he said of his band mates. "One guy was from Detroit, one's from New York, San Francisco. And we started to play 'The Saints Go Marching In,' and it was awful. It just sounded terrible.
"And all of a sudden, something immediately clicked inside of me, and I realized that something I had grown up with, that came so naturally to me, was a mystery to most people. And it really hit me."
Jaffe said he then felt a responsibility "to come back and be a part of that tradition."
Now he runs the Hall and the band, and he's the guy on tuba. "I went into the family business," he laughed. "Yeah. As long as there's music in New Orleans, it will continue to be a family."
The line-up of the musicians has changed many times over the last 50+ years. And Ben's not the only one with a lot of history at the Hall. Charlie Gabriel, 81 years old, who plays clarinet and sings, started playing music in New Orleans during the war, when he was about 11 years old. "I'm the last of those musicians that played back in 1942 with all those musicians."
Trumpet player Mark Braud inherited his spot: "This trumpet chair has been in my family for many years," he told Stahl. "I took my uncle's place when he passed away in 2008."
There's a lot of that passing-down-the-generations here: take Ronell Johnson, at 37 the youngster in the band.
"My grandmother's older brother, Joseph Butler, was one of the first bass players that used to play at Preservation Hall," he told Stahl.
Piano player Rickie Monie, however, just got lucky: "I came in as a substitute when the pianist became ill," he said. "That was in 1982. And I've been here ever since."
Ben Jaffe wants to make sure there'll always be a next generation of musicians, so he's running an after-school program at the Hall, where youngsters are taught by the old masters.
He says it's important to learn New Orleans jazz from those who have played it: "It's like a family recipe," Jaffe said. "You know, you have to stand next to your grandmother and actually see a pinch of this and a spoonful of that, and exactly how it's done. You have to live it and breathe it."
WEB EXTRA: Click on the video player below to hear the Preservation Hall Jazz Band perform "Sugar Plum."
Stahl asked, "What's important about Preservation Hall?"

"I don't know anywhere else, you know, where you can go and you can listen to a clarinet player whose family has been playing music in New Orleans for seven generations," Jaffe said. "That's an incredible thing, and that's something that I'm proud to be a part of.
"I pinch myself that I get to do this!" he laughed. "You know, I get to play tuba for a living! I mean, how amazing is that? That's amazing!"
For more info:
Thanks for reading CBS NEWS.
Create your free account or log in
for more features.