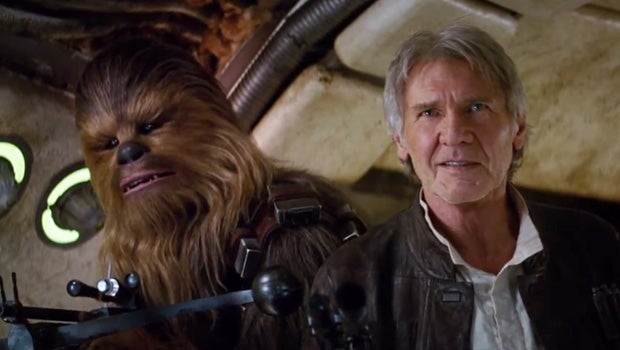 The New Season at the movies is underway. Our Ben Tracy has saved us a front row seat ... and some popcorn:
In a theatre not so far, far away, Hollywood will be out in full force with a bounty of fall films.
"If you're excited by movies, this is the time to be excited," said Kenneth Turan, film critic for the Los Angeles Times.
"Hollywood saves the best for last," he said. "They're like squirrels that are hoarding nuts, and finally, by the end of the year, they let the good ones out."
There'll be some blockbusters. "Star Wars" gets a highly-anticipated new chapter with "The Force Awakens."
James Bond is back. Daniel Craig is once again 007 in "Spectre."
And it's "game over" for "The Hunger Games," with the final installment "Mockingjay Part 2."
"I feel like they've been around for my entire adult life," laughed Turan. "It seems to be always a new 'Hunger Games' film. You know, splitting this last book into two films is such a naked commercial move. But, they did it. And it seems to be working. People will definitely go!"
And people are likely to go see Tom Hanks as a New York lawyer caught up in Cold War intrigue in the Steven Spielberg thriller, "Bridge of Spies."
Sandra Bullock plays a campaign consultant for hire in Bolivia in "Our Brand Is Crisis."
The whale that inspired "Moby Dick" is at the center of Ron Howard's epic, "In the Heart of the Sea."
Many fall films launched far from Hollywood, in places like Toronto, Telluride and New York. And some already are generating Oscar buzz.
"Room" is the story of a mother and her young son held captive in a single room. It won the top prize at the Toronto Film Festival.
In "Carol," Cate Blanchett plays the older woman, Rooney Mara the younger one.
"It's just a beautifully-shot, beautifully-acted film," said Turan. "It's a love story between two women set in the 1950s, at a time when love between two women was frowned upon by society."
Eddie Redmayne ("The Theory of Everything") is a man transitioning to a woman in the 1920s in "The Danish Girl."
"Brooklyn" brings us an Irish immigrant (Saoirse Ronan) torn between her new life in America and her family back home.
"It's complicated, it's delicate, it doesn't overplay its hand, which is so rare with stories like this," said Turan.
Of course, there will be plenty of laughs this fall. Will Ferrell is a step-dad in "Daddy's Home."
Diane Keaton and John Goodman are the grandparents in the CBS Films release, "Love the Coopers."
And Bill Murray is Bill Murray in "Rock the Kasbah."
For animation fans, Pixar goes prehistoric with "The Good Dinosaur."
And those familiar piano chords can mean only one thing: "The Peanuts Movie."
Jennifer Lawrence teams with director David O. Russell for the third time in "Joy," based on the woman who invented the Miracle Mop.
"Spotlight" focuses on the Boston Globe reporters who uncovered the child sex abuse scandal inside the Catholic Church.
In "Concussion," Will Smith is a doctor trying to tackle one of the NFL's biggest problems.
"There are so many films to go see, I'm going to need to take several weeks off of work to see these movies," said Tracy.
"I know; I'm exhausted just talking about them all, you know?" said Turan. "But it's wonderful to have this bounty of interesting films."
So as you try to find the time to fit in so many first-rate flicks, "May the Force be with you."

For more info:
Thanks for reading CBS NEWS.
Create your free account or log in
for more features.