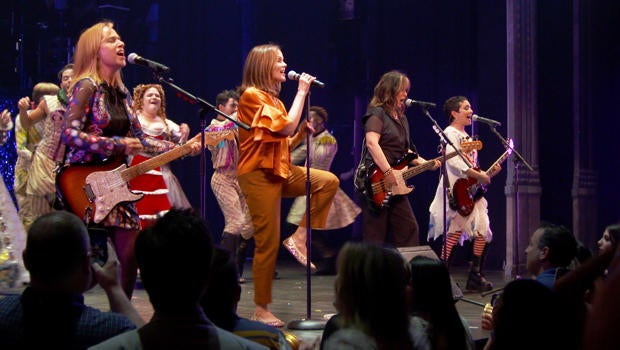 The Go-Go's on their staying power
Now ON BROADWAY: the music of the Go-Go's, a one-of-a-kind band. They talked with our Tracy Smith:
The Go-Go's, the barrier-breaking 1980's hitmakers, have stood on a lot of stages. But never this one.
"That's your Broadway theatre!" said "Head Over Heels" director Michael Mayer. "Barbra was on this stage, too."
"Barbra who?" asked Jane Wiedlin.
"Barbra Streisand, remember her?" he laughed.
Watch the full story here:
They're in Streisand territory because the Go-Go's phenomenon has come to Broadway. They don't actually appear in the new musical comedy, "Head Over Heels," but some years ago, a Broadway producer thought it would be a great idea to artfully insert Go-Go's songs into an Elizabethan-era story about a royal family and a prophecy that could spell their doom.
This is not their life stories. "Yes, thank you for clarifying that!" laughed Kathy Valentine.
"We were not born in the 1580s!" said Wiedlin and Belinda Carlisle.
"Even though, sometimes we might feel like it!" quipped Charlotte Caffey.
They may feel that way because they've done the walk from dressing room to stage hundreds, maybe thousands of times.
"We're all really good at doing this – we are really, really good at being Go-Go's," Valentine said.
On-and-off for 40 years now, Valentine, Wiedlin, Caffey, Carlisle and Gina Schock get together to show why the Go-Go's have been called one of the most successful all-female bands in the history of rock 'n' roll.
Smith asked, "When you're up onstage looking out at the audience, what do you see?"
"Grandparents, parents, kids," said Carlisle. "It's thrilling, you know, that our music has that kind of appeal."
That's not the way it began in 1978, when Belinda Carlisle and Jane Wiedlin decided, somewhat naively, to form a group. "We came from the punk rock scene in L.A., where anything went and you could learn as you went along," Carlisle said. "And we had no idea how to play our instruments or do anything."
"We were absolutely rotten when we started," said Wiedlin.
Rough, maybe, but enough to attract other members who'd actually played music before – drummer Gina Shock (who missed our interview because of surgery), bassist Kathy Valentine, and guitarist Charlotte Caffey, who was trained in classical piano. "So, I was in awe, I was a little scared of them. But it was kind of exciting! They were the cool girls that were punky. And I was kind of more, like, you know, reserved and straight. Kind of."
It's hard to imagine now, but in their early days, each band member made about $40 a week. And they had plenty of proverbial doors slammed in their faces. "Every door," Wiedlin said.
According to Carlisle record executives would not sign them "because we were women, or girls. We were girls then!"
But the "girls" did make it happen. "We Got the Beat" became the Go-Go's first hit in England and then in the United States. Like almost all of their music, it was written, arranged and performed by all women.
Smith asked, "What did that do to have it be all-female?"
"I think it emboldened us," Wiedlin replied. "I mean, especially the five of us, we've always said, like, we're this five-headed monster when we're together. It's this ball of energy that can be a force for good or a force for evil!"
Truth is, underneath all the fun and fizz was something a little more serious. You can hear it in "Our Lips Are Sealed," upbeat but with lyrics that are a little dark:
Can you hear them?
They talk about us
Telling lies
Well, that's no surprise.

Can you see them?
See right through them
They have no shield
No secrets to reveal.
"That's kind of a Go-Go trademark that we always make an effort not to make something, like, 100% happy or 100% sad," said Wiedlin. "We like to mix things together to keep things more interesting."
Caffey added, "That kind of dark against happiness, it's really, I love it."
And the same goes for their 1982 hit, "Vacation." The video seems happy-go-lucky, until you look a little closer.
Wiedlin recalled: "That video, that was, like, a 14-hour shoot, and we were so bored and miserable that we all started drinking. … This part in the video where it looks like we're on the [water] skis and we were so drunk by then, if you, like, look at our eyes, we're all like …!"
And while they all seemed chummy at a People magazine photo session a few weeks ago, the band's history hasn't been so happy-go-lucky, either: Medical problems, drug and alcohol abuse, and several knock-down, drag-out breakups.
Wiedlin said, "Over the past, we always keep hurting each other and then keep forgiving each other and then healing and then trying to grow. And that's how I feel that we are all at this point."
Think a group of sisters who can be extremely close, but at the same time, light years apart.
Valentine said, "There's been times we're in the dressing room, throwing stuff at each other. I think somebody got hit once! There's a lot of conflicting energy. But somehow, out of all of that, something stays very intact and still works very well. There's always a little eye in the hurricane that stays really nice, you know? And special."
They do get along well enough to still play as a band. Recently, to the surprise of the audience, the Go-Go's performed onstage with the "Head Over Heels" cast.
While they can cross Broadway off their bucket list, the Go-Go's still have one more mountain to climb:
Smith said, "A lot of your fans think that there's a grave injustice that you guys are not in the Rock and Roll Hall of Fame."
Wiedlin said, "You can't take away the fact that we were the very first successful all-female band who wrote all their own songs and played all their own instruments."
Hall of Fame honors of not, when you're a Go-Go, it just doesn't seem right to stop.
In 10 or 15 years time, they could be on stage together, and Valentine noted, "All the record companies, will say, 'There's never been an all-granny band before'!"
Which may be their ticket to the Rock and Roll Hall of Fame.

For more info:

Story produced by Jay Kernis.
Thanks for reading CBS NEWS.
Create your free account or log in
for more features.