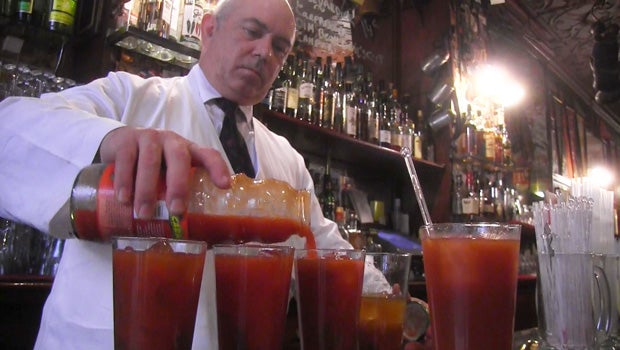 ​The birthplace of the Bloody Mary
Cheers! 'Tis the season for a Bloody Mary. Most of us know the drink. But where did it come from? A short history, now from David Turecamo, Our Man in Paris:
Harry's New York Bar in Paris is an old bar, dating from the 19th century. It's called New York because it really was a bar in New York that the original owner had dismantled and shipped to Paris a little over a hundred years ago. The Harry was added later, when Harry Macelhone bought it after the first guy went broke (probably from shipping that bar to Paris).
Anyway, this obviously American bar has a singular, one might even say historic distinction: back in the 1920s a bartender here mixed Worcestershire sauce with tabasco, salt and pepper, fresh lemon juice, vodka - yeah, don't forget the vodka -- tomato juice (that's key), and voila!
Harry's is where the Bloody Mary was born.
The Bloody Mary is a brunch staple for when you need some of that hair of the dog.
In the 1920s, as Prohibition closed bars in the United States, some American bartenders came to France looking for work. They brought a new idea to the French -- cocktails, mixed drinks -- to a country used to drinking wine. At the same time, Paris was a refuge for a lot of Russians escaping the Communist revolution back home, and they brought this new stuff called vodka.
There are a lot of different versions of how the drink was created; the most widely-accepted is that a barman at Harry's named Fernand Petiot found vodka too bland, so he added tomato juice and spices to give it some flavor.
It's "bloody" because of the tomato juice, and Mary is believed to have been somebody's girlfriend. But after a few of these, who really remembers the details?
It's a versatile drink that inspires many interpretations: at a Mexican restaurant it's made with tequila (that's a Bloody Maria); at a sake bar it's made with a Japanese vodka and wasabi (a Bloody Mako).
Three generations later, Harry's is still owned by the Macelhone family, and they claim that last year they sold more than 12,000 Bloody Marys.
"Everybody wants to try a Bloody Mary at Harry's Bar," said the bartender.
Don't you? Sante!

For more info:

Recipes:
Thanks for reading CBS NEWS.
Create your free account or log in
for more features.