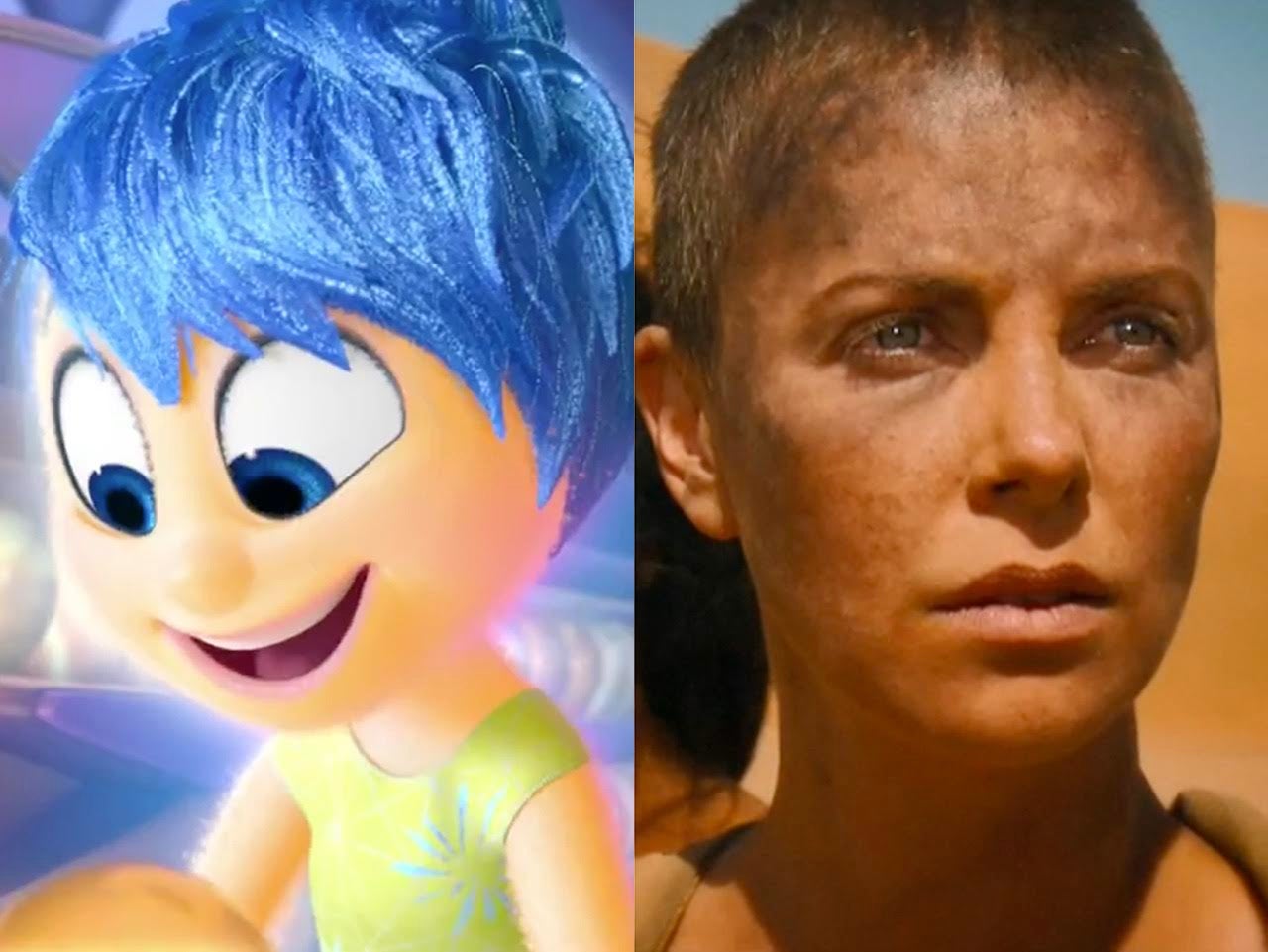 The best films of the year were the most audacious -- the product of filmmakers who took great chances and aimed higher. Maybe they stumbled at times, but the movies that will be remembered from 2015 were more bracingly alive than the films that played it safe, told familiar stories with little creativity, or hit each emotional note squarely on the nose.
The titles listed below (and viewed in clips in the video above) zig-zagged and swerved instead of staying on a predictably steady course, telling offbeat stories and presenting us with characters that challenged our empathy and assumptions. They also tested the techniques and craft of filmmaking in unusual ways. Bravo to them all.
The 20 Best Films of 2015 (in alphabetical order):
"Amy" - The flame-out that was singer Amy Winehouse, whose brilliant career was eclipsed by addiction issues, is captured in amateur footage, period interviews and performance clips that remind us, painfully, how much music lovers were denied by her tragic death at age 27.
"Carol" - Rooney Mara is terrific as a young shopgirl in 1950s New York strangely attracted to a glamorous, older woman (Cate Blanchett) whose marriage has already been shaken by a lesbian affair. Adapted from a Patricia Highsmith novel and directed by Todd Haynes.
"Clouds of Sils Maria" - A mesmerizing examination of how life can imitate art, with Kristen Stewart as the efficient and intuitive personal assistant of an actress (Juliette Binoche) about to take on a revival of a play that made her famous decades earlier.
"Ex Machina" - Alicia Vikander is the artificial intelligence being tested by an expert in AI, in Alex Garland's ruminative sci-fi tale. Costarring Domhnall Gleeson and Oscar Isaac.
"The Forbidden Room" - Guy Maddin, a dean of experimental cinema, concocted this phantasmagorical head trip composed of imagery that blurs, morphs and congeals, inspired by the titles of forgotten, lost films.
"Inside Out" - The best film of the year, and certainly the most ambitious: A young girls' emotional maturation is told through the voices in her head -- namely, Joy, Sadness, Anger, Fear and Disgust -- in a tale that is both Freudian and heart-tugging in typical Pixar fashion.
"It Follows" - There are more truly chilling moments in David Robert Mitchell's horror flick about a sexual curse than this low-budget thriller deserves.
"The Look of Silence" - The families of victims of the Indonesian genocide of 1965 sit down with the bafflingly proud perpetrators of mass murder, in Joshua Oppenheimer's follow-up to his acclaimed 2012 documentary, "The Act of Killing."

"Mad Max: Fury Road" - Get beyond the ridiculousness of a post-apocalyptic society in which gasoline is burned with wanton abandon, and enjoy one of the most thrilling chases ever crafted on film, directed with verve by George Miller and acted with steely heroism by Charlize Theron and Tom Hardy.
"The Martian" - Yay, science! Ridley Scott's comic-drama about an astronaut stranded on the Red Planet is a life-affirming account of the spirit of space exploration and human discovery.
"Phoenix" - In this Hitchcockian film noir from Germany set in the days following World War II, a concentration camp survivor searching for her husband is asked to take part in a cruel deception.
"The Revenant" - A technical tour de force, much like director Alejandro Iñárritu's "Birdman," pits Leonardo DiCaprio against the dangers of the frontier West in a brutally-violent revenge drama.
"Room" - Brie Larson and Jacob Tremblay are superb as a young woman and son trapped in a backyard shed by a sexual deviant.
"Son of Saul" - A Jewish inmate and member of the Sonderkommandos -- prisoners forced to do the work of the Nazi's death machinery in Auschwitz -- is dramatized with a brutal, haunting power, and is all the more astonishing for being Hungarian director László Nemes' very first film.
"Spotlight" - A peerless ensemble cast tells the story of the Boston Globe's investigative journalists who pulled back the curtain on the Catholic Church's systemic cover-up of sexual predation by priests.
"Star Wars: The Force Awakens" - Nostalgia rules, as director J.J. Abrams makes us feel like kids again in this return to the galaxy far, far away.
"Steve Jobs"- Some objected to Aaron Sorkin's script culling the Apple visionary's life into three strategic dates, like a three-act play, which is precisely what made such a far-reaching subject work -- not to mention the performances of Michael Fassbender, Kate Winslet, Seth Rogen, Michael Stuhlbarg, Katherine Waterson and Jeff Daniels, to name a few.
"The Wolfpack" - Crystal Moselle's documentary, winner of a Grand Jury Prize at Sundance, examines the bizarre lifestyle of six brothers who were raised in Manhattan's Lower East Side and never allowed to leave their apartment.
"The Wonders"- Italian writer-director Alice Rohrwacher's luminous tale of a young beekeeper's daughter who hopes to use her family's honey to win a cheesy TV competition.
"What We Do in the Shadows" - This hilarious mockumentary reveals the challenges facing vampires trying to keep up appearances among the supernatural denizens of New Zealand.

Honorable Mentions (because it was a pretty good year):
"Anomalisa" - Charles Kaufman's script for this stop-motion animated feature about a one-night stand is less wild than his usual fare (he wrote "Being John Malkovich"), but there is puppet sex.
"Beasts of No Nation" - Idris Elba is fascinating as an African warlord leading an army of child soldiers.
"The Big Short" - Having Margot Robbie appear in a cameo to explain sub-prime mortgages while drinking champagne in a bubble bath is just one stroke of genius in this comic take on the Wall Street crisis of 2008. A stellar cast makes the financial shenanigans actually understandable.
"Brooklyn" - A good, old-fashioned period romance with scintillating performances by Saoirse Ronan, Emory Cohen, Julie Walters and Jim Broadbent.
"The Hateful Eight" - Why bring a 70mm Ultra Panavision camera to the Wyoming wilderness and then spend most of the time in a single room? Because Quentin Tarantino has other things up his sleeve, such as the slowly-twisting suspense of strangers, trapped in a blizzard, who may not be who they say they are.
"Heart of a Dog" - Laurie Anderson's visual essay about her little dog is also about memory, loss, art, 9/11 and mortality.
"Kumiko, the Treasure Hunter" - A quirky tale of a solitary Japanese woman who becomes convinced the suitcase of cash buried in the Coen Brothers' thriller "Fargo" is real, and sets off to find it.
"Listen to Me Marlon" - A fascinating self-portrait of the actor, culled from hundreds of hours of recordings he'd made analyzing himself, his life, and the craft of acting (which he pretty much rejected as he retreated from the world).
"Love & Mercy" - Paul Dano and John Cusack expertly play the Beach Boys' Brian Wilson, in both his salad days of musical creativity, and in his later years of being an over-prescribed victim of an authoritarian therapist (Paul Giamatti).
"Steve Jobs: The Man in the Machine" - Alex Gibney's documentary takes a more personal approach to the legacy of the Apple founder, by exploring how the world adopted his tech products and took them to heart.
Thanks for reading CBS NEWS.
Create your free account or log in
for more features.