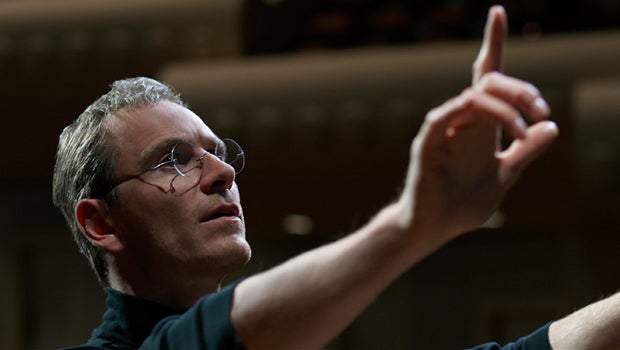 ​NYFF review: An electric "Steve Jobs"
One of the first fights Steve Jobs had in his push for the Macintosh personal computer, introduced in 1984, was that it be a closed system, something he insisted on -- no need to add all manner of (non-Apple) peripherals, he believed, or worse, to allow hobbyists and hackers to open the machine with a simple screwdriver and see what made it tick (possibly to make it tick even better).
This closed-system machine had a personality, as its friendly design and scary marketing would have us believe, but more importantly Jobs believed the Macintosh would be imprinted with the personality of its user and become symbiotic.

It was part of his allure as an entrepreneur and a tech visionary that Jobs himself was a closed system to most of the world -- a life which is opened up with electricity and a surprising degree of defrosting warmth in the new film, "Steve Jobs," which had its U.S. premiere last night at the 53rd New York Film Festival. (The movie opens this Friday.)
The books, dramatizations and documentaries about Jobs (perhaps most notably Walter Isaacson's authorized biography) can only scratch the surface of the man who was a mass of contradictions. Beyond the key points of his history (and that of Apple), much was unknown or misunderstood before Jobs' death in 2011, and the most personal areas of his life -- including his tangled relationship with his daughter, Lisa, whose paternity he'd renounced for years -- continued to be the subject of scrutiny, thanks to some facts being massaged by Jobs' self-promotion and denial, or by the "cult of Mac" that grew up among fans of the company's products.
Rather than go the route of the traditional biopic, screenwriter Aaron Sorkin ("The Social Network"), in adapting Isaacson's book, has distilled the essence of Jobs' life and character into a three-act drama, staged on three memorable dates from Jobs' resume: the product launch of the Macintosh in 1984; in 1988, following Jobs' departure from Apple, the launch of the NeXT computer (what is referred to as the "Steve Jobs Revenge Machine"); and the introduction of the iMac, in 1998, after Jobs had returned to Apple as its putative savior and genius emeritus.
We don't actually see the launches themselves, however; instead we are taken backstage to the heightened moments beforehand, when Jobs is confronted by technical glitches; arguments with Chrisann Brennan, his ex-girlfriend and the mother of Lisa; clashes with Apple co-founder Steve Wozniak and Macintosh developer Andy Herzfeld; and his up-and-down relationship with John Sculley, the Apple exec who ushered Jobs out of the company's boardroom, only to watch him later return.
On these three iconic dates, we witness Jobs unload personal baggage and rearrange the priorities of his life as he both spearheads a technical revolution (which doesn't always succeed) and is called to account for his personal failings and shunted responsibilities.
Director Danny Boyle ("Trainspotting," "Slumdog Millionaire") casts each of the three acts in different tones and grades of resolution (they were shot, respectively, in 16mm, 35mm and digitally), as we watch a renegade gradually evolve. Boyle's command of the actors is tight, but not so tight that they can't still be playful under the weight of Sorkin's challenging, dense dialogue.
Michael Fassbender ("Jane Eyre," "A Dangerous method," "12 Years a Slave") folds himself into the persona of Jobs, without looking terribly much like him. He infuses the character of Jobs (and that's what he was to most of the world, a character) with charisma and dynamism matched by petulance and threats. (As Wozniak rails, "It's not binary -- you can be decent and gifted at the same time.") The film charts Jobs finding -- after years of resistance -- a reason to open himself up, to connect to something that was not a machine.
There is much humor in the script, mostly tied to Jobs' relationships with Wozniak and Herzfeld. But the film is best served by the actresses: Kate Winslet as the loyal marketing chief Joanna Hoffman, who serves, as best as humanely possible, as the voice of reason counteracting Jobs' reality distortion field; Katherine Waterston as Chrisann, demanding fairness from the multi-millionaire who refuses to acknowledge the daughter consigned to the welfare rolls; and Makenzie Moss, Ripley Sobo and Perla Haney-Jardine as Lisa (at ages 5, 9 and 19), whose male role model is sadly conflicted and much more complicated than any of the machines he devised, even the one he surreptitiously named for her.
Technical credits are all worthy of praise, including cinematographer Alwin Küchler ("Hanna"), production designer Guy Hendrix Dyas ("Inception"), and editor Elliot Graham ("Milk").
"Steve Jobs," a Universal Pictures release, opens in New York City and Los Angeles Oct. 9 and expands nationwide on Oct. 23. Rated R. 125 mins.
To watch a trailer click on the video player below.
For more info:
More NYFF53 reviews:
Thanks for reading CBS NEWS.
Create your free account or log in
for more features.