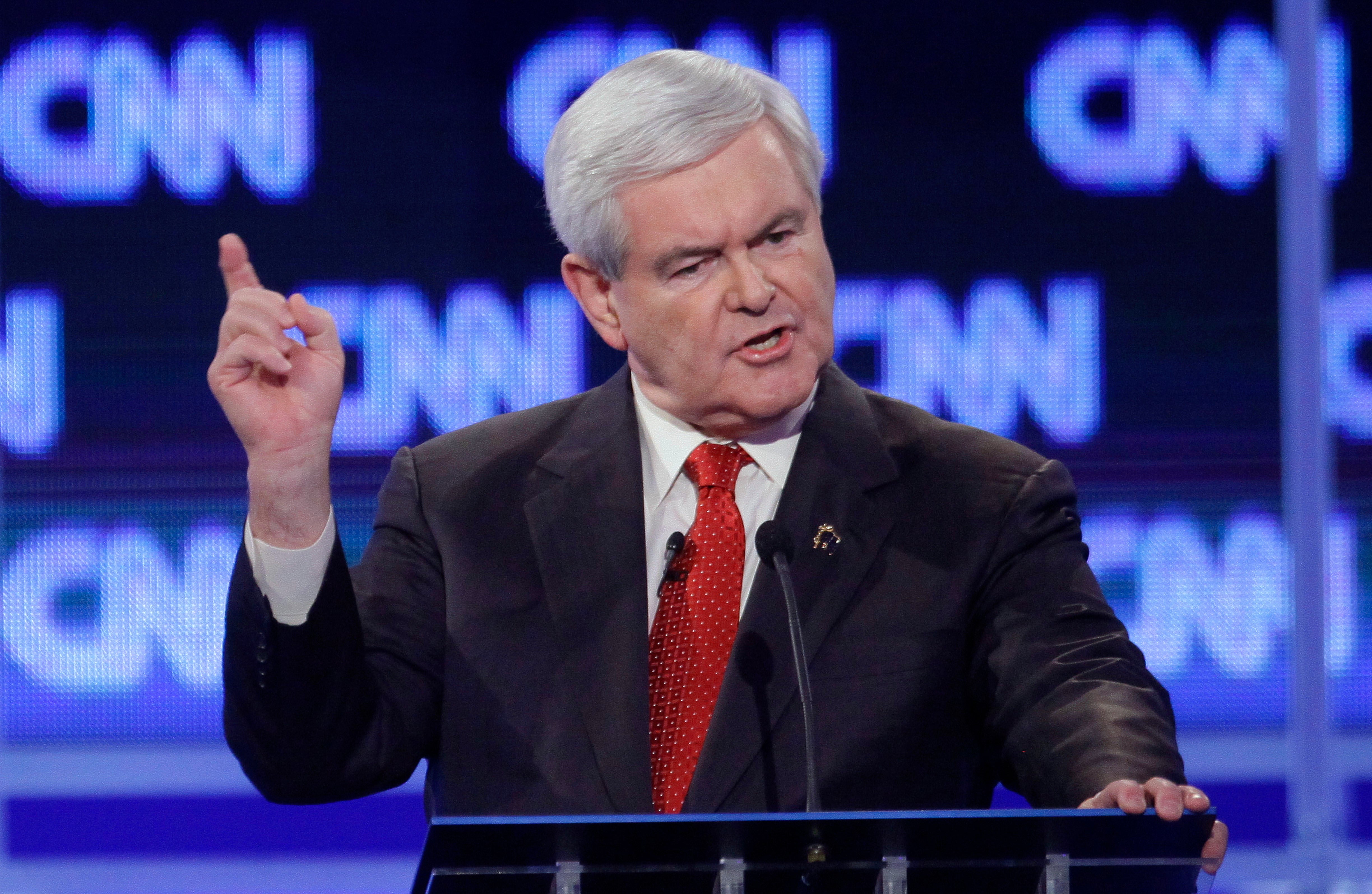 That time a debate decided the South Carolina GOP primary
The 2012 Republican presidential nomination was still very much up for grabs when voters in South Carolina headed to the polls on January 21 that year. The first two contests turned in a split decision - former Pennsylvania Sen. Rick Santorum notched the narrowest of victories in the Iowa caucuses, while former Massachusetts Gov. Mitt Romney scored a big win in New Hampshire.
Former House Speaker Newt Gingrich had emerged as a strong conservative alternative to Romney in national polls, but he'd been deflated somewhat by Santorum's strong showing in Iowa. He began to face questions about his campaign's future as he stumped in South Carolina. Could he catch fire in time to win the first-in-the-south primary? Could his campaign survive another loss if that didn't happen?
Compounding Gingrich's problems was the accusation, leveled just days before the South Carolina primary by his ex-wife Marianne, that Gingrich had asked her for an "open marriage" prior to their divorce.
The charge crashed like a cannonball into the already-chaotic melee that was the 2012 GOP race. And just two days before the South Carolina primary, Gingrich was given an opportunity to address the accusation head-on during a nationally-televised primary debate.
CNN's John King opened the Republican debate by reiterating the charge made by Gingrich's ex-wife and asking the former speaker, "Would you like to take some time to respond to that?"
Gingrich didn't miss a beat in response.
"No, but I will," he said, drawing immediate applause from the audience.
"I think the destructive, vicious, negative nature of much of the news media makes it harder to govern this country, harder to attract decent people to run for public office. And I am appalled that you would begin a presidential debate on a topic like that," he thundered, virtually oozing indignation and pique. "Every person in here knows personal pain. Every person in here has had someone close to them go through painful things. To take an ex-wife and make it two days before the primary a significant question in a presidential campaign is as close to despicable as anything I can imagine."
King protested, "This story did not come from our network," but Gingrich wasn't finished.
"John, it was repeated by your network. You chose to start the debate with it. Don't try to blame somebody else. You and your staff chose to start this debate with that," he said. "Now, let me be quite clear. The story is false. Every personal friend I have who knew us in that period says the story was false. We offered several of them to ABC to prove it was false. They weren't interested, because they would like to attack any Republican. They're attacking the governor, they're attacking me. I'm sure they'll probably get around to Senator Santorum and Congressman Paul. I am tired of the elite media protecting Barack Obama by attacking Republicans."
It was a tour-de-force performance - stylistically, it positioned Gingrich as an assertive presence who wasn't afraid to confront his critics. Substantively, it allowed the former speaker to blunt the damage from his ex-wife's accusation while also earning brownie points from the GOP base by bashing the mainstream media.
Two days later, Gingrich handily won the South Carolina primary, earning 40.4 percent of the vote. Romney, the eventual GOP nominee, came in second with 27 percent. Santorum came in third with 17 percent.
It's sometimes the case that the impact of primary debates can be overstated - the events can create more heat than light, reinforcing rather than reorienting the prevailing dynamics of a race - but in explaining Gingrich's victory in South Carolina, there's no avoiding the conclusion that the debate was a hugely important factor.
According to exit polls, nearly two-thirds of South Carolina Republican primary voters that year - 65 percent - said the recent debates were one of the most important considerations in deciding whom to support. And of those voters, 50 percent cast a ballot for Gingrich; only 22 percent voted for Romney, and only 17 percent voted for Santorum.
Further underscoring the debate's importance, 55 percent of voters said they made their decision in the last few days before the primary, and Gingrich won 44 percent of the late deciders.
How will the next GOP debate affect the South Carolina primary this year? Tune into CBS on Saturday at 9 p.m. EST to find out, when "Face the Nation" host John Dickerson moderates the CBS News Republican Presidential Debate from Greenville, S.C.
Thanks for reading CBS NEWS.
Create your free account or log in
for more features.