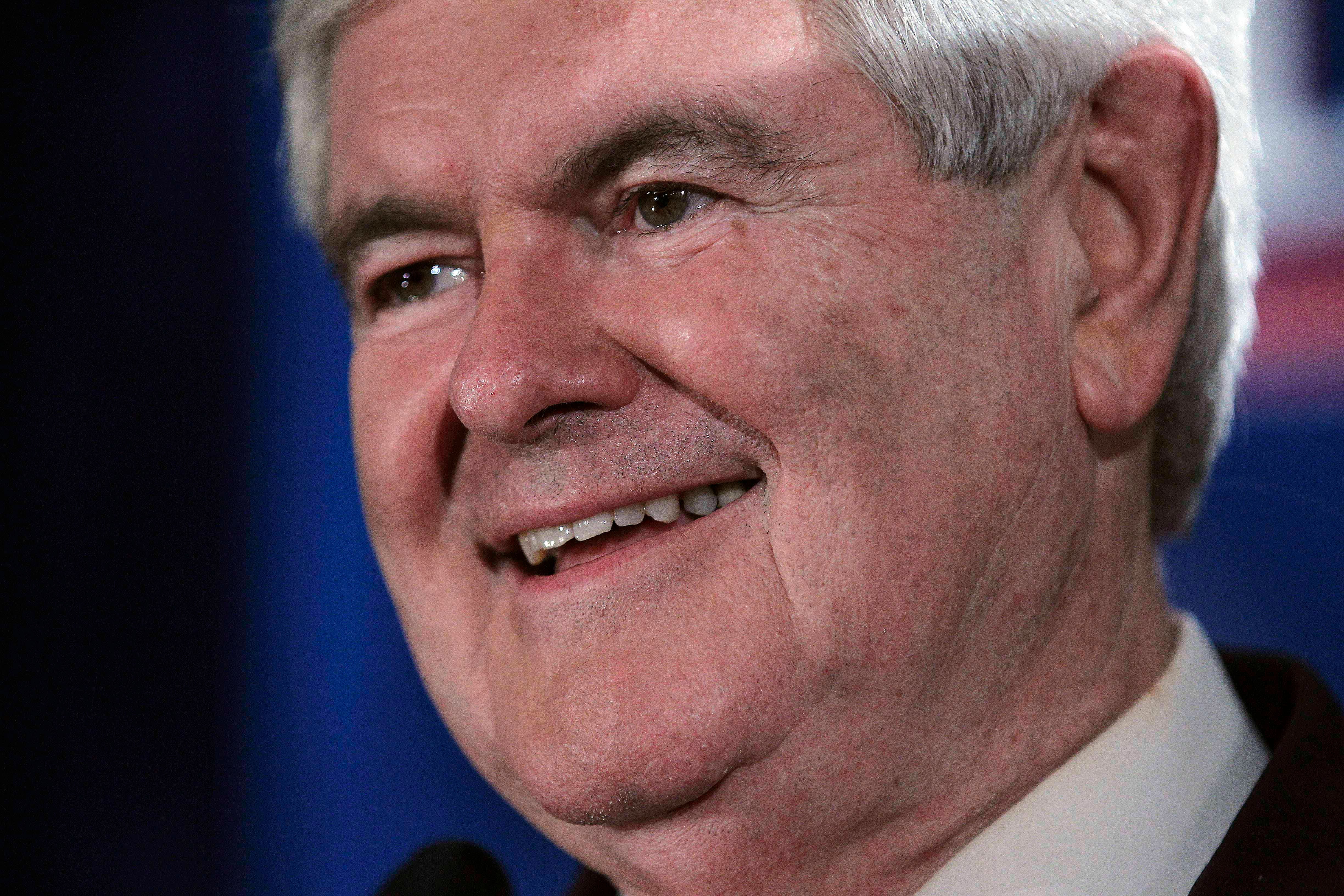 How Newt Gingrich won the South Carolina primary
Newt Gingrich stormed to victory in the South Carolina Republican primary on Saturday, coming from more than 10 points down in pre-election surveys taken just a week earlier. The CBS News exit poll of South Carolina Republican primary voters showed that his impressive debate performance during the last week of the campaign enabled him to assemble a coalition of tea partiers, evangelicals, and young white men. Mitt Romney, the frontrunner for much of the last month in South Carolina, was hurt by attacks on his role investment firm Bain Capital and his weak answers about why he does not want to release his tax returns.
Shined in the Debates
Gingrich electrified debate audiences during the week with his confrontational exchanges and conservative rhetoric, and it showed at the polls. Nearly two-thirds of South Carolina Republican primary voters - 65 percent - said the recent debates were one of the most important factors in deciding whom to support, with 13 percent saying it was the single most important factor. Of those voters who said the debates were one of the most important factors in their decision, a whopping 50 percent cast a ballot for Gingrich, compared to 22 percent for Romney and 17 percent for Rick Santorum.
Further evidence of the debates' importance can be found in the remarkable number of South Carolina Republican primary voters in who made up their mind in the last few days. Fifty-five percent of voters settled on their choice in the last few days, with 18 percent making their final decision on Election Day. Gingrich won a large plurality of these late deciders, defeating Romney 44 percent to 22 percent among those who decided in the last few days of the campaign.
Full South Carolina primary results
South Carolina exit poll
GOP delegate scorecard
Complete primary and caucus results
Tea Partiers Showed Their Muscle
Much has been made about the dwindling impact of the Tea Party movement, which failed to exercise much influence in the Iowa caucuses or the New Hampshire primary. Unlike the first two stops, though, South Carolina is a hotbed of Tea Party support. Four of the state's freshmen congressmen and first-time Governor Nikki Haley were elected in 2010 based, in part, on their strong associations with the movement.
On Saturday, the Tea Party movement once again showed its clout in the Palmetto State. More than a third of voters - 34 percent - in the South Carolina Republican primary strongly support the Tea Party movement. They overwhelmingly gravitated toward Newt Gingrich, backing him by more than a two-to-one margin over Mitt Romney, 47 percent to 21 percent. Perhaps even more troubling for Romney, is that nearly one-out-of-ten strong supporters of the Tea Party said they would not support him even if he goes on to win the Republican nomination.
Where does Mitt Romney go from here?
Ron Paul gears up for the long haul
Santorum vows to soldier on after 3rd place finish in S.C.
John Dickerson: Romney Newtered
Appealed to Rural Voters
Gingrich did particularly well among rural voters in South Carolina. Twenty-nine percent of voters in the South Carolina Republican primary resided in rural areas, located primarily in the northern and western portions of the state, in the counties north of Interstate-20. Gingrich easily won this group, securing 46 percent support from rural voters compared to only 23 percent for Romney.
Evangelicals Overlooked Personal Issues
Evangelicals comprised a sizeable proportion of the South Carolina Republican primary voters, making up 65 percent of the electorate, well exceeding the 56 of the electorate they comprised in the Iowa caucuses. This time, however, they coalesced around Gingrich rather than Santorum. Gingrich soundly defeated Santorum 44 percent to 21 percent among primary voters in South Carolina.
Despite recent allegations from his second wife that he wanted an open marriage, Gingrich's personal issues were clearly not a priority among evangelical voters. Nearly half of evangelical voters - 45 percent - cited the ability to beat Obama as the candidate quality that mattered most in their vote decision, and they awarded 55 percent of their ballots to Gingrich. Only 21 percent of evangelical voters indicated that having strong moral character was the most important candidate quality in how they voted. While these morality-driven evangelical voters preferred Santorum to Gingrich 53 percent to 7 percent, there were just too few of them to have much of an impact on the overall vote.
Top Choice Among Voters Concerned with the Economy
The economy was the top issue among South Carolina Republican primary voters, like it was for voters in Iowa and New Hampshire. Sixty-three percent of voters in the Palmetto State identified the economy as the issue that mattered most in their vote. The budget deficit was cited by 22 percent of voters, while 8 percent of voters named abortion and 3 percent named illegal immigration as their most important issues. Unlike Iowa and New Hampshire, though, Romney was not the preferred choice among South Carolina voters prioritizing the economy. Economic voters preferred Gingrich to Romney by a 40 percent to 32 percent margin.
Similarly South Carolina voters struggling in the current economy gravitated toward Gingrich. Among the 31 percent of voters who claimed someone in their household had lost their job in the last three years, Gingrich defeated Romney 40 percent to 23 percent. Among the 21 percent of voters who said they were falling behind financially, Gingrich topped Romney 44 percent to 25 percent.
Attacks on Romney Proved Successful
Gingrich aggressively attacked Romney's years as the head of Bain Capital, an investment company often focused on turning around underperforming businesses. He described it as "rich people figuring out clever legal ways to loot a company." "Winning Our Future," a super PAC supporting Gingrich, even released a 28-minute television advertisement characterizing Bain Capital as ruthless job-killers.
These campaign barrages proved quite influential on Saturday. More than a quarter of South Carolina Republican primary voters - 28 percent - had a generally negative view of Romney's background of investments and restructuring companies. Of those voters who had a negative view of Romney's days at Bain Capital, 50 percent cast ballots for Gingrich, while a miniscule 3 percent voted for Romney.
Poll results discussed in this article are based on a National Election Pool exit poll conducted by Edison Media Research. Interviews were conducted with 2381 primary voters as they exited precincts around South Carolina. The margin of error for the poll is +/-3 percentage points.
Full CBS News coverage: Newt Gingrich
Thanks for reading CBS NEWS.
Create your free account or log in
for more features.