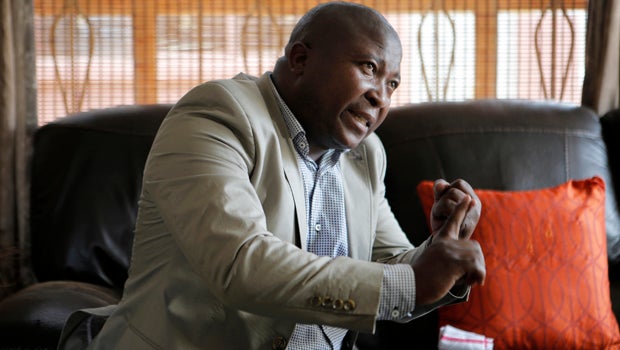 Thamsanqa Jantjie, phony sign-language interpreter at Mandela memorial, under investigation
JOHANNESBURG -- The South African government said Friday it is aware of reports that the bogus sign language interpreter at Nelson Mandela's memorial once faced a murder charge, and said he is being investigated.
Phumla Williams of the government communications office said the government is investigating Thamsanqa Jantjie and how he was selected to interpret at a memorial Tuesday at which he stood close to President Obama and other leaders.

"We will come back and give a full report," Williams said of questions surrounding Jantjie. She said she and other officials are currently focusing on mourning events, which have included three days of public viewing of Mandela's casket and will end with the anti-apartheid leader's burial on Sunday.

Jantjie outraged deaf people by making signs they said amounted to gibberish. A South African TV news outlet, eNCA, reported that Jantjie faced a murder charge a decade ago, but it is unclear if the case was concluded. He also reportedly faced other criminal charges.
Asked by CBS News about the report, Jantjie would not directly comment. A Pretoria police spokesman also would not comment on the charges to CBS News.

U.S. Assistant Secretary of State for African Affairs Linda Thomas-Greenfield said "we're all very upset" about the bogus interpreter, who appeared just three feet from Mr. Obama at the memorial ceremony for Mandela, who died in his Johannesburg home on Dec. 5.

Thomas-Greenfield told reporters in Kenya on Friday that U.S. officials are concerned about security and how the interpreter could have gotten so close to a number of world leaders.
On Thursday, the White House deflected all questions about whether the president was in danger to the Secret Service, CBS News White House correspondent Bill Plante reports.

"For matters regarding the president's security, I would refer you to the Secret Service. Obviously they worked very hard on this trip, which came about on short notice," White House press secretary Jay Carney told reporters.

The Secret Service said it had an understanding that the South African government was responsible for vetting the people on the stage for the ceremony and that agreed-upon security measures were in place.

South Africa's arts and culture minister, Paul Mashatile, apologized for the use of Jantjie and said reforms must be implemented to ensure such an incident won't happen again.

"Without passing judgment, nobody should be allowed to undermine our languages. We sincerely apologize to the deaf community and to all South Africans for any offense that may have been suffered," Mashatile said in a statement.

He did not comment on who was responsible for hiring the sign interpreter for Tuesday's memorial. Several government departments involved in preparations for Tuesday's memorial have denied hiring Jantjie. The African National Congress, South Africa's ruling party, said the state was responsible for all arrangements.

In an interview with CBS News, Jantjie admitted to suffering from violent outbursts and hallucinations as a result of his condition, even on the day of the memorial.

"When I get an episode, I see ugly things, see ugly things," said Jantjie. "But that day I see angels."

Thomas-Greenfield also said officials are dismayed because the people who need sign language weren't able to understand what was said at the ceremony. She called the problem "extraordinarily sad."
Thanks for reading CBS NEWS.
Create your free account or log in
for more features.