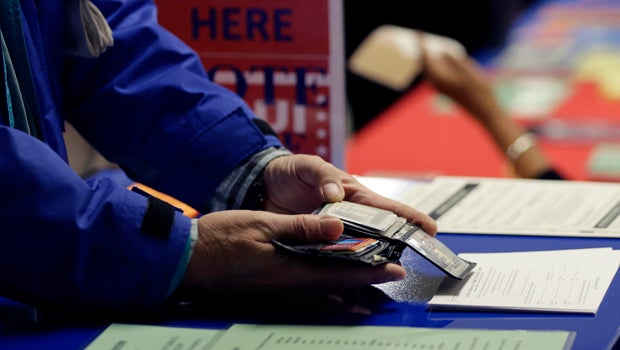 Texas poised to elect its first two Latina congresswomen
At a tender age, Sylvia Garcia picked cotton and hacked hay in the fields of south Texas to help her low-income family make ends meet. Veronica Escobar grew up in the border city of El Paso, waiting tables and taking fast food orders during her teenage years.
In a few months, both women could become the first Latinas to represent the Lone Star State in Congress. The two Democratic nominees are running in deep-blue, majority Latino urban districts and are poised to cruise to victory in their respective contests in the November midterms.
"This is the year of women of color," Garcia told CBS News. "This is the year of the Latina."
Although Texas has long been home to the second-largest Hispanic electorate in the nation, its voters have never elected a Latina to serve in either chamber of Congress. Clarissa Martínez-de-Castro, Deputy Vice President of UnidosUS, a leading Latino advocacy group, believes both Democrats and Republicans have done a lackluster job fielding and nurturing diverse candidates, including Latinas, to run for federal office in the state.
"It's important that they recruit people who reflect the diversity of the country and that they are part of the leadership pipeline," Martínez-de-Castro told CBS News. "And that is true of both parties."
Garcia, a former county commissioner and state legislator, is vying to represent Texas' 29th Congressional District in the Greater Houston area. In March, she secured the Democratic nomination to fill the seat left vacant by the retirement of Rep. Gene Green, D-Texas, who has represented the district since its creation in 1993.
Central to Garcia's platform is healthcare. The former comptroller of the City of Houston said access to affordable healthcare is important to her because it was very scarce during her childhood. When her family needed medical attention, they visited curanderas — local native healers — or traveled to the welfare clinic in town.
The granddaughter of immigrants from Mexico and Spain running in a predominantly immigrant district has also made immigration vital to her messaging. Latinos make up 64.9 percent of eligible voters in the district and 77.5 percent of the total population, according to the non-partisan Pew Research Center.
"I will stand up to Trump on immigration issues to make sure that we have a more humane system and that we close this policy of zero tolerance and that we stop putting babies in cages and that we put them in cradles," Garcia said, referring to the administration's controversial practice of forcibly separating migrant children from their parents near the U.S-Mexico Border.
The Democratic contender added that she will push for legislative protections for recipients of the Obama-era Deferred Action for Childhood Arrivals (DACA) program and for passage of a comprehensive immigration reform bill if elected.
Garcia is facing Republican candidate and steel industry businessman Philip Aronoff on Nov. 6. Aronoff told CBS News that Garcia will "become part of the swamp" on Capitol Hill if elected and accused his Democratic opponent of having "nothing good to show for" throughout her years in elected office.
On the other side of the country's second-most populous state, Escobar, a former teacher and county judge, is seeking to capture the U.S. House seat left vacant by Rep. Beto O'Rourke's longshot bid to unseat conservative firebrand and Republican Sen. Ted Cruz. Texas' 16th Congressional District, which covers El Paso and the surrounding suburban communities, has been represented by Democrats since 1965.
The third-generation Mexican-American told CBS News that she was motivated to run for Congress by the election of President Donald Trump, stressing that, if elected, she would combat the administration's rhetoric and policies on immigration, as well as the "false narratives" she said are imposed on border communities like El Paso.
"Our country has spent so much time demonizing immigrants, using them as scapegoats and we've had people in positions of power who've stoked people's fears about immigrants in a way that has become racist," Escobar said.
Although she said Latinos are not a monolithic voting group, the Texas Democrat emphasized that her party needs to do a better job of advocating for economic and immigration policy proposals, including providing a pathway to citizenship to so-called DREAMers and their families, that will galvanize Latinos in races across the country this November.
According to the latest CBS News/YouGov Battleground Tracker survey, 57 percent of Hispanic voters are "very enthusiastic" about casting their ballots in the midterm elections and 67 percent said immigration was a "very important" factor in determining their vote.
"Because the vast majority of my community is Latino, they want advocates who will fight for them," Escobar said. According to the Pew Research Center, Latinos make up 76.5 percent of eligible voters in Texas' 16th Congressional District and 81 percent of the total population.
Escobar's Republican challenger Rick Seeberger, an international strategic consultant, told CBS News that although it has voted for Democrats for decades, the El Paso community is a conservative one with residents who are pro-life, "pro-legal immigration" and "pro-law enforcement." Seeberger said he can attract Latino voters through these issues to defeat his Democratic opponent.
Escobar, however, predicts that voters will head to the polls to defend the "welcoming" and "compassionate" values she believes she and El Paso represent. The third-generation El Pasoan envisions her potential election to federal office as a triumph for border communities and girls and women of color.
"I do hope that young women will see a Congress that reflects who they are; and reflects the color of their skin; and the texture of their hair; and the color of their hair; and the color of their eyes," she said.
For Garcia, her election would serve as concrete validation of America's ethos.
"America is still a country of opportunities. You do have a shot at the American dream," she said. "How else would someone go from picking cotton to passing laws in the United States Congress?"
Thanks for reading CBS NEWS.
Create your free account or log in
for more features.