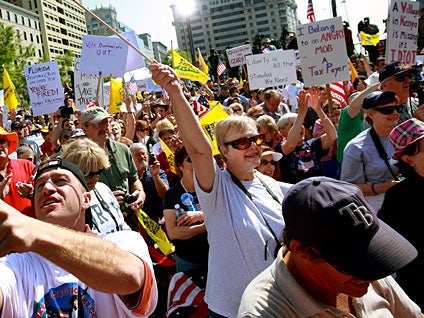 Tea Party Protesters Rally Against "Gangster Government"
A few thousand people gathered at Freedom Plaza in Washington today for the first of two Tea Party rallies in the nation's capital today organized to protest government spending and taxation.
Clutching angry signs and occasionally breaking out into chants of "USA! USA!," the protesters listened to a series of fiery speeches attacking the Obama administration for what they cast as irresponsible spending and far left wing policies.
Rep. Michele Bachmann said the "gangster government" has instituted a "takeover of one private industry after another," again making her questionable claim that "the federal government owns or controls 51 percent of the private economy."

She said the Obama administration is "perfectly content with presiding over a decline in our economy," adding: "I'd say it's time for these little piggies to go home, and come November that's where they're headed."
Bachmann railed against virtually every Obama administration initiative, including the financial industry reform effort now being considered to prevent another financial meltdown. Echoing GOP talking points distributed by a Republican pollster, she claimed the bill "is really a permanent bailout authority for the government for Wall Street and the big banks."

"I'd say it's time for these little piggies to go home, and come November that's where they're headed," she said of Congressional Democrats.
Earlier in the rally, former Saturday Night Live cast member Victoria Jackson played a ukulele and sang a song claiming "there's a communist living in the White House." Part of her evidence for that claim, she said, was that both of the president's parents were communists before they "abandoned him."
Jackson yelled out a series of names, generating applause from the audience: Rush Limbaugh, Sean Hannity, Laura Ingraham, Michelle Malkin, Mark Levin, Ann Coulter. Like other speakers, she claimed "half of Americans are not paying taxes" this year. (A New York Times analysis found that number to be about 10 percent.)

"Why aren't people up in arms?" she asked.
The protesters were relatively calm, insisting to reporters that they want Washington to listen to them. On the more extreme end was a man dressed in tar and feathers and an Obama joker mask. There was also a large bus circling the rally with "kill the bill" written on it and photos of aborted babies and grim reapers.
Tea Party Supporters: Who They Are and What They Believe
What's Obama Doing to Your Taxes?
Tea Party Supporters View Palin, Beck and Bush Favorably
Schieffer: Tea Partiers Not Just "A Bunch of Yahoos"
Tea Party Activists Small But Passionate Group
The Associated Press documented some of the signs being waved: "We Want Regime Change," "Save a Seal, Club a Liberal," "Down with the Gov't Takeover," "End the Fed" and "Waterboard Bernanke."
Rep. Steve King, an Iowa Republican who was introduced as "tea party tested and tea party approved," complained that Obama administration policies "drain our vitality." He called for the elimination of the IRS and the federal tax code, and, like Bachmann, claimed that the Obama administration had privatized more than half the economy.
King said Mr. Obama voted to the left of Vermont Sen. Bernie Sanders, a self-described socialist, when he was in the Senate.
"The question is not whether the president is a socialist, we're talking about what's to the left," he said.
King said the policies now being instituted "insult the character of the American dream."
Former House majority leader and FreedomWorks chairman Dick Armey, clad in a cowboy hat, explained to the crowd his idea of social justice.
"If you earn the money, you got a right to keep the money, he said. "Now how crazy is that?"
Tea Party protests are taking place around the country Thursday in conjunction with the April 15th tax deadline. At left, CBSNews.com political reporter Stephanie Condon discusses the movement and what has happened to taxes under the Obama administration on "Washington Unplugged." (Click here to see a separate interview with Online Tax Day's Ken Hoagland, a featured speaker at Thursday's Tax Day Rally.)
At the Chicago Tea Party rally, CBS News' Scott Conroy reports, there was a significant presence of counter-protesters and a fair amount of pushing and shoving.
One man was walking around with an "arrest Bush" sign, which earned the wrath of a two young male protesters, who took turns trying to rip it up before cops moved the man out of the area.
As Conroy filmed the proceedings, many of the protesters lashed out at him. They then went after the young men who were trying to rip up the "arrest Bush" sign, saying they were participating in the sort of behavior that media want to see.
Check Out a Photo Essay of Today's Tea Party Protests
The scuffle was significant enough to cause the speaker to pause in his remarks.
Asked if he was concerned the Tea Party movement could split the Republican vote in the midterm elections, House Republican Leader John Boehner said, "I think by and large we're proving to the Tea Party people that we're earning their respect and their vote."
"These are people who've never been involved in the political process," he said. "Most of them probably never even voted. Something is moving off their couch and out of their easy chair and into the streets. And remember these people are just the tip of the iceberg..they represent the same concerns, the same worries, the same fears of tens of millions of additional Americans who just haven't quite gotten off the couch and out of the easy chair and into the street. Democrats better look out."
A CBS News/New York Times poll released Wednesday found that 18 percent of Americans identify with the Tea Party movement, and that they are older and whiter than the country as a whole.

Oklahoma Tea Partiers Consider Creating Militia
Tea Party, Dems Row Over N-Word Video "Evidence"
Groups Look to Rally Tea Party Over Court Pick
What If the Tea Party Ruled?
Why Polarization is So Dangerous
Thanks for reading CBS NEWS.
Create your free account or log in
for more features.