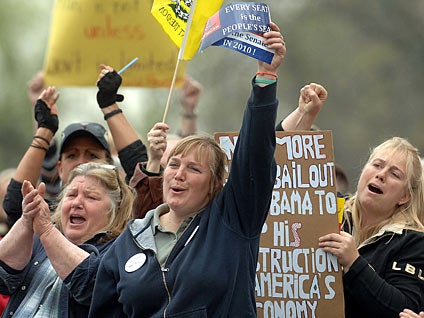 Poll: Tea Party Activists Small But Passionate Group
CBS News Poll analysis by the CBS News Polling Unit: Sarah Dutton, Jennifer De Pinto, Fred Backus and Anthony Salvanto.
Tea Party "activists," defined as those who have attended a rally or donated money to the movement, make up a small portion of the group, but they are even more pessimistic about the direction of the country, and more negative about President Obama, than Tea Partiers overall, a new CBS News/ New York Times poll shows.
These activists make up 20 percent of Tea Party supporters and 4 percent of Americans overall.
As many as 72 percent of Tea Party activists are angry about the way things are going in Washington, compared to 53 percent of Tea Party supporters.
This group has an especially gloomy outlook on the economy; 62 percent of them say it is getting worse, and more than six in 10 say when it comes to the availability of good jobs for American workers, America's best years are behind us.
More than half of Tea Party activists (55 percent) say the amount of income tax they have to pay this year is unfair. Among Tea Partiers as whole, 42 percent feel that way.
Unlike Tea Partiers overall, these activists hold a net negative view of the Republican Party. Fewer than half - 44 percent - view the party favorably, while 50 percent have an unfavorable opinion of the Republican Party.
But the most active Tea Partiers hold especially favorable views of Glenn Beck and Sarah Palin, and 50 percent think Sarah Palin has the ability to be an effective president. Among Tea Partiers in general, just 40 percent think she has that ability.
Twenty-four percent of Tea Partiers think violent action against the government could be justified, but that number rises to 32 percent among Tea Party activists.
More than three in four Tea Party activists get their television political news from Fox News Channel.

More from the Poll:
Tea Party Supporters: Who They Are and What They Believe
Tea Partiers View Palin, Beck and Bush Favorably
"Birther" Myth Persists Among Tea Partiers, All Americans
Most Tea Partiers Believe Too Much Made of Problems Facing Blacks
Most Tea Party Supporters Say Their Taxes Are Fair
Read the Complete Poll on Tea Party Members (PDF)
Read the Complete Poll on What Tea Partiers Believe (PDF)
---
This poll was conducted among a random sample of 1,580 adults nationwide, interviewed by telephone April 5-12, 2010. Phone numbers were dialed from RDD samples of both standard land-lines and cell phones. The error due to sampling for results based on the entire sample could be plus or minus three percentage points. The error for subgroups is higher.
An oversample of people who describe themselves as supporters of the Tea Party movement were interviewed, for a total of 881 interviews. The results were then weighted in proportion to the adult population. The margin of error for the sample of Tea Party supporters is three points. This poll release conforms to the Standards of Disclosure of the National Council on Public Polls.
Thanks for reading CBS NEWS.
Create your free account or log in
for more features.