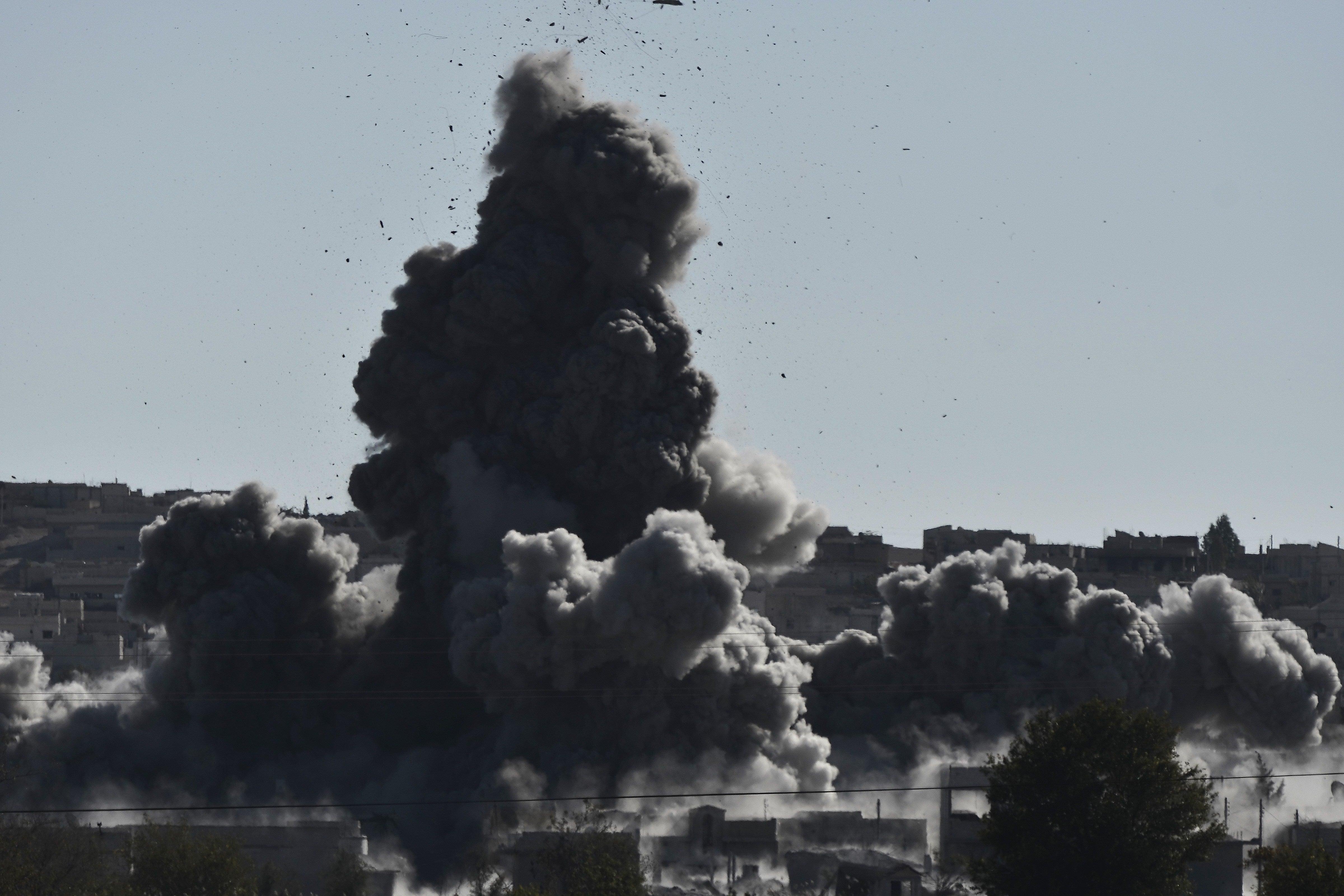 Group: Syria airstrikes have killed more than 800
BEIRUT -- U.S.-led coalition airstrikes against the Islamic State of Iraq and Syria (ISIS) and other extremists in Syria have killed more than 860 people, including civilians, since they began in mid-September, an activist group said Wednesday.
The Britain-based Syrian Observatory for Human Rights (SOHR) said the vast majority those killed - 746 people - were ISIS militants, while another 68 were members of al Qaeda's Syrian affiliate known as the Nusra Front. At least 50 civilians, including eight children and five women, also have been killed in the airstrikes, the group said.
SOHR suggested the real number of ISIS casualties could be higher, saying many villages and areas of Syria where bombings took place are difficult to access.
The group condemned the airstrikes for causing civilian deaths, saying the Syrian people deserve "a decent safe life away from humiliation, detention, and destruction, a life of democracy, justice, freedom and equality."
The U.S. Central Command said Wednesday that the U.S. and allied nations conducted 16 airstrikes in Syria and seven in Iraq since Monday. Most of those airstrikes were carried out near the embattled Syrian town of Kobani. CBS News correspondent David Martin reports that ISIS holds about a quarter of the city but is slowly losing ground in the street-by-street fighting.
The U.S.-led coalition's aerial campaign in Syria began before dawn on Sept. 23 in what President Obama has called an effort to roll back and ultimately destroy ISIS. The militant extremist group and its leadership have been the primary targets of the coalition's strikes, although on at least two occasions the United States has targeted what it says is a specific cell within the Nusra Front allegedly plotting attacks against American interests.
The airstrikes in Syria expanded upon a U.S.-led operation in neighboring Iraq against ISIS, which has seized control of a large chunk of territory spanning the two countries.
The Pentagon and its partners have carried out approximately 740 airstrikes in Syria and Iraq since early August, including at least one near the western Iraqi city of Mosul last Friday that targeted a convoy of ISIS leaders.
Since then, the fate of ISIS leader Abu Bakr al-Baghdadi has remained unclear, inspite of claims from Iraqi officials that he was wounded.
President Obama announced Friday that as many as 1,500 more American soldiers will be deployed to Iraq in the upcoming months to train and advise the Iraqi military in the fight against ISIS.
Meanwhile, Iraqi forces claimed a big victory on Tuesday, retaking the northern town of Beiji, home to Iraq's largest oil refinery.
Thanks for reading CBS NEWS.
Create your free account or log in
for more features.