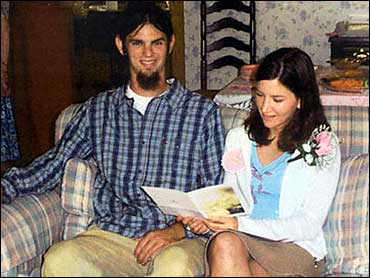 Suspect charged in 2004 cold case of couple shot dead in sleeping bags on California beach
SONOMA COUNTY, Calif. -- A man arrested last year in the cold case of a couple found shot dead in sleeping bags on a northern California beach has been charged with their murders, reports the Napa Valley Register. Shaun Gallon, 39, was charged Friday with killing Lindsay Cutshall, 22, and Jason Allen, 26, in August of 2004, the paper reports.
Sonoma County District Attorney's Office also reportedly charged the Forestville man with the shooting death of his brother Shamus Michael Gallon in March 2017 and attempted murder in a package bombing in Guerneville in June 2004.
The complaint states an assault rifle was used in all three slayings, according to the paper.
The mystery surrounding the couple's 2004 beach campsite killing long had drawn national attention: The bodies of Lindsay Cutshall and her fiance Jason Allen were found next to each other on a driftwood-strewn beach near Jenner, California, on Aug. 18, 2004. They were scheduled to be married a month later.
The two Christian youth-camp workers were still zipped into their sleeping bags, and authorities believe they were shot in the head as they slept.
Cutshall, a native of Fresno, Ohio, and Allen, from Zeeland, Michigan, had been on a weekend trip. They worked at a Christian youth camp in California's Sierra Nevada foothills.
Authorities have said neither victim was robbed or sexually assaulted.
It wasn't until 2017 that Shaun Gallon became a suspect in the double slaying. In March of that year, Gallon was arrested for the shooting death of his brother in the family's home in Forestville, a rural community 66 miles north of San Francisco. Then-Sonoma County Sheriff Steve Freitas said at the time that Gallon was "well-known to authorities" and that he was a person of interest in the 2004 case, reported CBS San Francisco.
Questioned about the 2004 killings while in custody in his brother's case, Gallon had relayed "information about the killings that no other person could have known," Freitas said in May of last year, as he announced investigators believed him to be the.
"We feel confident we have Jason and Lindsay's killer," he said.
Authorities have since found further corroborating evidence, he said.
No motive in the 2004 case has ever been made public. Freitas said authorities believed the killing of the young couple was random, and that there was no previous connection between the two and the suspect.
Authorities previously said they also were still trying to find a motive in the shooting death of Gallon's brother, Shamus, saying there was no known conflict between the two before the shooting.
Gamus was also charged with attempted murder in a 2004 incident in which a bomb inside a package was left on top of a couple's car in Guerneville, the paper reports. The device exploded, leaving a man with hand, arm and facial injuries.
The Sonoma County District Attorney's office told the paper they intend to try all three murder charges and the attempted murder charges together.
Gallon reportedly appeared in court on Monday but didn't enter a plea. He is scheduled for another court date June 19.
Thanks for reading CBS NEWS.
Create your free account or log in
for more features.