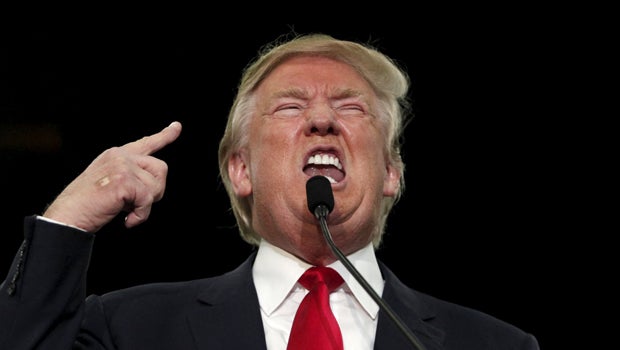 Super PAC launches ad hitting Trump over mockery of disabled reporter
Priorities USA Action, a super PAC supporting Hillary Clinton, launched a devastating new ad this week resurfacing Donald Trump's mockery of a disabled reporter.
The minute-long spot, titled "Grace," features Chris and Lauren Glaros of Columbus, Ohio, a couple whose daughter was born with spina bifida, a disability where a baby's spinal cord fails to properly develop.
"Grace is the happiest child you've ever seen," Chris Glaros says in the ad, as photos of their smiling daughter appear on screen. "Despite all of her medical challenges, she brings out the goodness in each person."
"When I saw Donald Trump mock a disabled person, I was shocked," Lauren Glaros said.
The video cuts to a CNN report of Trump's comments, made back in November, ridiculing New York Times reporter Serge Kovaleski.
"You should've seen this guy -- 'Ahh, I don't know what I said, I don't remember,'" Trump mocked at a South Carolina rally, flailing his arms around in an apparent impersonation of Kovaleski, who suffers from a condition that limits the mobility of his joints.
"The children at Grace's school all know never to mock her," Lauren Glaros continued. "And so for an adult to mock someone with a disability is shocking."
Her husband added: "When I saw Donald Trump mock someone with a disability, it showed me his soul. It showed me his heart. I didn't like what I saw."
Watch it in full here:

For his part, Trump has taken issue with the characterization that he had poked fun at Kovaleski for his disability.
After a media firestorm over the comments, Trump, now the presumptive Republican nominee, denied that he was "mocking" the reporter.
"They said I was mocking him," Trump explained in late November. "I would never mock a person that has difficulty. I would never do that -- I'm telling you. I would never do it."
Instead, Trump said, his gesticulating was simply "trying to show somebody groveling to take back the statement he made."
The spot will air as part of a $20 million Priorities USA reservation. The group intends to air it from Wednesday through the Republican convention in July in seven critical general election states: Ohio, Virginia, Florida, New Hampshire, Iowa, Colorado and Nevada.
Thanks for reading CBS NEWS.
Create your free account or log in
for more features.