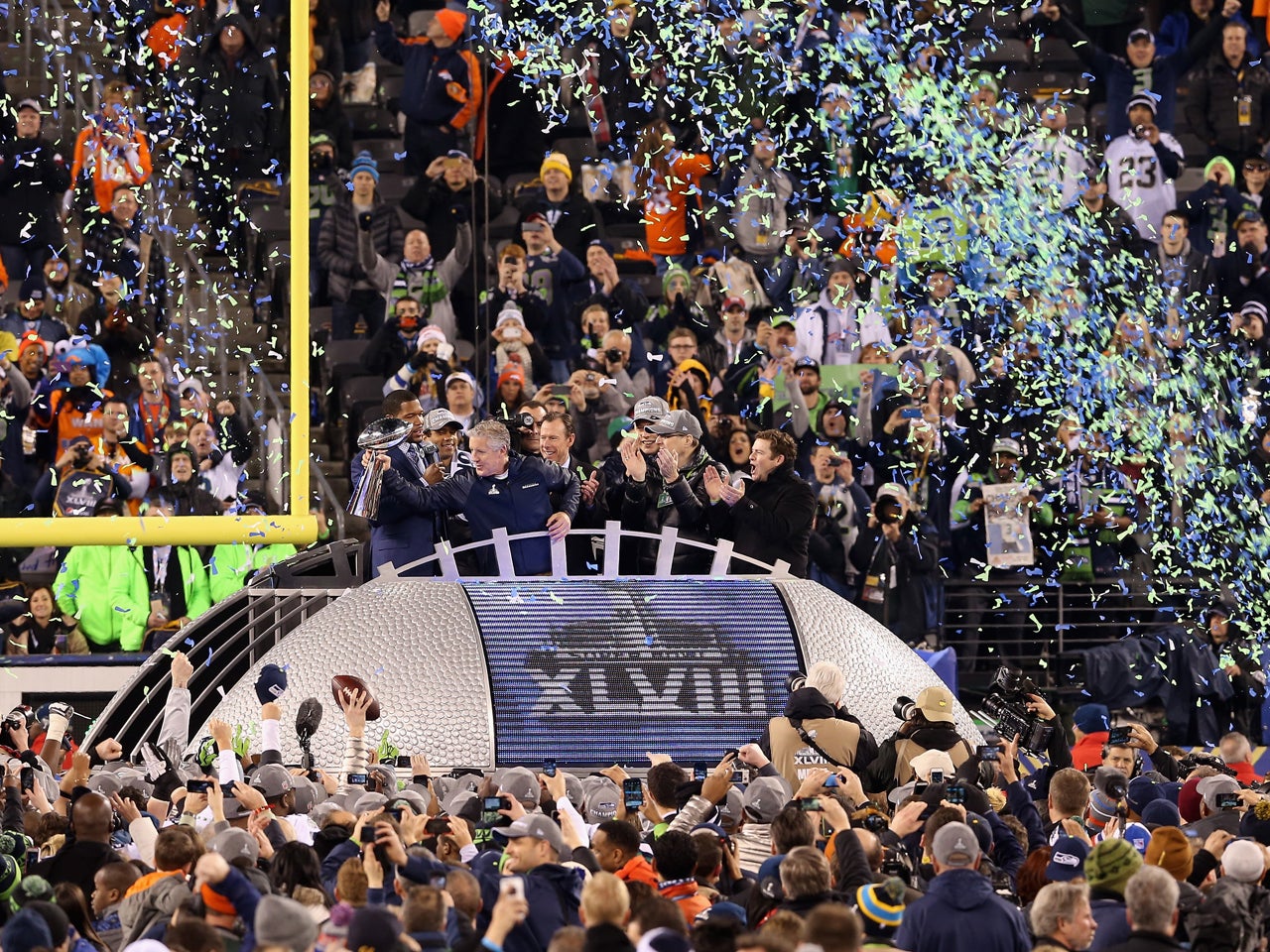 Super Bowl 2014: Boring game, safe ads, transit nightmare
NEW YORK - The Seahawks pretty much ruined everyone's fun but their own.
Their safety 12 seconds into the game got everyone excited, but the only play that came close to matching it started off the second half - and Percy Harvin's kick return pretty much finished off the Broncos.
After that, there wasn't much left to do but hope for some good commercials, a strategy that yielded some nice moments, but nothing that you can't see on YouTube.
Here's a look back at the Super Bowl on Sunday night, from the transit gaffes to the commercials, halftime show and - oh yeah - the game itself.
___
RETRO BLOWOUT: It has been awhile since the NFL's championship game has been such an absurdly one-sided affair.
Football fans who remember the 1980s and 1990s recall watching teams - the Broncos often among them - get slaughtered on Super Bowl Sunday. In those days, it was pretty much a given that the big game would be over by halftime. Over the last decade, though, a series of fantastic finishes and improbable moments have gotten everyone accustomed to drama.
Not on Sunday night. The Seahawks' 43-8 win was a throwback, for sure. The only bigger losses were New England's 46-10 defeat to Chicago and Denver's 55-10 thrashing by San Francisco in 1990. The 35-point margin tied the Bills' 52-17 loss to Dallas in 1993.
While linebacker Malcolm Smith was the game's MVP, quarterback Russell Wilson was steady against a strong Broncos defense, and did not turn the ball over.
"Our defense. Our offense. Special teams were great and our fans were unbelievable in MetLife Stadium last night," Wilson said on "CBS This Morning" on Monday. "It's a team effort, and that's what we've been wanting to do. You want to play your best football at the end of the year, and that's what we did."
___
MANNING AGONISTES: Peyton Manning always seems to be judged by the next game. Win one big game, and it's the next one just out of reach that really matters.
In the Super Bowl he never really had much of a chance. The game's first snap flew by his head before he could react, and the Seahawks had a safety and a 2-0 lead 12 seconds into the game.
"It's not the way you want to start a game," Manning said. "For whatever reason we couldn't get anything going after that."
Down only two scores, the Broncos could have made it a game, but Manning got hit as he threw, the ball fluttered into Malcolm Smith's grasp and the linebacker returned it for a touchdown and just like that, the Broncos were down 22-0 at halftime.
Oh, and then Manning got to watch as Harvin returned the second-half kickoff for a TD.
"To finish this way is very disappointing," Manning said. "It's a bitter pill to swallow."
Manning has largely been noncommittal about whether or not he'll give it a go next season, according to CBSSports.com's Will Brinson.
"I really have no plans beyond this game," he said at a pre-Super Bowl press conference. "I had no plans, coming into this season, beyond this year. I think that it is the healthy way to approach your career at this stage. I still enjoy playing football. I feel a little better than I thought I would at this point, coming off (last year's neck) surgery."
___
AMERICAN INDUSTRY: Many advertisers played it safe by avoiding anything gaudy or puerile- and by wrapping themselves in the flag.
"It was a kinder, gentler advertising effort," said CBS News analyst Frank Luntz on "CBS This Morning."
The stakes were particularly high, too. Luntz said that the average cost of a 30-second spot was $4 million, and as many as 42 percent of Americans watched the game mostly for the ads.
Coca-Cola showcased America's diversity with a spot that showed scenes of natural beauty and families of different ethnicities to the tune of "America the Beautiful" being sung in different languages.
Chrysler debuted a two-minute ad starring Bob Dylan, who discusses the virtues of having cars built in Detroit, a theme that it has struck with in previous ads with Eminem and Clint Eastwood. "Let Germany brew your beer. Let Asia assemble your phone. We will build your car," Dylan says in the ad.
And Budweiser went right for the emotional heart with two ads. One was about a military homecoming that was followed by a live shot of the officer from the ad sitting in the stands, another was about a puppy who didn't want to be separated from his friend, one of the Budweiser Clydesdales. Luntz said animal ads always do well, but the puppy-Clydesdale ad did unusually well by going totally over the top.
The second most-popular ad, according to Luntz, was the Doritos ad about time travel, which women and men responded to equally.
___
DIG THIS JAM: When people weren't griping about not knowing who Bruno Mars was, they were finding themselves impressed by the 28-year-old pop star's showmanship.
As AP Music Writer Chris Talbott put it "tens of millions got their first chance to see why he's one of the most exciting live acts of his generation."
Mars made his first appearance bashing away at his drum kit, then segued into his catchy hit "Locked Out of Heaven" before going into "Treasure" and "Runaway Baby."
After that, he was joined by the Red Hot Chili Peppers, who cavorted shirtless on stage as they joined the man who was still a child when the song they played, "Give It Away," was a hit.
___
NO TIME FOR TRAFFIC PROBLEMS: Fans on the way to the game collapsed from overcrowding and heat at Secaucus Junction, where TSA-style security checks created a bottleneck on the way to the game.
Initial fan calls of "Seahawks" and "Broncos" gave way to angry shouts of "New Jersey, your Super Bowl sucks!"
After the game, fans converged on the rail station for the return trip, clogging the platform as trains loaded and left when full. NJ Transit said a second platform was opened to accommodate the crowds. More than an hour after Seattle completed its 43-8 victory over Denver, long delays remained for crowds trying to leave the stadium area.
Nearly 28,000 fans rode the rails from Secaucus Junction, where all trains connect to MetLife Stadium. That's nearly double projections by event organizers, and well above the previous New Jersey Transit record of 22,000 set at a 2009 U2 concert.
At an average New York Giants or New York Jets game, about 8,000 people take the trains.
Waiting for a train, Seattle natives Jeff Chapman, 40, and childhood friend Willie Whitmore, 39, were anxious to get home.
"This is a joke," griped Chapman, an engineer. "We're not even from here and we could've told you this would've happened."
"What do you expect when you don't give people any other option to get home," added Whitmore, a project manager. "It's ridiculous."
Dan Steidl, 27, from Green Bay, Wis., was waiting for 45 minutes with very little movement.
"This is terrible," he said. "I'm ready to get out of here, but I don't know when that'll happen."
A NJ Transit spokesman told The Associated Press early Monday that nearly 25,000 passengers had been moved to Secaucus by midnight, two hours after the game, and that overall it was a "tremendous success," considering the volume of passengers transported without accident or incident.

Thanks for reading CBS NEWS.
Create your free account or log in
for more features.