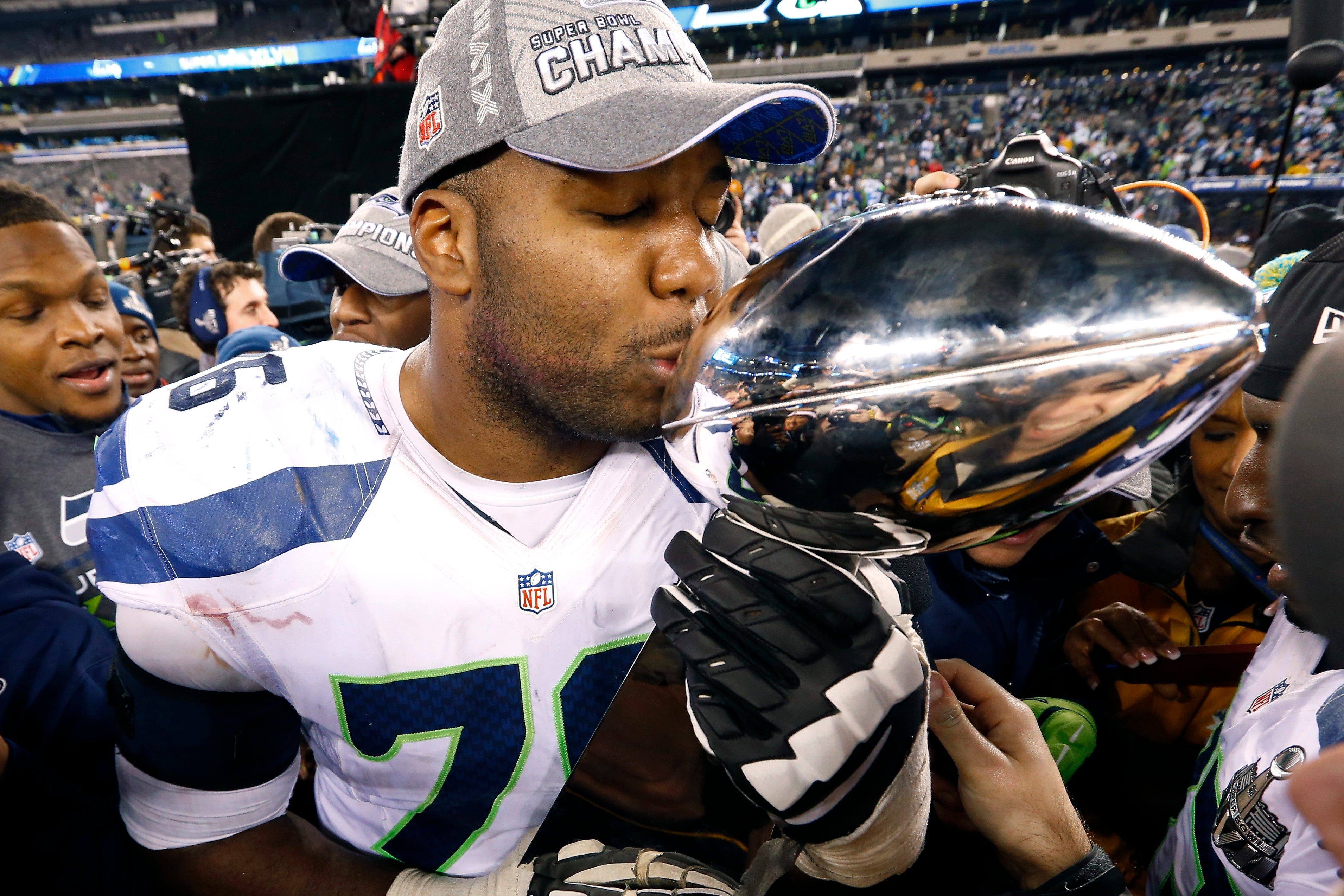 Super Bowl 2014: Seattle trounces Denver, 43-8
EAST RUTHERFORD, N,J. -- The Seattle Seahawks' mantra all season was to make each day a championship day.
They made Super Bowl Sunday the best day of all with one of the greatest performances in an NFL title game, sparked by a defense that ranks among the best ever.
The Seahawks won their first Super Bowl crown in overpowering fashion, punishing Peyton Manning and the Denver Broncos, 43-8. That masterful defense, the NFL's stingiest, never let the five-time Most Valuable Player get going, disarming the highest-scoring offense in league history.
"The only way we could say we were the best defense was to take down the best offense," linebacker Bobby Wagner said.
"Maybe defense wins championships, after all," observes CBSSports.com NFL writer Will Brinson. "The Seahawks made the case for such a statement Sunday night in the crisp, northern air, demolishing the best offense in NFL history.
" … This game was the Seahawks smacking the Broncos in the mouth and Denver standing around just taking it and bleeding all over the field.
" … The Broncos got bloodied and bloodied and bloodied some more. Seattle didn't let up once, owing to their philosophy of continually trying to take it to opposing offenses. They set a Super Bowl record for most playing time with the lead, leading Denver for a whopping 59 minutes and 48 seconds.
Absolute domination."
Seattle (16-3) was too quick, too physical and just too good for Denver, and that was true in all areas. What was hyped as a classic matchup between an unstoppable offense and a miserly defense turned into a rout.
"We been relentless all season," quarterback Russell Wilson said. "Having that mentality of having a championship day every day. At the end of the day, you want to play your best football and that is what we did today."
Punctuating Seattle's dominance were a 69-yard interception return touchdown by linebacker Malcolm Smith to make it 22-0, and Percy Harvin's sensational 87-yard kickoff runback to open the second half.
Smith was the game's MVP, the first defender in 11 years to win the award.
When the Seahawks, up by 29 points, forced a Denver punt early in the third quarter, the 12th Man - and there were legions of them in MetLife Stadium - began chanting "L-O-B, L-O-B."
As in Legion of Boom, the Seahawks hard-hitting defensive secondary line, part of young team with an average age of 26 years, 138 days.
"This is an amazing team. Took us four years to get to this point but they never have taken a step sideways," coach Pete Carroll said. "These guys would not take anything but winning this ballgame."
The loss by the Broncos again raised questions about Manning's ability to win the biggest games. He is 11-12 in the postseason, 1-2 in Super Bowls. After the game, he brushed off questions about his legacy.
"Certainly to finish this way is very disappointing," he said.
He never looked comfortable against a defense some will begin comparing to the 1985 Bears and 2000 Ravens - other NFL champions who had runaway Super Bowl victories.
Seattle forced four turnovers; Denver had 26 all season.
The Seahawks looked comfortable and at ease, and not just their defense, which lost All-Pro cornerback Richard Sherman to a high ankle sprain in the fourth quarter. He celebrated on crutches.
"I hope we etched out names in the history books," Sherman said.
Wilson, who has an NFL-record 28 wins in his first two pro seasons, including playoffs, had a 23-yard TD pass to Jermaine Kearse late in the third quarter to make it 36-0.
Wilson also hit Doug Baldwin for a 10-yard score in the final period in what had become one of the most lopsided Super Bowls. For the fifth time in six meetings between the NFL's No. 1 offense and defense, the D dominated.
"It's all about making history," All-Pro safety Earl Thomas said. "This was a dominant performance from top to bottom."
Denver fell to 2-5 in Super Bowls, and by the end, many of Manning's passes resembled the "ducks" Sherman said the All-Pro quarterback sometimes threw.
The victory was particularly sweet for Carroll, who was fired in 1994 by the Jets, led the Patriots for three seasons and again was canned. After a short stint out of coaching, he took over at Southern California and won two national titles.
But he always felt there was unfinished business in the NFL. Carroll finished that business by lifting the Vince Lombardi Trophy, four years after taking charge in Seattle and eight years after the Seahawks lost in their only previous Super Bowl, to Pittsburgh.
No Super Bowl had been played outdoors in a cold-weather city before - not that the Big Apple was anything close to frozen Sunday, with a 49-degree temperature at kickoff.
Things went sour for Manning and the Broncos from the very first scrimmage play, and by halftime they were down 22-0 - their biggest deficit of the season and the only time they didn't score in a half.
On that first play for the Broncos, Manning stepped up toward the line just as center Manny Ramirez snapped the ball. It flew past his incredulous quarterback into the end zone, where Knowshon Moreno dived on it for a safety.
A mere 12 seconds in, Seattle led 2-0 with the quickest score in Super Bowl history, beating Chicago's Devin Hester's kickoff return to open the 2007 game - against Manning's Colts.
That one ended much better for Manning as Indianapolis won the championship. This one was a fiasco throughout.
Steven Hauschka, who missed only 2 of 40 field goals entering the game, made a 31-yarder for 5-0 and a 33-yarder for 8-0 after Doug Baldwin toasted 15-year veteran cornerback Champ Bailey, in his first Super Bowl, for 37 yards on third down.
Then the Seahawks began scoring touchdowns.
Manning's third-down pass to Julius Thomas sailed way too high and directly to safety Kam Chancellor, giving the Seahawks the ball at Denver's 37. Harvin, finally healthy after a virtually wasted first season in Seattle, sparked the short drive with a 15-yard burst, and a third-down pass interference call on Tony Carter gave Seattle the ball at the 1.
Marshawn Lynch scored to make it 15-0.
Then Smith, with a play emblematic of the best defense the NFL has seen in years, made his second huge play in two weeks.
Cliff Avril got to Manning's arm as he was throwing, the ball fluttered directly to Smith, who took off down the left sideline for a 69-yard interception TD.
Manning trudged to the sideline, a look of disgust on his face.
That look didn't improve when, after a drive to the Seattle 19, his fourth-down pass was tipped by Chris Clemons and fell harmlessly to the Meadowlands turf.
So did Denver's reputation as an unstoppable force.
Thanks for reading CBS NEWS.
Create your free account or log in
for more features.