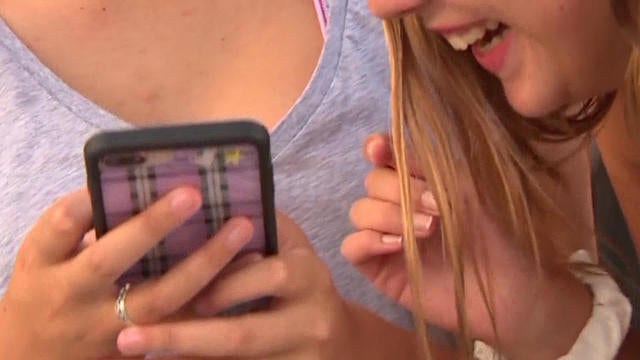 Could smartphone use be linked to ADHD in teens?
New research suggests there may be a link between frequent smartphone use and symptoms of attention-deficit/hyperactivity disorder (ADHD) in teens. While the study is preliminary and more research is needed to establish a true connection, it's likely to add to parents's concerns that too much time on digital devices can take a toll on kids' well-being.
"[Smartphones] are everywhere. It's highly accessible. These are high performance, very fast, highly stimulating devices," study author Adam M. Leventhal, Ph.D., of the University of Southern California Keck School of Medicine, told CBS Los Angeles.
Researchers surveyed more than 2,500 high school students in Los Angeles who did not have symptoms of ADHD at the start of the study. Five times over the course of about two years, the students were asked to report 14 different digital media activities, such as checking social media sites and texting, as well as self-rated frequency of 18 ADHD symptoms in the previous six months.
An analysis of the results showed that frequently using multiple forms of digital media was associated with a higher likelihood of ADHD symptoms.
"We found that indeed there was a statistically significant link," Leventhal said. The study is published in JAMA, the Journal of the American Medical Association.
However, it's important to note that the study was observational and does not prove that frequent smartphone use actually causes ADHD. In fact, the researchers note that there's also the possibility of reverse causation. This means since the disorder is associated with sensation seeking, having ADHD could prompt more digital media use to satisfy a need for stimulation.
Another limitation of the study is that it relies on teens' self-rating of ADHD symptoms. That's not the same as determining an actual ADHD diagnosis.
Still, experts say there's reason to believe monitoring and placing reasonable limits on children's and teens' digital media use may be beneficial to their health.
In an accompanying editorial, Jenny Radesky, M.D., an assistant professor of pediatrics at the University of Michigan School of Medicine, points to the guidelines issued by the American Academy of Pediatrics in 2016. "Prioritize activities that promote adolescent executive functioning and well-being, including sleep, physical activity, distraction-free homework, and positive interactions with family and friends," she writes.
"Although not directly addressed by this study, the American Academy of Pediatrics recommendations for parent involvement in their adolescent's media use -- including discussions about prosocial uses of media, digital citizenship, misinformation, and persuasion awareness -- are relevant to the cognitive and emotional reactions to digital media of adolescents," Radesky writes.
Leventhal also has a message for parents that may help teens curb their smartphone use: Set an example.
"Don't use digital media so much in front of them," he said. "A lot of us do it and we don't realize that maybe at the dinner table or in other situations we're on our device."
Thanks for reading CBS NEWS.
Create your free account or log in
for more features.