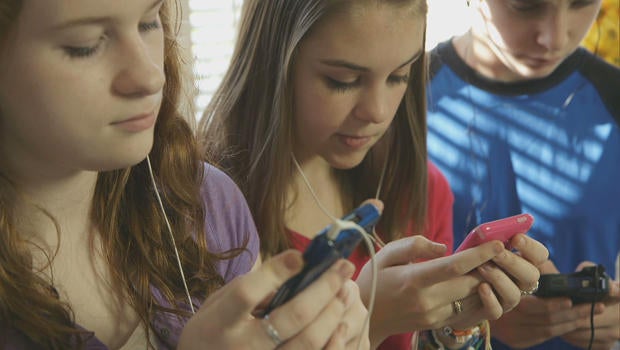 Social media, the scourge of adolescence
America's schoolchildren are on summer vacation - no more teachers, no more books. But the same can't be said for their smartphones. Those devices are firmly in the hands of an entire generation of young people - call them the "iGEN." For them, the iPhone is like the very air they breathe, as Tracy Smith reports in our Cover Story:
This might be the scariest movie of the summer, at least for parents: The new dramedy "Eighth Grade" is about Kayla, a painfully shy 13-year old stumbling through her last week of middle school.
But there's more to the movie than the usual teen angst and acne. Like a lot of kids, Kayla spends a good chunk of her day online, texting with her classmates, or posting self-help videos on her YouTube channel.
This is writer-director Bo Burnham's first feature film. And it has 15-year-old star Elsie Fisher thinking a lot about her own life online:
"Like, even now, I feel young to be on the internet," Fisher said.
"That's hilarious!" said Burnham.
"Because social media has made me think differently as a person. It's made me more anxious, I think."
Burnham shows the internet as a double-edged sword: the same technology that allows a shy girl to reach out to the world can also torment her with images of people having fun without her.
"It follows you everywhere now," he said. "And it follows you into your bedroom. And then you get into your bed at the end of the night. And you have a choice between all of the information in the history of the world, or the back of your eyelids, which is not a great choice – between oblivion or infinity. Is there a middle ground where these kids can exist?"
Fisher added, "I think it's training our brains to be fine with being over-stimulated. Like, it is severely lowering our attention spans."
Smith asked, "Do you see that in yourself?"
"Yeah. Of course."
"Oh, I do," Burnham added.
"Especially now, it feels so strenuous to just sit down for 20 minutes and just do nothing and think. And the internet gives you an escape from your thoughts, which might not always be good."
And the internet is hard to ignore when it's right there in your hand. A 2018 Pew Research study says that by age 14, 94 percent of kids have access to smartphones.
San Diego State professor Jean Twenge calls this generation "iGen."
"Like iPhones and iPads. They are the first generation to spend their entire adolescence with smartphones."
The author of "iGen" (published by Atria, an imprint of Simon & Schuster, a CBS company), Twenge says kids who can easily chat online can sometimes have a tough time talking face-to-face.
Smith said, "In this movie, this eighth-grade girl comes alive when she's looking at her phone, and yet in real life, is incredibly awkward. Is that common?"
"It is fairly common for a lot of the teens in iGen, because they've grown really comfortable with spending a lot of time on social media and texting, but they don't spend as much time with their friends face-to-face.
"So, you know, anecdotally, this is what I hear from teachers and from managers; they'll say, 'You know, I love this generation, but I'm surprised at how many of them will not look me in the eye.'"
Smith asked Fisher, "Here we have all this media that's supposed to connect us; is it making us more lonely, in a way, especially kids?"
"I would say definitely. It was made to connect us. But, I mean, more than anything it's made us more self-obsessed, and that just leads to loneliness and just getting too much in your own brain.
"Who knows, maybe ten years from now, five years from now, whatever, it'll fix itself. But right now I think people are more lonely than ever. And social media is probably a cause of that."
Fisher is right, according to experts, and they say it's been getting worse for the past seven years.
According to Twenge, "Overall, around 2011, teens' mental health really began to suffer. 2011, 2012 is right when smartphones became common, so, [that's] when they switched from being something only a few people had to something almost everybody had."
And at 27, director Bo Burnham gets it. He seems to have a real feel for teens who are drawn to the internet – likely because not that long ago, he was one of them.
As a kid growing up outside of Boston, young Bo would make and post funny YouTube videos, mostly for his family.
The songs, like "New Math," went viral, and talent agents noticed.
"I know that this didn't come from a place of, 'Hey, I wanna be a YouTube star.' You were just trying to share stuff with your family," said Smith.
"Yeah, but I probably did want attention. I wanted everything, like, you know, I'm not gonna try to spin it like I was some, like, 'Oh, what?' Like, I definitely did, like, want to be something, for sure."
"So, did it matter to you the number of likes that you got?"
"Oh, yeah, of course! I mean, it was very thrilling," Burnham said.
In a few short years Bo Burnham went from home internet star to comedy star on late-night TV, and he was one of the youngest comedians ever to get his own Netflix special.
Smith asked, "Could you ever have imagined when you were posting those videos that you'd end up in Hollywood?"
"Yeah. Well, I'm not a beach person, so I don't know why I'm here," Burnham replied. "It's where all the meetings – it's where I get all the free water bottles in the meetings. That's sort of why I'm here!"
And now, as a Hollywood director, he's wrestling with the social media that helped get him here.
Burnham said, "I just think it's gonna be like smoking, like in 40 years we'll be like, Why were we all doing this? And I always say, like, the equivalent of 'My doctor smoked' will be, 'My shrink had a Twitter.'"
Or, it's kind of like sugar – a little is fine, a lot can be trouble, says Jean Twenge.
Smith asked, "So, what is the solution? Can we yank smartphones out of the hands of kids?"
Twenge said, "I do not think that's the solution according to the research. You know, kids do use these technologies for a lot of good things, so the key is limited use."
And limited, she says, means being online about two hours a day.
Bo Burnham says he isn't sure what what the answer is, but he's pretty sure the internet generation itself will be the one to figure it out: "We're gonna start to see these young kids get power and make things. And you're gonna see the internet talked about in subtler ways and more interesting ways. You know, and I will soon look like an out-of-touch, dusty old fart, and I will happily take that mantle, and listen."

For more info:

Story produced by John D'Amelio.
Thanks for reading CBS NEWS.
Create your free account or log in
for more features.