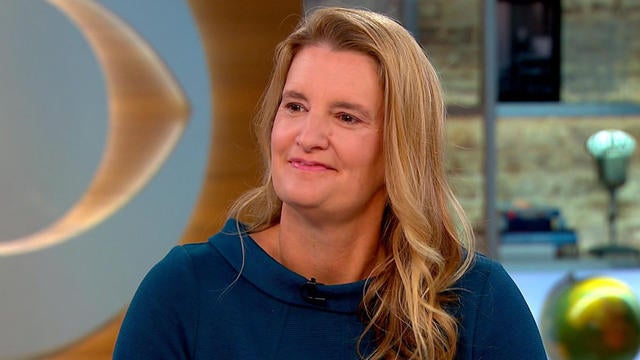 "iGen" author on how digital devices are slowing the development of today's kids
A new book details the dramatic effects digital devices can have on today's tech-savvy kids. It's called, "iGen: Why Today's Super-Connected Kids Are Growing Up Less Rebellious, More Tolerant, Less Happy – and Completely Unprepared for Adulthood – and What That Means for the Rest of Us."
Author and psychologist Jean Twenge coined the term "iGen" for kids born between 1995 and 2012 – the first generation to spend their entire childhoods with smartphones and social media. Twenge reveals they are getting less sleep, postponing sex, and even delaying getting a driver's license.
"It's so common for people to say 'Oh, you know, kids are growing up so quickly these days,' but they're growing up more slowly," Twenge told "CBS This Morning." "Eighteen-year-olds now look like what 15-year-olds used to," she said.
The data indicating teens are waiting longer to get their driver's licenses particularly struck Twenge.
"There was one young man who told me, 'Well, I didn't get my driver's license because my parents didn't push me to get my license,'" she recalled. A member of Gen X herself, she was surprised because for her generation it had been the other way around.
Twenge said she used survey data from 11 million young people that's been collected since the 1960s and 70s, as well as 200 in-depth surveys and 25 interviews.
"It's a really broad cultural trend with drinking alcohol less, and not getting a job, and not dating as much, not having sex during high school. It's just overall development has slowed down – that teens are just taking longer," Twenge said.
She believes there are several factors at play.
"It's probably at least partially because people have smaller families, they expect their kids to go to college, they nurture them more carefully. And then these trends started to accelerate with the smartphone because a lot of them have to do with getting out of the house and when you're talking to your friends all the time – when the party's on Snapchat – you don't have to drive as much or go out without your parents as much," she said.
Her research also analyzed the connection between happiness and screen time.
"Anything that's done with a screen: texting, social media, TV, online, computer games – all of those are correlated with lower happiness," Twenge said. "The smartphone's one of the keys in explaining why they [iGen] are so different from millennials. So, for example, their mental health has really trended downwards starting around 2012."
Despite this correlation, Twenge said up to an hour and a half a day of screen time likely won't do harm, but that "two hours and beyond – that's when you start to see a link to these mental health issues."
Asked how her research has impacted her own parenting practices, Twenge said, "The day I analyzed that data looking at screen time and unhappiness and depression, I took my kids' tablets and put them in a drawer."
Twenge's book is published by Atria, an imprint of Simon and Schuster, a division of CBS.
Thanks for reading CBS NEWS.
Create your free account or log in
for more features.