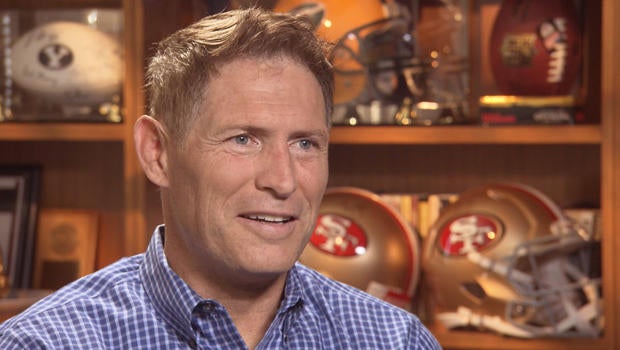 Steve Young's mental struggle off the playing field
For one famous football player of the recent past, to prevail in games on the field he first had to prevail in some mind games in his own head. Armen Keteyian paid him a visit:
Watch him hang out with his family in the backyard, and you get glimpses of the athletic grace and swagger that lifted Steve Young into pro football's Hall of Fame.
In 15 seasons in the NFL, Young redefined the position of quarterback as a double-edged sword, carving up teams with his arm and legs.
He told Keteyian that he had a voice in his head before the games: "A loud one!"
But what teammates and fans never saw was the battle Young fought just to get himself on the field, now revealed in a new memoir, "QB: My Life Behind the Spiral" (Houghton Mifflin Harcourt).
"At its worst," Keteyian asked, "how did it make you feel?"
"You wake up and you see the crack of the morning dawn, and you're like, 'Ohhhhhh.' And you'd have this dread, like, 'Ohhhh, not another one.'"
From the very beginning, Young kept his anxiety secret. At Greenwich High in Connecticut, he was a straight-A student; captain of the football, baseball AND basketball teams; and a devout Mormon -- the great-great-great-grandson, no less, of Brigham Young, the pioneering leader who brought the faith to Utah.
At Brigham Young University he rose from 8th-string quarterback to All-American.
In the pros he earned the nickname "Crash" for his kamikaze style of play -- a quarterback who refused to go down easy, as he showed in the 1988 run that announced his arrival in San Francisco:
"At its root," Young said, "is this desperation, like, I gotta make something happen. So why not run out of bounds? Well, because I can't run out of bounds!"
"Not an option?"
"Stuff's gotta happen!"
Young actually began his pro career in 1984 in the short-lived United States Football League, where he quickly earned another nickname before he stepped on the field for the L.A. Express, coming in as the $40 million man. "Biggest contract in the history of pro sports -- you're tormented by it," Keteyian said.
"Brutal!" he said. "The idea that I had to carry this horrific, in my mind, weight of being highly-paid and the expectations that come with that -- it just felt too much."
The expectations were just beginning.
When the USFL folded two years later, Young headed to Tampa Bay and then the 49ers, and a storied rivalry with four-time Super Bowl champ Joe Montana, a saint in San Francisco. That only added to the voices roaring inside Young's head.
Only one of his teammates knew the extent of Young's anxiety: Brent Jones. "This guy's the man, he's one of the best quarterbacks in the league," Jones said. "What does he have to be anxious over, or fearful of?"
Jones, who played 11 seasons as a tight end with the 49ers, became Young's best friend, confidante and pre-game shrink.
"We spent 10 years of our life in room 9043 at the Marriott," Jones said.
At the hotel in the shadow of Candlestick Park -- the 49ers' home field during Young's entire career -- every player had his own room. Everyone, except Young and Jones.
"The thing that used to drive me most crazy, Armen, was he never, ever wanted to watch football," said Jones.
"And I'm like, that's the last thing I could -- like, get me a movie!" Young said. "Get me something to take my mind off of it. And the guy would just turn the football off and put on a movie … 'City Slickers,' for a lot of weeks."
"I knew every line, every word," Jones said. "I'm like, 'Dude, are we seriously gonna watch 'City Slickers' again?' He'd go, 'Yup. Yup.'"
Then they'd go over game plans, marriage plans, anything and everything, just to get Young ready for game-day.
"Lots of second-guessing, lots of talking, lots of going over things," said Jones. "It's funny, because I think a lot of guys on our team thought that I was his roommate so I could get in his ear about throwing me more passes!"
Young eventually saw a psychiatrist, who diagnosed a fiendish form of separation anxiety-turned-pre-performance anxiety buried in the roots of the family tree.
"As a kid, I was fearless during the day," Young said. "But at nighttime, I needed to be home. People would say, 'Hey, sleep over Eddie's house.' 'No.' I don't want to do that. I didn't know what that was. But as I learned in my 30s, it's a genetic thing. It's sprinkled all throughout my mom's family."
Whether despite or perhaps because of his inner demons, by the end of his career Young would be a two-time league Most Valuable Player, and Super Bowl champion.
But there was another part of the Steve Young puzzle that had been missing. He had become a world-famous face of the Mormon church, and "60 Minutes" wanted to talk to him when it profiled the church. Correspondent Mike Wallace zeroed in. The then-34-year-old was still single, and looking hard for a Mormon mate.
"Brigham Young once said, right here on these grounds, that anyone over 27 years of age that's not married is a menace to society," Young told Wallace. "So here's my grandfather telling me to get with it. You don't think I feel the pressure?"
Three years after that "60 Minutes" interview, as Young's pro career was winding down, he met a model named Barbara Graham.
"He was such an anomaly from what I knew of other athletes," Barbara said. "I had friends who dated athletes then. And he just was so intelligent and so grounded and so spiritual, and we would talk for hours."
A year later, they were married, and now have four children.
Today, Young is still a Mormon cover boy. But the shortness of breath, the sleepless nights, the voices in his head, he says, are long gone.
"It really is in the rearview mirror," he said. "My life is completely different. And that part of anxiety, I just don't feel it."
The anxiety may be a memory. But the spirit of the quarterback who wouldn't give up, remains.
"He's all-in," said Barbara Young. "He is 100% all-in in everything he does. I'm gonna cry. He's not gonna take a knee. He's not gonna slide. He's gonna turn in always. And he'll take on anything head-on."

For more info:
Thanks for reading CBS NEWS.
Create your free account or log in
for more features.