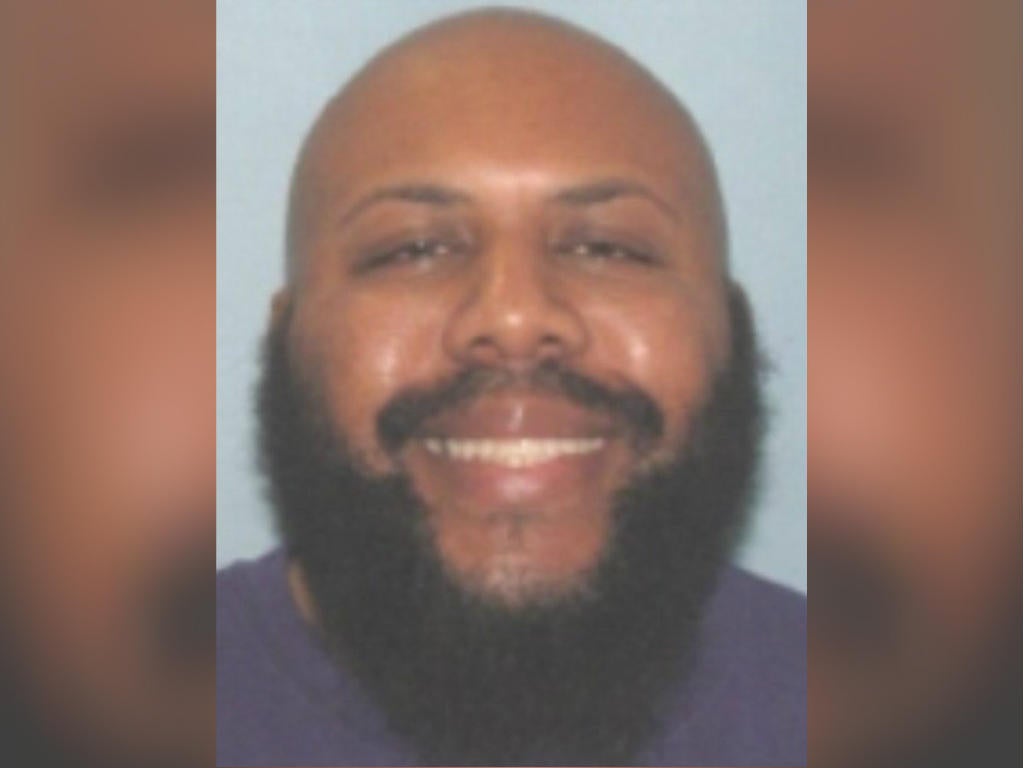 Steve Stephens, Facebook slaying suspect, dead, police say
ERIE COUNTY, Pa. -- The man suspected of killing of an elderly man and posting the gruesome video to Facebook shot and killed himself Tuesday in Erie County, Pennsylvania, police say.
Steve Stephens, 37, was wanted in the Sunday killing of Robert Godwin, Sr. in Cleveland and was the subject of a national manhunt.
"I want to officially announce that the search for Steve Stephens has ended," Cleveland Police Chief Calvin Williams said at a Tuesday afternoon press conference.
Stephens was spotted Tuesday morning near Erie, in Pennsylvania's northwest corner, Williams said. The Pennsylvania State Police received a tip that a vehicle matching the description of the Ford Fusion Stephens was driving had been spotted in a McDonald's parking lot.
When state police responded, Stephens fled in the car.
After a pursuit of about two miles, officers used a "precision immobilization technique" maneuver in which they rammed the vehicle causing it to spin out of control, a law enforcement official told CBS News' senior investigative producer Pat Milton. As the vehicle was spinning, Stephens pulled out a pistol and shot himself in the head.
A patrol trooper involved with the pursuit struck Stephens' vehicle causing minor damage, state police say. There were no injuries to law enforcement or the public.
"We're grateful this had ended – we would have preferred it had not ended this way," Williams said. "There are a lot of questions, I'm sure, not just the family but the city in general would have had for Steve as to why this transpired."
Williams hailed the tipster who called in, and the work of local, state and federal law enforcement officials involved in the search. Officers searched dozens of places around Cleveland without finding Stephens before expanding the manhunt. Detectives spoke with the suspect on Sunday by cellphone and tried to persuade him to surrender, police said.
Within a day, authorities expanded the search nationwide and offered a $50,000 reward for information leading to his capture and prosecution. Investigators had asked residents of five states to be on alert and broadcast Stephens' image on electronic billboards.
In the search, investigators had picked up a "ping" from Stephens' cellphone at about 7 p.m. Sunday night in Erie, which is about 100 miles northeast of Cleveland, a law enforcement source told CBS News investigative producer Pat Milton on Monday. But since then, investigators had been unable to detect a signal, the source said. Federal investigators had already been combing the area on the ground and in the air when the tip was reported, Williams said.
The search for Stephens got underway after he shared a recording on Sunday showing himself announcing his plan to kill someone, then two minutes later posted another video of himself shooting and killing Godwin, Facebook said. A few minutes after that, he went live and confessed, the company said.
"This is something that should not have been shared around the world, period," Williams said Tuesday. "Our kids should not have seen this – I'm sure a lot of kids have. They need to take this as a lesson – we can't do this in this country."
Facebook said it disabled Stephen's account within 23 minutes of receiving the first report about the video of the fatal shooting and two hours after receiving any report. The company has since announced it was launching a review for reporting harmful content.
Facebook CEO Mark Zuckerberg expressed condolences during a speech Tuesday at F8, an annual conference of developers who build products for the social media site.
"Our hearts go out to the family and friends of Robert Godwin Sr.," Zuckerberg said. "And we have a lot of work and we will keep doing all we can to prevent tragedies like this from happening."
Police would not speculate as to what motivated the killing, but videos Stephens posted showed him talking about losing everything he had to gambling and trouble with his girlfriend.
Stephens filed for bankruptcy two years ago despite holding down a job as a counselor helping young people develop job skills and find employment. The behavioral health agency where he worked said an extensive background check before he was hired turned up nothing worrisome.
In one video posted on Facebook, Stephens said that he gambled away everything and that he and his girlfriend had planned to marry but did not, without saying why.
In the Facebook video, which appeared shaky, Stephens got out of his car and randomly targeted Godwin, who was holding a shopping bag as he was out on a walk collecting cans. Stephens said the name of a woman, whom Godwin didn't seem to recognize.
"She's the reason that this is about to happen to you," Stephens told Godwin before pointing a gun at him. Godwin can be seen shielding his face with the shopping bag.
Williams told reporters on Monday that the woman is safe. Joy Lane, Stephens' longtime partner, broke her silence about the shooting in a text message to CBS News.
"We had been in a relationship for several years. I am sorry that all of this has happened. My heart & prayers goes out to the family members of the victim(s). Steve really is a nice guy... he is generous with everyone he knows. He was kind and loving to me and my children. This is a very difficult time for me and my family Please respect our privacy at this time."
Also in the video, Stephens can be heard saying: "I snapped, I just snapped."
In a separate video, Stephens claimed to have killed more than a dozen other people. Officials said police have not verified any other shootings or deaths.
"The goal from 2 o'clock Easter Day was to make sure no one else was a victim of violence by Mr. Stephens," said Stephen Anthony, special agent in charge of the Cleveland division of the FBI. "Even though the investigation is continuing, we believe that to be the case – that was our number one goal."
Law enforcement's second goal was to bring in Stephens safely, Anthony said, but "unfortunately, he chose that not to be the case."
Williams said many questions remain, and investigators will seek to re-trace Stephens movements over the last two days. He said investigators aren't sure whether anyone helped him, but noted that there are "a lot of places to hide" in that portion of the state.
Williams said investigators have notified Godwin's family and that they are "forgiving of Steve for committing this atrocious act. We need to follow their lead."
The victim's daughter Debbie Godwin tells The Associated Press she would have preferred that Stephens remain alive and face prison time for her father's fatal shooting.
She said: "If you did it, you have to face your crime."
Thanks for reading CBS NEWS.
Create your free account or log in
for more features.