Some 75 million Americans were in the path Tuesday of a winter blast that is expected to dump up to a foot of snow overnight from the mid-Atlantic states to New England.
The storm stretched 1,000 miles between Kentucky and Massachusetts but hit especially hard along the heavily populated Interstate 95 corridor between Philadelphia and Boston, creating a perilous ride home for millions of motorists.
The snow came down harder and faster than many people expected. Forecasters said some places could get 1 to 2 inches an hour, with wind gusts up to 50 mph. A blizzard warning was posted for parts of Massachusetts, including Cape Cod.

The storm was blamed for at least one death in Maryland after a car fishtailed into the path of a tractor-trailer on a snow-covered road about 50 miles northwest of Baltimore. The car's driver was thrown from the vehicle.
Forecasters said the storm could bring 10 to 14 inches of snow to Philadelphia and southern New England and up to a foot in New York City, to be followed by bitter cold as arctic air from Canada streams in. Washington was expecting 4 to 8 inches.
The heavy snow rolled in across the Northeast around mid-afternoon, closing schools and government offices, grounding thousands of flights and making it difficult to travel anywhere. At one point, it took more than two hours to drive just 20 miles in New Jersey.
Police Cpl. Kenneth Rocco in Roxbury Township, N.J., said he expected bad driving conditions and stranded drivers spinning out.

"We just hope everyone drives carefully and gives enough time to get to wherever they have to go safely," he said.

Late in the afternoon, highways in the New York City metropolitan area were jammed. One person was hurt in a seven-car pile up on New York's Long Island.

"I just want to get to the Bronx," motorist Peter Neuwens lamented. "It's a big place. Why can't I get there?"

In Jersey City, N.J., Stanley Gaines, wearing just a thin jacket and huddling beneath an overhang as snow stung his face, said he had been stuck for more than an hour waiting for a ride home from his appointment at a Veterans Affairs clinic.

"I'm waiting on anything I can get: a taxi, a shuttle, a bus," Gaines said, squinting to read the destination on an approaching bus in near white-out conditions. "I didn't really pay attention to the weather this morning because there was no snow on the ground, and now - this!"
In White Plains, N.Y., Anthony Schirrone pulled over his car to scrape snow from the windshield.

"I just did this five minutes ago," he said. "But it's coming down too fast."

Walking was not much better in New York City, where transit officials warned that 2-foot-high drifts could stop rail service. Philadelphia expected more than a foot of snow.

"The time of day, the intensity of the storm and temperatures in the low 20s, teens, and actually in the single digits, all happening at the same time, this is one to be very, very careful about," Philadelphia Mayor Michael Nutter said.

A state of emergency was declared in New York, New Jersey and Delaware. Schools in at least seven states canceled classes or sent students home early. As much as two inches of snow were predicted to fall every hour in parts of New Jersey.

The weather is the result of the high-altitude winds of the jet stream, which has plunged south, allowing arctic air to drop into the gap.
The frigid air is pushed into the East by high pressure in the West, which is responsible for a historic drought in California.
That is why the nation's high was 81 degrees in Camarillo, Calif., and the low was 32 below zero in Crane Lake, Minn.
The entire state of Minnesota was below zero Tuesday morning. The mercury has gone below zero on 12 of the last 21 days in Minneapolis, and the forecast high for Thursday's opening of St Paul's famous Winter Carnival, billed as the "coolest celebration on earth," is 1 below zero.
White-out conditions and a multi-vehicle crash forced Indiana state police to close a 60-mile stretch of Interstate 65 for hours.

The storm put a damper on New Jersey Gov. Chris Christie's second-term inauguration, forcing the cancellation of an evening party on Ellis Island. Massachusetts Gov. Deval Patrick postponed his annual State of the State address, while the Philadelphia Flyers postponed their Tuesday night hockey game.
Federal workers in the Washington area were given the day off though the U.S. Supreme Court remained in session.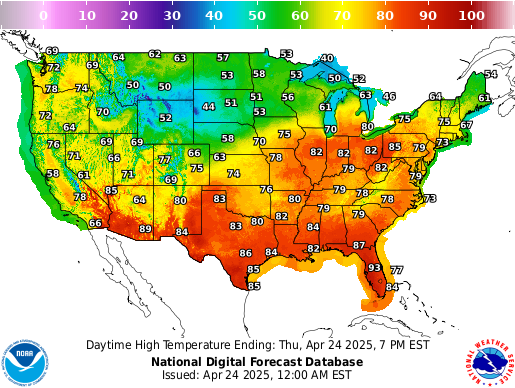 Across the country, about 3,000 flights were canceled on Tuesday, with airports from Washington to Boston affected. More than 1,000 flights for Wednesday were called off as well. Amtrak planned to cut back train service in the afternoon.
At LaGuardia Airport in New York City, hundreds of canceled flights led to long lines and frustrated passengers.
Stuart Gelles was trying to fly to Florida on Tuesday after his Jet Blue flight Wednesday was already cancelled.
"They went and canceled flights, I think, pretty early but it seems like that's what the airlines are doing these days," Gelles said.
Jet Blue did not ground all of its flights in Boston and New York, as it did for 17 hours during a storm in early January. Still, a spokesman said it's more affected than other airlines because of its concentration in the Northeast.
At Reagan National Airport outside Washington, so many flights of all airlines were canceled the terminal was all but empty.
"It's going to take some time tomorrow and into the rest of the week to get things back to normal," said Chris Paolino, an airport spokesman. "So we're going see some ripple effects from this throughout probably the week."