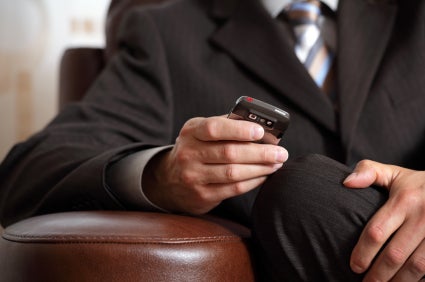 Smartphone app helps alcoholics with recovery in study
A smartphone app for recovering alcoholics that includes a panic button and sounds an alert when they get too close to taverns helped keep some on the wagon.
The new research was published March 26 in JAMA Psychiatry, and involved a group of 349 people leaving three residential treatment programs after spending a year; 170 who used the smartphone app designed by researchers at the University of Wisconsin after a year of treatment, and 179 who had conventional treatment.
The app includes a feature asking periodic questions by text or voicemail about how patients are doing. If enough answers seem worrisome, the system automatically notifies a counselor who can then offer help.
A panic button can be programmed to notify peers who are nearest to the patient when the button is pushed. It also offers links to relaxation techniques to calm the patient while waiting for help.
Adults released from in-patient alcoholism treatment centers who got free sober smartphones reported fewer binge drinking days and more overall abstinence than those who got the usual follow-up support.
A host of smartphone apps are available that feature a variety of options for trying to prevent alcoholics and drug addicts from relapsing.
The study results are based on patients' self-reporting, which is a potential limitation. But addiction experts say the immediacy of smartphone-based apps could make them a useful tool.
Mark Wiitala, 32, took part in the study and says the app helped save his life. He said the most helpful feature allowed him to connect to a network of peers who'd gone through the same recovery program. The app made them immediately accessible for an encouraging text or phone call when he needed an emotional boost.
"It's an absolutely amazing tool," said Wiitala, of Middlesex County, Mass. He said he's continued to use it even though the study ended.
The Centers for Disease Control and Prevention said in January that 38 million Americans drink too heavily, with most considered binge drinkers and not alcoholics.
More than 25,000 alcohol-related deaths occur each year. "This is a sign of what the future will bring, and I think it's definitely a progression in the right direction in terms of helping lots of people," Dr. Scott Krakower, a drug addiction specialist and assistant unit chief of psychiatry at Zucker Hillside Hospital, in Glen Oaks, N.Y., told HealthDay.
Thanks for reading CBS NEWS.
Create your free account or log in
for more features.