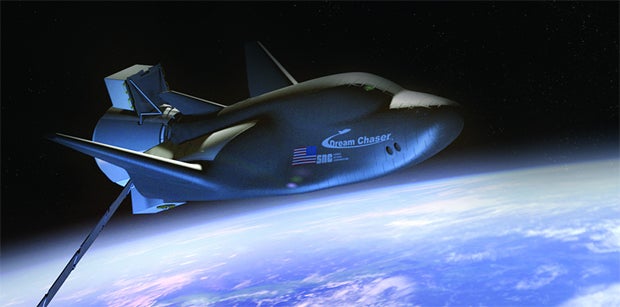 Winged "Dream Chaser" joins space station cargo fleet
SpaceX and Orbital ATK will continue to provide unpiloted cargo delivery missions to the International Space Station under a new round of commercial contracts extending through 2024, NASA managers announced Thursday. But Sierra Nevada's winged "Dream Chaser" spacecraft will join the fleet, launching atop Atlas 5 rockets and robotically gliding to a runway landing like NASA's now-retired space shuttle.
The Dream Chaser will allow researchers to gain access to biological samples and other materials returning from space within a few hours of touchdown, a high priority for station researchers.
SpaceX's Dragon capsule, which currently splashes down in the Pacific Ocean southwest of Los Angles, will be upgraded to touch down on land as required under the new contract, officials said, offering equally speedy offloads of high-priority science cargo.
Orbital ATK's Cygnus capsules are not designed to return through Earth's atmosphere and instead burn up during re-entry, carrying away unwanted trash and equipment as needed. But Orbital, unlike SpaceX and Sierra Nevada, will be able to launch to the station from Virginia or the Cape Canaveral Air Force Station to provide additional flexibility.
Kirk Shireman, space station program manager at the Johnson Space Center in Houston, said each of the companies will be awarded a minimum of six missions and possibly more based on downstream station requirements. Initial flights are expected to begin in late 2019.
No actual flights have been ordered yet, and Shireman said he could not break down the cost per contract because of the wide variety of mission scenarios under development.
While the "request for proposals" that went out to all the competitors listed a total contract value of $14 billion through 2024, the currently projected end of the station program, Shireman said the actual amount spent will be "nowhere near that much."
They key feature of the second round of Commercial Resupply Services contracts -- CRS-2 -- is flexibility, he said. The contract is structured so NASA can order a mix of vehicles and mission profiles that best suits the current needs of the station while delivering more cargo per flight and offering faster post-flight access to research samples and equipment.
The new, more capable cargo vehicles will enable the station to keep enough supplies on board to support seven full-time crew members -- one more than the lab currently supports -- allowing more time for research.
All three cargo craft will be able to carry between 2.5 and 5 metric tons of equipment and supplies to the space station and carry an equal amount away, either for return to Earth or to help station crews get rid of unneeded packing material, trash and other unwanted gear.
Orbital ATK will offer three mission profiles and launch from both Virginia, using the company's Antares rockets, and the Cape Canaveral Air Force Station, using United Launch Alliance Atlas 5 boosters. Two of the three mission profiles will deliver pressurized cargo to the station while one will be devoted to unpressurized components.
In all three cases, Orbital's Cygnus capsules will be berthed at the station's Earth-facing ports, pulled into place by the lab's robot arm.
Sierra Nevada is offering two mission profiles, one to deliver and carry away pressurized cargo and one to deliver and carry off unpressurized equipment. The Dream Chaser will be able to autonomously dock at station's forward or upper port or, like the Cygnus, be pulled in for berthing by the station's arm at one of the lab's larger lower ports.
SpaceX will follow suit, offering docking and berthing capability and two primary mission profiles for pressurized and unpressurized cargo.
The berthing hatches are much wider than the docking ports, allowing large components to be moved into or out of the station.
The commercial resupply program was set up by NASA in the wake of the 2003 Columbia disaster to replace lost cargo capability after the shuttle fleet's retirement in 2011. In December 2008, NASA announced that SpaceX and Orbital had won the initial CRS-1 contracts.
SpaceX was awarded a $1.6 billion contract for 12 launches of the company's Dragon cargo ship and Falcon 9 booster to deliver some 40,000 pounds of cargo to the station. Orbital Sciences, now Orbital ATK, won a similar $1.9 billion contract for eight missions using that company's Antares rocket and Cygnus cargo ship.
NASA later ordered additional flights to bridge the gap between the CRS-1 and CRS-2 contracts.
SpaceX launched its first operational space station resupply flight on Oct. 8, 2012. Five more flights were successfully launched before a catastrophic failure last June that destroyed the seventh operational Dragon and along with it, several tons of station-bound equipment and supplies.
The mishap was blamed on an internal strut that broke away inside the Falcon 9's second stage liquid oxygen tank, triggering a spectacular in-flight breakup. After extensive modifications, the company successfully launched a Falcon 9 on a commercial satellite-launching mission late last month and plans to launch a NASA science satellite this Sunday from Vandenberg Air Force Base, Calif.
After another commercial satellite launch in February, SpaceX plans to resume space station cargo missions around March 20, sources say.
Orbital ATK launched its first resupply mission on Jan. 9, 2014. A second mission was successfully launched six months later, but the company's third flight ended in a dramatic explosion seconds after liftoff in October 2014. The failure was blamed on a turbopump in the Russian-built engines powering the first stage of the Antares booster.
Orbital currently is upgrading the Antares rocket with new engines. In the meantime, the company purchased two Atlas 5 rockets from United Launch Alliance to boost two Cygnus cargo ships to the station before the Antares returns to flight. The first mission was successfully launched last month and the second is planned for launch March 10.
"Our CRS-1 commercial providers have delivered over 35,000 pounds of research, crew and maintenance hardware to the space station," said Sam Scimemi, ISS Division director at NASA Headquarters. "It has not been easy by any measure. Both our CRS-1 providers have experienced launch failures and are in the process of recovery. NASA and our industry partners have learned valuable lessons from these failures."
To replace the lost crew capability of the space shuttle, NASA awarded two contracts for the commercial development and operation of crew capsules to ferry astronauts to and from the space station.
Boeing holds a $4.2 billion contract for the company's CST-100 crew capsule, which will be launched atop Atlas 5 rockets. SpaceX won a $2.6 billion contract for development of a piloted version of its Dragon cargo ship that will be launched atop the company's Falcon 9.
Sierra Nevada had hoped to win a share of the commercial crew contract, but NASA managers ultimately decided to press ahead with Boeing and SpaceX.
Sierra Nevada managers never gave up hope of flying a variant of the Dream Chaser to the space station, however, and the contract announced Thursday puts the winged orbiter back on the road to space.
"SNC is honored to be selected by NASA for this critical U.S. program," Eren Ozmen, president of Sierra Nevada Corporation, said in a company statement. "In such a major competition, we are truly humbled by the show of confidence in SNC and look forward to successfully demonstrating the extensive capabilities of the Dream Chaser spacecraft to the world."
Thanks for reading CBS NEWS.
Create your free account or log in
for more features.